Progressivism in the Church
Church Revolution in Pictures
Photo of the Week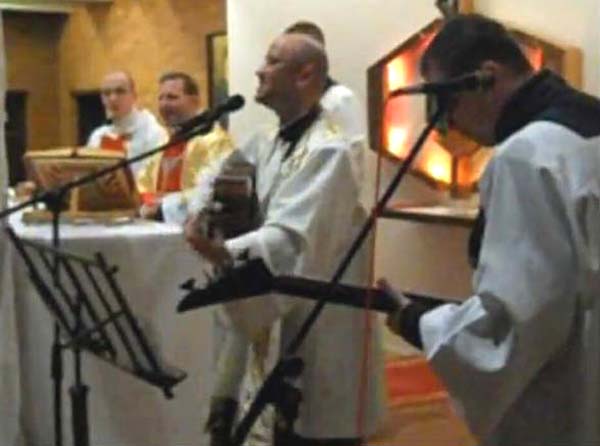 Guitar hybrid Mass in Poland
Since the papal intent to establish a new rite for the Mass that combines the Novus Ordo text with some appearances of the Tridentine Mass was confirmed by recent news, we are attentively watching for the new models for hybrid Masses that are cropping up.
Above, you can see one of these models in Poland at St. Adalbert Church, city of Koszalin. The Mass, which took place in late December 2011, was part of the Christmas ceremonies. In a traditional looking Mass, two men dressed as acolytes held their guitars while the priest finished his sermon and sang a song. Then, accompanied by their guitars, the two performers continued to repeat the song in soft rock rhythm. The priest, the other acolytes and the congregation all sang together.
Below, in other shots taken from a video of the event, one notices the Christmas tree, the priest and acolytes singing to the rock rhythm and some poses of the main performer. To watch the 5 minute video, click here.
We should not be surprised if in the future some of the traditionalist priests in good standing with the Vatican will say Masses with this or other novelties common in theNovus Ordo - dialogue with the audience, altar girls, women reading the epistle, etc. Perhaps the more provident among them are already considering taking guitar classes...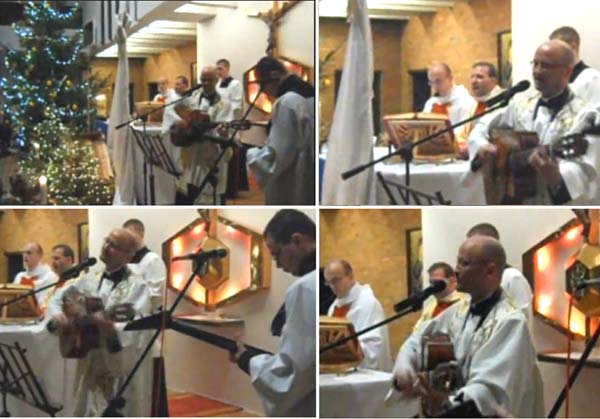 Posted January 8, 2012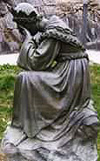 Our Lady of La Salette,
restore the Holy Church