Progressivism in the Church
Church Revolution in Pictures Photo of the Week

Cardinal Siri saying the New Mass

Some traditionalists pretend that Cardinal Giuseppe Siri, Archbishop of Genoa (1946-1987), never compromised with Progressivism. As a contribution to clarify this untruth, we present here some photos of the Cardinal saying the New Mass in different cities of his Archdiocese.

Above, he chose a simple altar turned to the people to say the Novus Ordo Mass at the church in Udine; below, first row, he concelebrates with John Paul II at an outdoor New Mass said in Genoa during the papal visit in 1985; second row, Card. Siri exchanges the embrace of peace with Msgr. Barabino during a New Mass said in Bobbio.



Posted October 23, 2011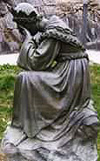 Our Lady of La Salette,
restore the Holy Church