Progressivism in the Church
Church Revolution in Pictures
Photo of the Week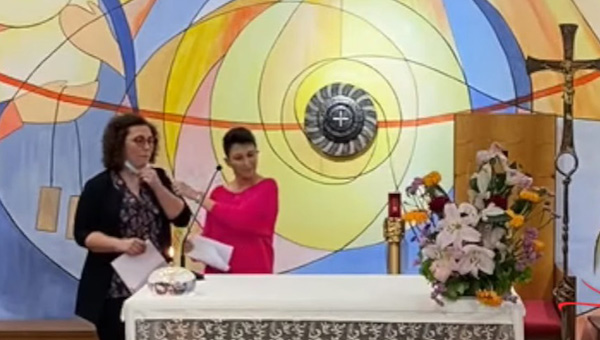 Lesbians speak from the altar in Italy
Fr. Valentino Iezzi,
below second row
, parish priest of Blessed Virgin Mary of Carmel Church (
Beata Vergine Maria del Carmelo
) in the city of Montesilvano, province of Pescara, Italy, invited two lesbians to tell their story from the altar of his church,
above
.
On May 17, 2022, Iezzi promoted an adoration of the Blessed Sacrament, which took placed after the lesbians spoke. He also invited parishioners who are parents of homosexuals to come to the podium and speak in favor of tolerance toward this vice.
This initiative was taken in the context of a vigil against "homotransphobia" promoted by the Archdiocese of Pescara-Penne (
below first row
) headed by Tommaso Valentinetti.
We know there are many reasons for God to intervene now and send His Angels to destroy the Conciliar Church. But the promotion of homosexuality alone would be reason enough. His hour cannot be far away.
A short video on the lesbians speaking can be watched
here
;
the entire footage of the event
here
.


Posted October 30, 2022