Progressivism in the Church
Church Revolution in Pictures
Photo of the Week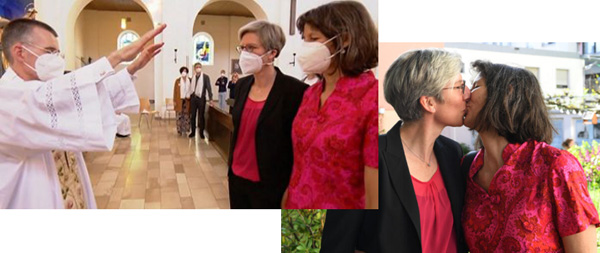 German Church blesses homosexuals
On May 9 and 10, 2021, many German priests – duly encouraged by their Bishops – blessed homo relationships in their churches as a first step for the approval of the homosexual anti-natural "marriages."
Above and below first and second rows
, Fr. Wolfgang Rothe blessed same-sex couples at his St. Benedict Church in Munich, Bavaria.
In the
third to fifth rows
, blessings were given at the Christ Resurrection Catholic Church in Cologne; in the
sixth to eighth rows
, pastoral worker Brigitte Schmidt gave blessings to many same-sex couples at St. John XXIII Catholic Church in Cologne; the
ninth row
shows a similar service being performed at St. Augustine Catholic Church in Wurzburg.
Last row
, in St. Peter's Square, Pope Francis blesses an object belonging to a woman wearing a rainbow scarf.
Many press organs are speculating about whether there will be a schism over this position of the German Bishops on homosexuality, which
was condemned recently
by Card. Luis Ladaria, Prefect of the Congregation for the Doctrine of the Faith. We do not exclude this possibility.
However, our opinion is that the challenge of the German Church and the fuss over this topic had already been agreed upon with Francis to advance the homosexual agenda and to oust the few Prelates at the Vatican who are still raising objections to recognizing and blessing the homosexual unions.
Some of the real or virtual press organs that covered these blessings include
Vatican News, The New York Times, The Washington Post, CNN, NBC, The Local
&
The Pledge


Posted May 16, 2021
________________________