Homosexuality and the Clergy
Francis' Scandalous Support for
Homosexual Unions
As Francis hastily emptied any symbolic significance from his unexpected encounter with Kim Davis, the Kentucky law clerk who was jailed for refusing to issue same sex marriage licenses, another piece of news broke: Pope Bergoglio had a private meeting with a longtime homosexual student-friend, Argentinean Yayo Grassi.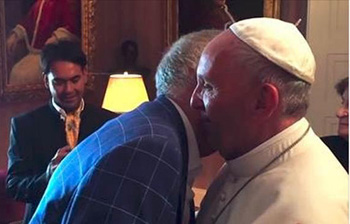 The Pope is embraced by Grassi, with his lover videotaping and waiting for his kiss
Grassi was accompanied by his "partner," Indonesian Iwan Bagus, as well as four women friends. The meeting took place at the Apostolic Nunciature in Washington, on September 23, 2015, a day before Davis met the Pope.
The media has been abuzz with news about how Francis denied that his meeting with Kim Davis was a "real audience." A
Vatican statement
released on October 2, 2015 read: "
The only real audience granted by the Pope at the Nunciature was with one of his former students and family."
By "family" one can only assume the reference is to Grassi's lover Iwan, since Grassi introduced the four women to the Pope as "friends."
Then, came the key point of the Vatican statement: By no means should Francis' meeting with Davis "be considered a form of support of her position in all its particular and complex aspects." The most the Vatican would concede is that Francis supported her position as a "conscientious objector."
As for the Grassi meeting, everything was presented as positive: It was confirmed by the Vatican that the Pope had a private meeting with the homosexual couple, there was no protest over the video taken by Grassi's lover and circulating widely on the web. This signifies an obvious complacency and joy on the part of the Vatican and of Francis regarding the meeting with his former homo student from Argentina.
So, the denial of any significance for the meeting with Davis and the affirmation that "the only real audience granted" was for Grassi means this: the Pope wants to support homosexuality and homosexual couples.
Checking the Yayo Grassi meeting
Let us look at this only "real audience" of the Pope in Washington DC. For readers who have not seen the video, I suggest they do so (click
here
) to see that I am not exaggerating in my description of the disgusting episode.
Grassi now lives in Washington DC and works as a caterer. He said in a recent interview that the Pope has known he is a homosexual for a long time. He said that when he heard the Pope was coming to Washington, he wrote a letter to Francis requesting an interview, mentioning that he would bring along his lover...
"Once I saw how busy and exhausting his schedule was in D.C., I wrote back to him saying perhaps it would be better to meet some other time," Grassi continued. And he added: "Then, he [Francis] called me on the phone and told me that he would love to give me a hug in Washington."
This is exactly what happened as the photos show below.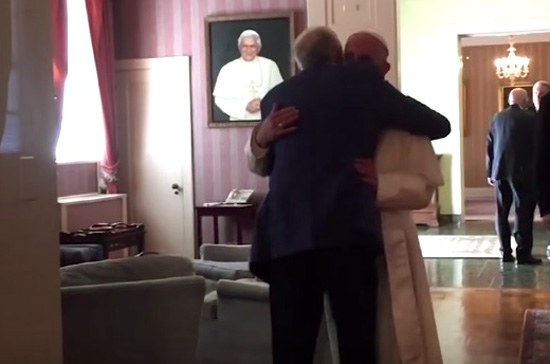 First, there was a long affectionate hug for Grassi as he went to meet Francis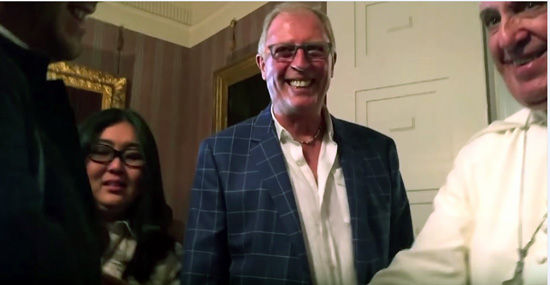 In the first round of introductions, a triumphant Grassi briefly presented his lover -
we can see a part of his smiling face at left in the picture above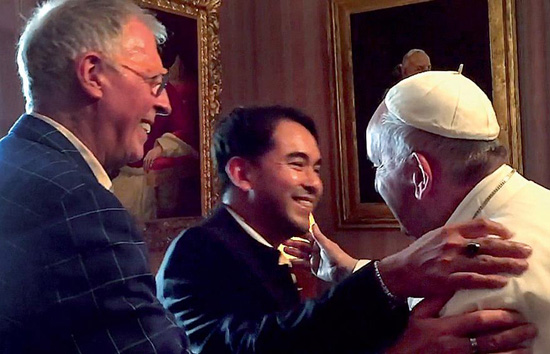 Short emotional introductions to the women followed, and then
it was time to tenderly greet and embrace Grassi's homosexual partner
In fact, there were two kisses for him, one on each side of his cheek
The episode ended with another embrace for Grassi, who was triumphant to have his homosexuality publicly approved by the Supreme Authority of the Catholic Church.
"I feel supported by him," Grassi later told reporters. Certainly in the two minute clip of the 15-minute "audience" Pope Bergoglio made every effort to show an unmitigated support for the homosexual and his lover.
The Grassi aftermath
Grassi was motivated to go public with his audience when the Pope's meeting with Kim Davis began to be interpreted as a support for her anti-homosexual position. Yayo Grassi said he felt obliged in conscience to speak out to defend the true position of the Bergoglio.
Grassi affirmed
he was "500 percent sure" that the Pope did not initiate the meeting with Davis, since this would be completely "out of character." He told the press how "this is a guy who is so much into integrating everybody, communicating with everybody," that the last thing he would want to do is be hurtful and divisive with the homosexual community.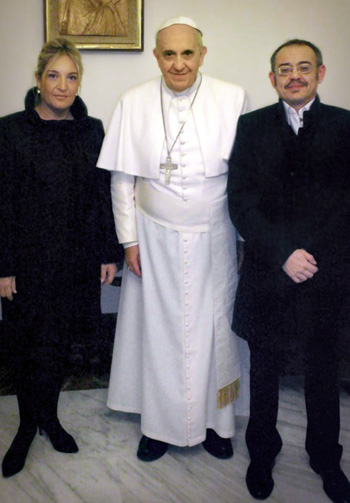 Francis poses in Rome with the Spanish transgender, at right, and his supposed 'wife'
He gave some examples to support his opinion. Back when Bergoglio was Cardinal in Argentina and there was public debate about legalizing same-sex marriage, he said some "things that were extremely negative."
Grassi e-mailed his friend Bergoglio, expressing "disappointment and hurt." Bergoglio immediately responded asking for forgiveness and stating that a newspaper had taken his words out of context. "I want you to know that in my pastoral work there is no place for homophobia," he affirmed.
In
another interview
, Grassi recalled that not only did Francis pronounce his famous phrase "Who am I to judge a homosexual" but also that "he had defended many people and had called for inclusion regardless of social status, nationality or [sexual] orientation. The Pope even invited a transgender Spaniard [Diego Neria Lejarraga] to the Vatican."
In the Pope's telephone call to him/her, he apologized for the bad treatment he/she had received and
told him/her
that "the Church loves you and accepts you as you are." At that Vatican meeting, Francis gave this man/woman an embrace also, was photographed with "him" and his/her so-called "wife," and affirmed "there is a place somewhere in the house of God for you."
These unprecedented hugs that have reverberated across the globe tell us what Pope Francis is thinking about the kind of "pastoral care" the Church should offer homosexuals and transgenders. He plans to abolish the whole of Catholic Morals...

October 7, 2015