Talks with Jan
The 'Francis Effect' - Part I
The 'Francis Effect' at 'Gay Pride Parades'
My friend Jan was upset that Catholic Church officials were not speaking out against the increasingly large number of perverse "gay pride parades" being held in cities across the country, especially in the month of June.
In fact, not only are Prelates reluctant to speak out against the LGBT (lesbian, gay, bisexual and transgender) groups, but most Prelates carefully avert their eyes when these "gay pride parades" comes to town: no alerts about the sexually perverse acts and blatant immoral clothing, no serious threats to parishes who participate, no warnings to the faithful not to attend, watch or promote these scandalous events in any possible way.
The silence in this case is an implicit acceptance of these degenerate pageants that celebrate sins against nature. This year, in particular, the censorship was sparse, as my friend Jan noted.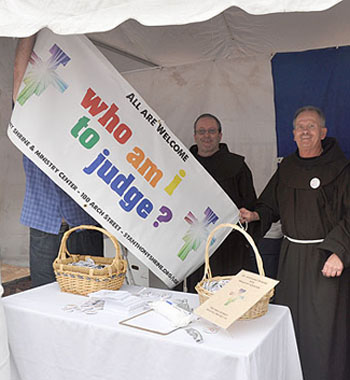 Franciscan friars at their Boston 'gay' Pride booth
An explanation? This is what I would call the "Francis effect" on the "gay pride parades."
What do I mean by this? Everywhere, LGBT and ally Catholics are appearing at these parades crowing victory. They allege the Pope wants a more merciful and welcoming Church. At this year's Boston "gay pride festival," for example, we had Franciscan Friars from St. Anthony's Shrine and Ministry Center manning a booth on City Hall Plaza promoting homosexuality.
The booth featured banner, buttons and t-shirts emblazoned with the words "Who am I to judge?" the Pope's own words, used to justify acceptance of homosexuality by Catholics. The message is clear: "After all, if the Pope won't judge homosexuality, then how can mere lay Catholics do so?"
That booth does not fully reflect the extent of Catholic participation in Boston. An official organization at Jesuit Boston College – the Graduate Pride Alliance – invited students, alumni and faculty to take part in the Boston "gay pride parade" on a Facebook post. And in that province, which is 40% Catholic, many Catholics were spectators of offensive scenes like the ones you see at right.
When complaints were made by indignant Catholics, the Boston Franciscans claimed "full support of the Archdiocese" for their participation in the "gay pride festival." By the way, this year the Boston "gay parade" was particularly brazen in displaying its Catholic hatred, inviting the "Sisters of Perpetual Indulgence" (men dressed as nuns mocking the Catholic religious orders) to be the Grand Marshalls leading the parade.
Not a word of protest was heard from Boston's Cardinal Sean O'Malley, one of the eight personal advisers of the Pope. How can LBGT persons not translate this omission as implicit approval?
More examples
Let me give a few more examples of the disgraceful Catholic participation this year in "gay parades." In Chicago, St. Clement Church parishioners marched with Dignity members. Since they marched last year, one might have expected the Archdiocese to forbid further participation. It did not, however.
Not that it would have made much difference. "We don't want to be dictated to anymore," declared the parade participant Rob Svendsen, a St. Clement parishioner. He added, "With the new Pope, we've all been given a new ray of hope." This kind of statement was heard often this year, let the reader note. Once again, the "Francis effect" on encouraging the "gay pride parades."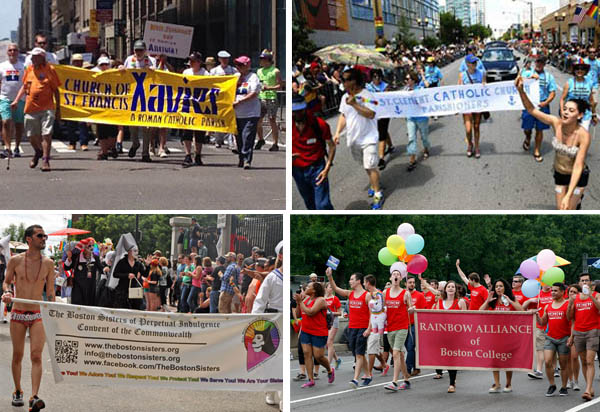 Catholic contingencies march in 'gay' pride parades in NY & Chicago;
2nd row, Boston's Sisters of Perpetual Indulgence and Jesuit college
Of course, there was the normal turnout of Catholics from St. Agnes, Most Holy Redeemer and other area parishes at the San Francisco "gay pride parade." There was even a notice in the St. Agnes June 14-15, 2014 church bulletin openly advertising the Bay event, well known for its particularly disgusting public sex acts and sadomasochist displays. This year the police arrested over 100 persons for irregular conduct.
Not a word of protest against Catholic participants – or spectators – of this immoral event in the Archdiocese under the responsibility of the supposedly conservative Archbishop Salvatore Cordileone…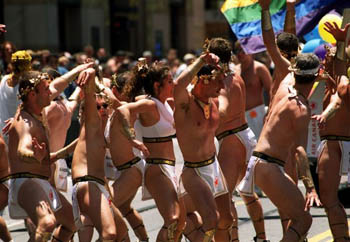 A relatively mild group of participants in the San Francisco homosexual parade
In New York City, parishioners from St. Francis Xavier Church and other "gay-friendly parishes" marched behind a banner proclaiming themselves "LGBT Catholics and Friends." These participants also cited Pope Francis as a reason for their open "witness" and tied their actions to the Church's commitment to social justice that has led to support for "LGBT equality."
Seattle's "gay pride parade" also saw Catholic participants. This year Fr. Whitney of St. Joseph's Parish posted an invitation in the bulletin to march in the "gay parade" "as a sign and presence of faith, hope and love in the LGBT community." The priest also announced he would be there to support the homosexuals "who seek to live faithfully in the way that God has made them and the Spirit has called them."
Here there was
a very weak response
from the vicar general of the Seattle Archdiocese, Msgr. O'Donavan, who relayed the message that Catholics could walk in the "gay parade" but the Archbishop did not want St. Andrew's to march as a community. Of course, the parish and its priest ignored the "message."
After the parade there was no censure from the Seattle Archdiocese and the shamefully silent Archbishop J. Peter Sartain.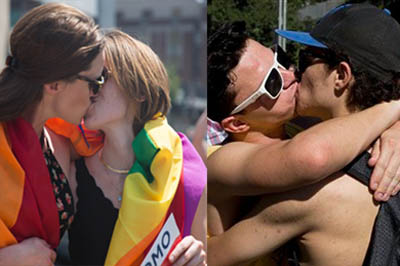 Public kisses - a common sight at these parades
In fact, this year the New Ways Ministry, a pro-homosexual organization that defines itself as "building bridges between the LGBT community and the Catholic Church,"
called on Catholics everywhere
to march in local "gay pride parades." Marching or attending is a way "to affirm Catholic LGBT people."
New Ways Ministry proudly boasts that many of the parishes mentioned on its ever-expanding listing of "gay-friendly Catholic parishes and communities" are participating in "gay pride" celebrations. "Please let us know if your parish participates in one," it states on its website, so that "we can continue spreading the good news of an inclusive Church in the era of Pope Francis."
In passing, I note that for a long time now, Catholic ecclesial authorities have ceased to give the New Ways Ministry the censure it deserves.
Public displays of unspeakable immorality
The pictures that you see on this page of scenes from this year's "gay pride parades" are representative of the type of public depravity and perverse immodesty that permeate these events. Expressive, but not the worst of what is found at them, because those pictures are simply too pornographic to be reproduced for TIA Catholic public.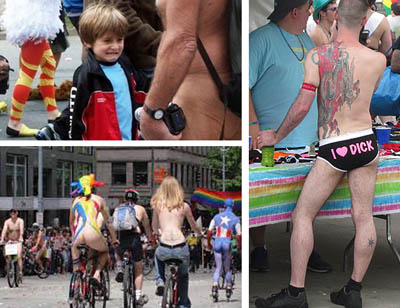 Typical scenes at 'gay' Pride parades
These horrors are taking place publicly and legally in our streets before the eyes of children who are being corrupted by this depravity. Catholic parishes should be calling for prayers of reparation for these "gay pride parades." Instead, the few Bishops and parish priests who are against these display of anti-natural vices are silent for fear of being labeled ''discriminatory" and not following the orientation of the Pope.
Worse yet are the priests and religious who give these "gay pride parades" support and even participate in them. It is stupefying that they do so in the name of the tolerance and pastoral spirit of Pope Bergoglio. Another example of the "Francis effect" on the "gay pride parades."
In closing, I want to note that these parades are taking place not just in the United States, but in countries around the world. And everywhere, sad to report, we find the Catholic Church officially silent, or even offering implicit support for these manifestations, as in the case of the Bishops of Brazil, the country with the largest Catholic population in the world.
But I will save this shameful news for the
next article.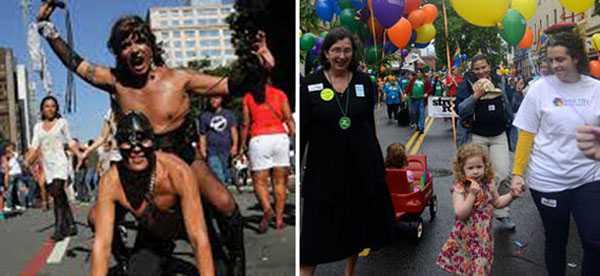 Sado-masochist torments with leather on public display for all to see, including children
Posted July 28, 2014