Progressivism in the Church
Church Revolution in Pictures
Photo of the Week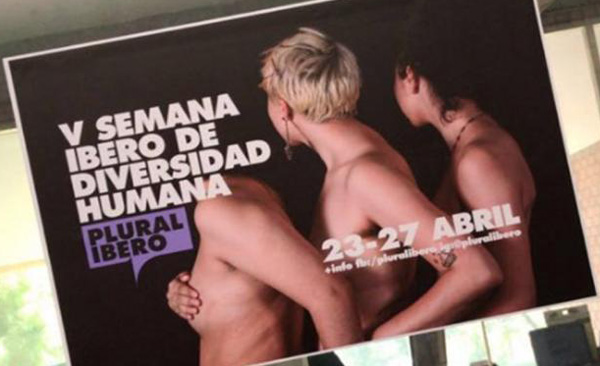 Homo Week at a Catholic University in Mexico
Tomorrow starts the Fifth Human Diversity Week (April 23-27, 2018) at the Jesuit Ibero-American University in Mexico City.
The event that promotes the LGBT agenda is an initiative of "
Plural Ibero,
" a university student organization.
Print and digital advertisements on the web and social media feature naked torsos and buttocks of men and women. A promotional
video
also shows lascivious movements and obscene exchanges of homosexual caresses. The background music in Spanish commands, "Do not define me, do not project your fears onto me."
The first workshop of the week is called "The Start of the Gay Empire" and will discuss how students can efficiently organize "against electoral political conservatism" in preparation for the Mexican presidential election in July 2018.
Among other deviations, the week will promote:
- A "twerking workshop," which is a sensual dance where the person sways and moves the hips provocatively;
- A "drag queen" competition, where men dress as women with makeup and exaggerated attire.
- Nudist exhibitions such as "Free the Nipple" and "The Undressed," which includes photographs of men disguised as women with naked torsos.
The Department of Communications of the Jesuit University defended the event in a statement on April 13, saying that it is a part of "the freedom of artistic and academic expression and the thought processes of our [male and female] students."
Last row below
, we see Fr. David Davalos, S.J., rector of the Ibero-American University, who is an ardent defender of homosexual "marriage" and the one principally responsible for this Human Diversity Week.
So, we have the Jesuit Order – founded to form the youth in Catholic doctrine – that today is the spearhead of the Revolution in the Church, promoting sins against nature that call down the vengeance of God. And what about our Jesuit Pope? We leave the answer to the reader...


Posted March 22, 2018
________________________