Progressivism in the Church
Church Revolution in Pictures
Photo of the Week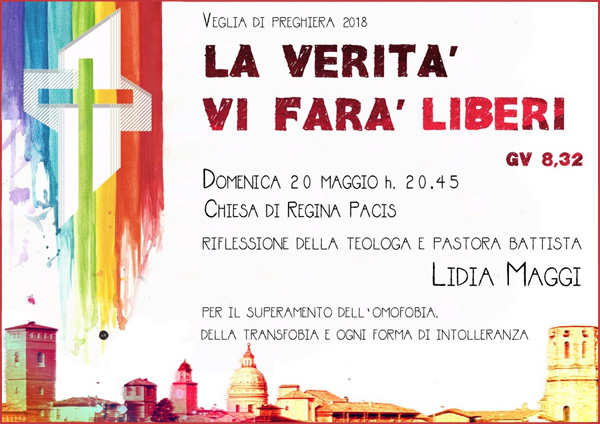 Italian pro-homosexuality vigil
The poster
above
advertising a pro-homosexuality vigil in the city of Reggio Emilia, Italy, reads:
Vigil of prayers 2018
The truth will set you free (Jn 8:32)
Sunday, May 20, at 8:45 p.m.
Regina Pacis
Church (Queen of Peace)
Meditation by Lidia Maggi, Baptist theologian and pastor
To overcome homophobia, transphobia and every form of intolerance
The one who is promoting this vigil that will take place on Pentecost Sunday is Fr. Paolo Cugini, parish priest of Queen of Peace Church in Reggio Emilia.
Fr. Cugini is also a promoter of LGBT groups in the area and counts on the support of local Bishop Massimo Camisasca.
Cugini
affirms
that his aim is "to put persons in the center, before doctrine," so they can "find a space for the human church." In other words, the Italian priest proposes to disregard traditional Catholic doctrine on homosexuality and welcome everyone "as he is" – no matter how morally degraded he may be. It is a radical application of the
Situation Ethics
condemned by Pope Pius XII.
Parallel to this act, a vigil of reparation will take place led by traditionalist Catholics linked to
Radio Spada
. In addition to the rupture with Catholic doctrine on homosexuality, they also censure the inter-religious character of the event, clearly condemned by the
Syllabus
of Pope Pius IX and the Encyclical
Mortalium animus
of Pope Pius XI.
We invite our readers to join in prayers of reparation for this scandal.
Below first row
we see Fr. Cogini saying a "missionary" Mass in Brazil wearing a red T-shirt with the face of Che Guevara; in
the last row
is Bishop Massimo Camisasca of Reggio Emilia, a member of the Italian conservative movement
Comunione e Liberazione
, embracing Pope Francis.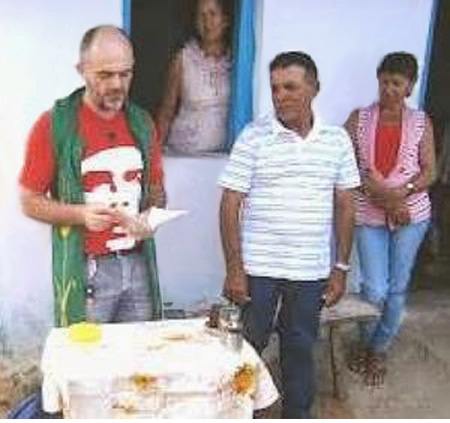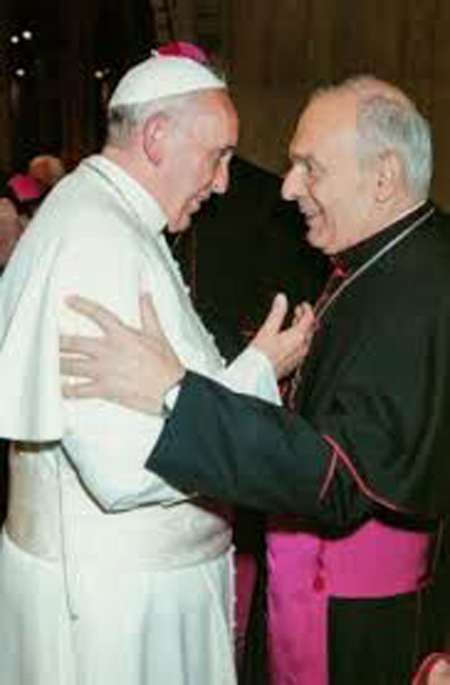 Posted May 13, 2018
________________________