Ambiences and Tendencies
Obituary of Rock – A Succession of Tragedies
Just let someone criticize the rock 'n roll and there are Catholics who protest: "Since the Church has never formally forbidden this type of music, what is the problem with listening to it?" To respond, let me make a brief analysis stressing the destructive character of this music that has rightly been called counter-cultural.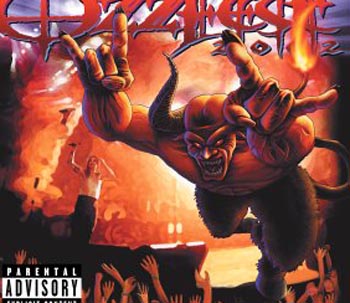 The root of rock is Satan
Ideas, attitudes and behaviors are transmitted by art and culture in an incomparably more efficient way than by doctrinal studies. "Words convince, example wins over" as the saying goes. There is no way to listen to rock without entering the counter-culture that it so well expresses.
Passing through the final stages of the lugubrious lives of many great protagonists of rock is a legitimate way to know the venom they carry. Isn't it by the fruit that we know the tree?
Let me, then, list some names with a short description of their deaths.
Robert Johnson,
an American blues singer and precursor of the rock, died poisoned at age 27. One of his last and more famous songs –
Hellhound on my trail
– almost prophetically narrates his last days at the same time it predicted something ghastly true: "And the days keeps on worryin' me, there's a hellhound on my trail, hellhound on my trail, hellhound on my trail."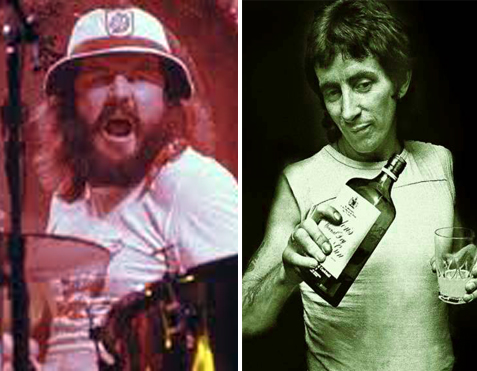 Rockers Boham and Scott both met miserable ends, suffocated in their own vomit
John Bonham
, drummer for the British rock band
Led Zeppelin
. died suffocated in his own vomit after falling into an alcoholic coma at age 32, at the top of his fame.
Bon Scott,
lead vocalist for the Australian hard rock band AC/DC, suffered a similar death plus hypothermia at age 33, the same year his band reached world fame, its album
Highway to Hell
breaking the US top 100. Prof. Plinio commented: "Here is a proof that the Devil never gives what he promises, or give it in such a way that the person cannot enjoy it."
Jimi Hendrix
, a hippie-rock guitarist and singer, died at age 27, suffocated in his own vomit as well, after mixing sleeping pills with heavy drinking of wine. The
causa mortis
examination revealed his lungs were filled with wine.
Jim Morris,
hippie guitarist, vocalist and composer, died at age 27 of a brain aneurysm as a consequence of heavy drug use. A Greek inscription on his grave stone roughly translates: "Fighting the Devil within." his interior Devil burns.
Janis Joplin,
an American rock singer and drug addict, died of overdose of heroin at age 27.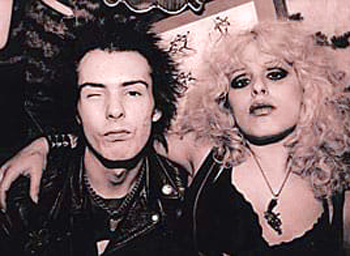 Sid Vicious and girlfriend Nancy, a possible suicide pact
Kurt Cobain
, guitarist and frontman of the rock band
Nirvana,
committed suicide; he shot himself in the head and was found with the shotgun across his body a at the top of his fame at age 27.
Sid Vicious,
punk icon and vocalist of the
Sex Pistols,
committed suicide by swallowing a large dose of heroine. In the suicide letter he left, he mentioned a Romeo-Juliette type of "suicide pact" with his late girlfriend, the Jewish prostitute Nancy Spungen, who was stabbed to death the previous year. Sid was accused of being the author of that crime; his band paid his bail. He was waiting trial for her death when he committed suicide.
Keith Moon,
English drummer of
the Who
, died at age 32 by overdose of medications intended to treat alcoholism.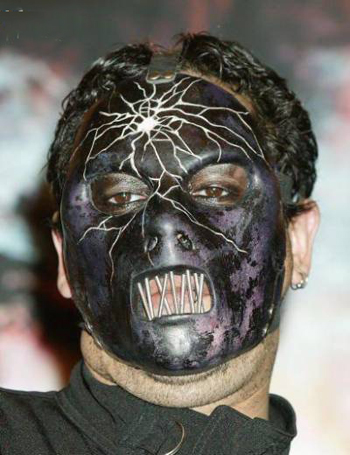 Paul Gray, famous for his Satanic mask
Chester Bennington,
lead vocalist for
Linkin Park,
committed suicide by hanging at age 42.
Ian Curtis,
lead singer and lyricist of the post-punk gothic band
Joy Division,
hanged himself at age 23.
Phil Lynnot,
leader of the Irish band
Thin Lizz
y and heroin addict, collapsed in his home and died of heart failure due to scepticaemia age 36 as a consequence of severe alcohol and drug abuse.
Paul Gray
, bassist of the heavy metal band
Slipknot,
famous for performing wearing a devil mask, died at age 38 from an overdose of morphine.
James the Rev,
drummer and vocalist in the heavy metal band
Avenged Sevenfold
, died of overdose of pills mixed with alcohol at age 28.
Tragic deaths of rock stars
In the world of the rock 'n roll, there is also a whole list of tragedies that caused the death of rock stars, leaving the door open to the hypothesis that their deaths were divine punishments.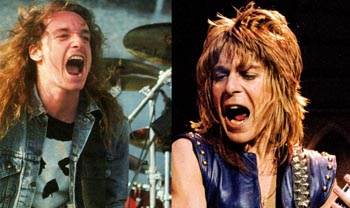 Burton and Rhoads met violent unexpected ends
Randy Rhoads
, American heavy metal guitarist who played with Ozzy Osbourne, died in a small airplane crash, his head crashing through the windshield and body parts scattered everywhere, soon after starting his career.
Cazuza,
a Brazilian rock singer and known homosexual, died of AIDS at age 32.
Cliff Burton,
bass guitarist for the American band
Metallica,
died at age 24 in a bus accident. When the bus skidded off the road, Burton was thrown through the window of the bus, which then fell on top of him.
Jeff Hanneman,
guitarist for the American thrash metal band
Slayer
, contacted necrotizing fasciliutis from a poisonous spider that bite this arm; shortly after he died of alcohol-related liver cirrhosis due to his alcohol addiction.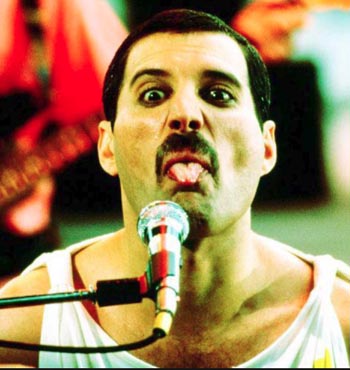 Mercury, dead of AIDS
Dimebag Darrel,
guitarist of the heavy metal band
Panther,
died at age 38, murdered by a deranged fan who rushed onto the stage and shot him multiple times with a Beretta M9.
Layne Stanley
, lead singer of the rock band
Alice in Chains
, died at age 34 in consequence of a mixture of heroine and cocaine. His body was found in his home partially decomposed two weeks after his death.
Brian Jones,
founder and original leader of the
Rolling Stones
was found dead in his swimming pool at age 27. A London builder who had been hired to renovate Jones' house later confessed that he had marked" the musician for death.
Freddy Mercury,
singer-songwriter of the rock band
Queen
and a declared homosexual, died at age 45 of AIDS. He complained that no one loved him, although having millions of dollars in his bank account.
Ingo Schwichtenberg
, an alchoholic and drummer of the German power metal band
Helloween,
committed suicide at age 29, throwing himself under a metro train.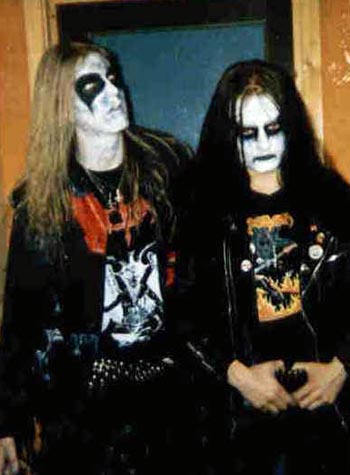 Peter Dead and 'friend' Euronymous
Peter 'Dead,'
lead vocalist of the Norwegian black metal band
Mayhem
, committed suicide at age 22 after showing repeated morbid and suicidal tendencies, such as sniffing a dead crow in a state of putrefaction before his shows to "feel the odor of death" and wearing clothes that had been buried for a long time so he could feel like a cadaver. Dead slit his wrists and throat with a knife and then shot himself in the forehead with a shotgun.
Euronymous
, a declared Satanist in the band
Mayhem
, encouraged Dead to commit suicide. Euronymous sent him the shotgun shells that the singer used to take his own life. He then tried to kill his rival Varg over an argument about what would be the best way to rid Norway of any remains of Christianity.
Euronymous advocated the idea that a Stalinist-like totalitarian State should lead the people to the cult of Satan. Varg went further and argued that this was not enough since the memory of Christianity would survive in Satanism as its enemy. Instead Varg advocated that Norway should return to the cult of pagan gods that their ancestors had worshipped as a way to eliminate any trace of Christianity. This argument led Euronymous to attack Varg, but the latter ended by killing the former with 23 dagger blows. Varg was 25 years old; his killer was 20.
A common thread - Satan
Are these tragedies and horrors just coincidences? Isn't there a common thread running through – an allegiance to the Evil One – these awful events?
In the face of all these actions we ask: Is rock 'n roll only a counter-culture? Isn't it naive to hold to this theory considering the list above?
Indisputably many of the mentioned artists came from unstructured and dysfunctional families and did not receive a Catholic formation. And, for those who were Catholics, the Conciliar Church did not offer them the normal antidote that might have protected them from their disastrous lives, which would be a solid moral teaching.
However, insomuch as these persons blasphemed the Cross, which Christ used for their salvation, and adhered to that same Revolution of which they were victims, each one in his own way became complicit with the Devil.
In brief, whatever the reason, nothing can excuse or attenuate the intrinsic lack of morality of rock, which promotes the liberation of all the bad instincts that come from original sin and a revolt against every form of authority.
In it we hear an echo of that first cry of revolt –
non serviam
[I shall not serve] – made by Lucifer, which is in the root of the most abject sins. Is it still possible for someone to sincerely present rock as a moderate music?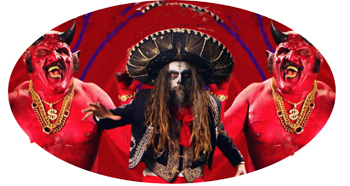 Partying all the way to Hell
Posted on May 8, 2019