Progressivism in the Church
Church Revolution in Pictures
Photo of the Week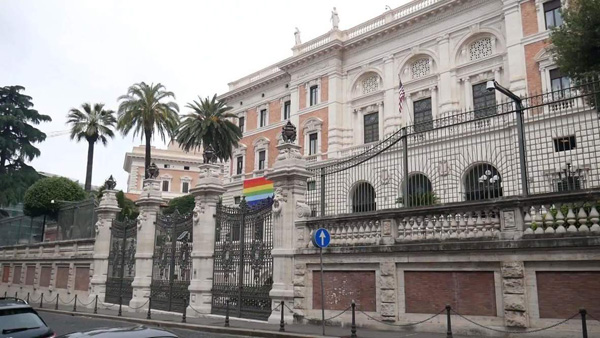 US Embassy to Holy See displays rainbow flag
The U.S. Embassy to the Holy See announced on Tuesday, June 1, 2021, that it was displaying the rainbow LGBT "Pride" flag for the month of June, which is being celebrated as the homo "Pride" month.
"The United States respects the dignity and equality of LGBTQI+ people. LGBTQI+ rights are human rights," the embassy declared on Twitter, see
below
.
Earlier this year U.S. Secretary of State Antony Blinken announced that U.S. embassies and consulates around the world could fly the "Pride" flag on the same flagpole with the American flag during "Pride season."
Under the Trump administration, U.S. diplomatic outposts were reportedly prohibited from flying the rainbow flag from embassy flagpoles.
On June 1, Joe Biden issued a statement promoting "Lesbian, Gay, Bisexual, Transgender, and Queer Pride Month, 2021."
"Pride is both a jubilant communal celebration of visibility and a personal celebration of self-worth and dignity," Biden stated.
Read more
here
.
We are sure that without the constant support Pope Francis has given to homosexuals and transgenders, the US would not have taken this bold symbolic position.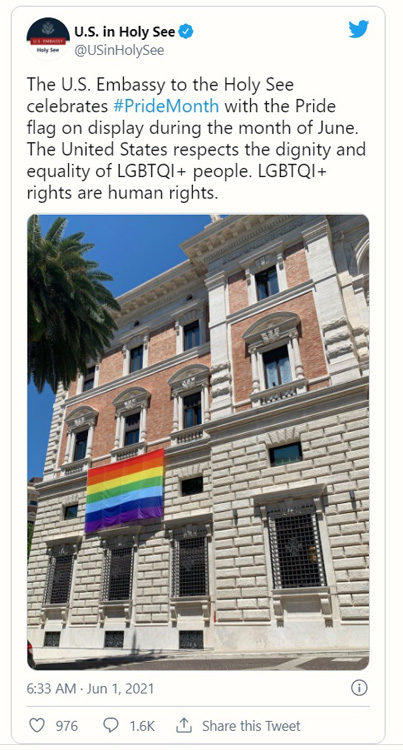 Posted June 6, 2021
________________________