Progressivism in the Church
Church Revolution in Pictures
Photo of the Week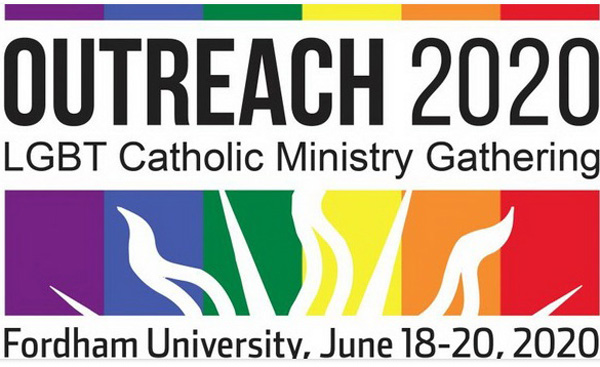 Catholic University to sponsor LGBT event
On November 13, 2019, Fr. James Martin, S.J., "was delighted to announce" a 2020 outreach conference for LGBT at the Jesuit Fordham University in New York City.
Speakers will include Bishop John Stowe, O.F.M. of Lexington, Kentucky; Sr. Jeannine Gramick, S.L. of New Ways Ministry; Father Bryan Massingale of Fordham; Siva Subburaman of Georgetown University; and Timothy Radcliffe, O.P., former master general of the Dominican Order.
For more, read Lianne Laurence's article
here
.
We see that in the wake of Pope Francis, the Conciliar Church in the United States and, principally, the Jesuits are going full-steam into the pro-homosexual agenda.
In France also,
last row below,
the ex-Catholic Hierarchy is not far behind. On November 18, the Diocese of Poitiers officially promoted a gathering for homosexuals and transsexuals. The poster reads:
After Eight

Friday, October 18, 2019, at 19:00hs
Saint Porchaire Room (behind the church)
47, Gambetta Street, dowtown Poitiers

You have a homosexual or transsexual orientation
You live alone or as a couple...


You believe in heaven or not. You search for a place of sharing, of hope.

Christians will join you for a Happy Hour to build together.
Invite your friends.
Each one brings an idea, a project, a question, a longing...

Drinks will be offered.

Contact Isabelle Parmentier 06 62 14 93 41
Sister Marion Schobbens 06 72 46 71 62

Diocese of Poitiers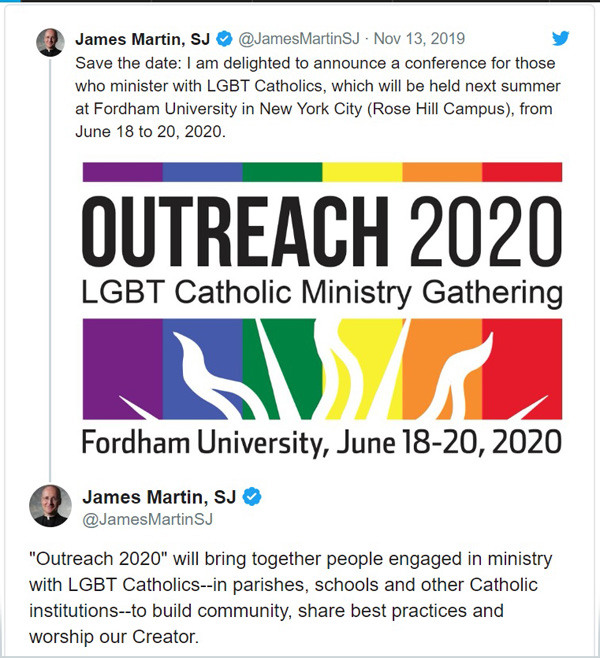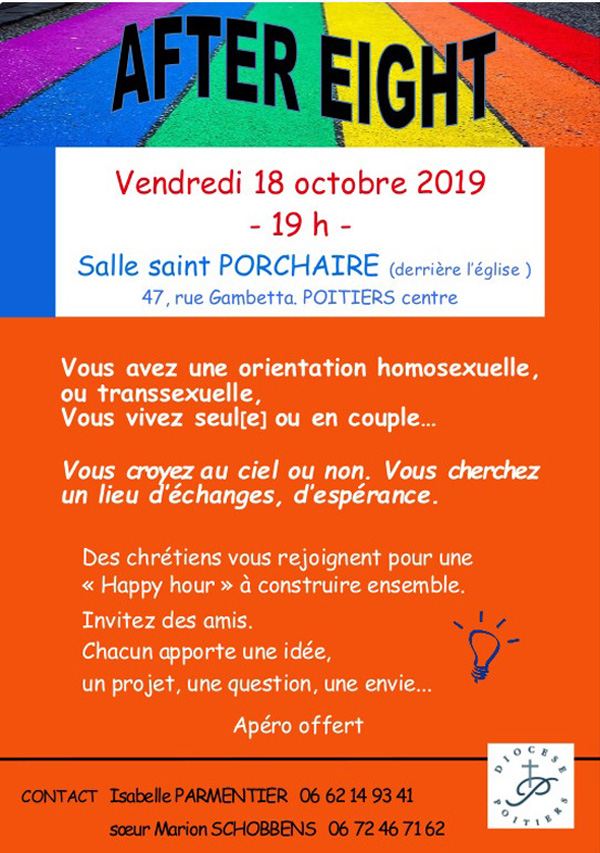 Posted December 22, 2019
___________________________

________________________