Progressivism in the Church
Church Revolution in Pictures

Photo of the Week
Diocese of Goias in Brazil promotes condoms
Above is one of two poster boards placed in the entranceway of Sant'Ana Cathedral in the city of Goias, State of Goias, Brazil. In the wake of the papal comments on condoms to prevent AIDS, the rector of the Cathedral, Fr. Paulo Cantanheide, decided to take part in the celebration of the International Day of Prevention against AIDS, on December 1, 2010.

His celebration consisted of a day-long program that included morning distribution of kits containing four condoms, written how-to instructions and a list of sexually transmitted diseases. In the afternoon, speakers - the rector and a Protestant pastor - addressed the same topic and slide-shows were presented inside the Cathedral. In the evening a ballet was performed in the Cathedral's square followed by more slide-shows and another distribution of condoms.

The poster boards in the entranceway displayed advertisements inviting youth "to enjoy safe sex," showing both a stylized naked woman and man preparing to use condoms. Another ad, third row below, showed a white-haired man wearing a t-shirt with the words: "I'm in my fifties," and behind him the invitation: "After 50, try condoms."

The Cathedral was duly "decorated" with symbols of AIDS prevention, first and second rows below, and a long banner above the doorway with the words: "AIDS is far removed from my life and I don't care about it. Is this true? Won't this get you in trouble?"

This semi-obscene promotion of condoms raised indignation among Catholics on the Internet and many of the local faithful, who rightly blamed Bishop Eugenio Rixen for allowing the event in his Cathedral.

Only after this strong reaction did the Bishop order Fr. Castanheide to issue a public statement clearing his name, which he did on December 6. In that document the priest assumed responsibility, and, paraphrasing Benedict XVI, he wrote that he was promoting condoms as "a way of humanizing sexuality."

He also placed the blame on someone else who allegedly put all that material in the Cathedral without his permission, even thought it remained there all day in his sight... In his communiqué, Fr. Castanheide displayed a violent hatred for those "conservative groups with a Tridentine ideology" that desire a "fundamentalist and anachronistic Church."

In the last row, the Cathedral set up with screens before the afternoon lectures and slide-shows.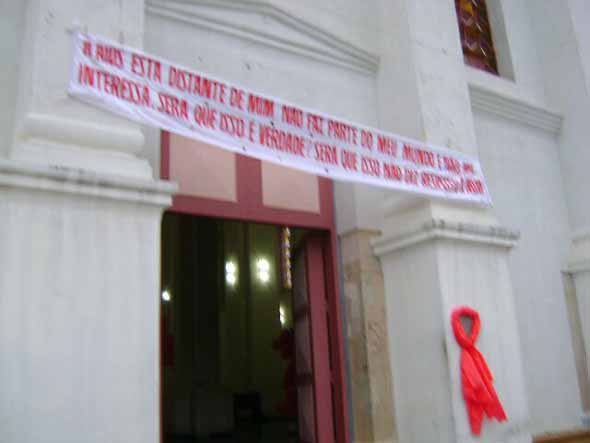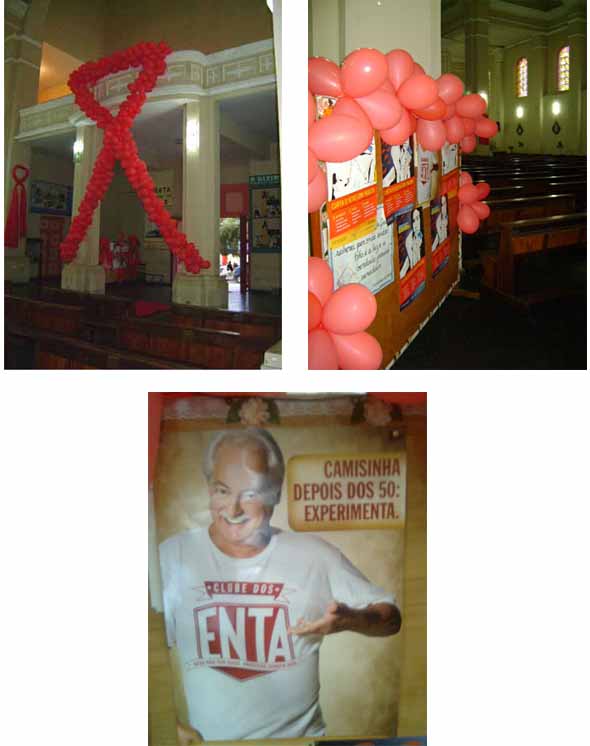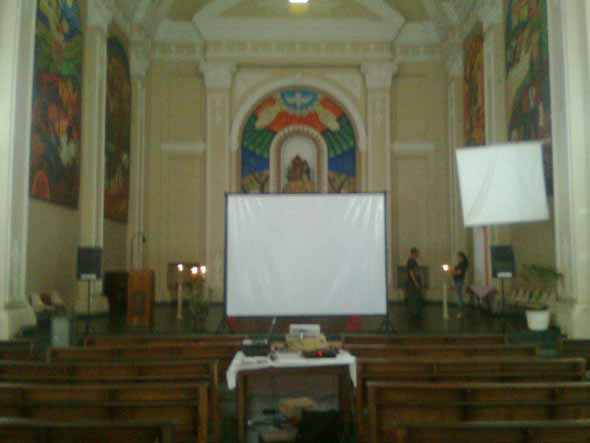 Photos from our Brazilian readers
Posted January 23, 2010

Related Topics of Interest

Diocese of Lucerne Promotes Condoms

Benedict on Condoms: a Forgotten Paragraph

Benedict Opens the Dike on Condoms

Papal Theologian Approves the Use of Condoms

Condoms Distributed at the WYDs

Prelates Approve Condoms

The Traditional Catholic Doctrine on Condoms

Free Love under the Church's Umbrella

Condoms: Doctrine versus 'Pastoral'

Clarifying the CDF's Note on Condoms
Pictures | Home | Books | CDs | Search | Contact Us | Donate



© 2002- Tradition in Action, Inc. All Rights Reserved