Free love under the Church's protection - WYD 2005

Above, a common scene at WYDs: a young couple kissing in an ambience of complete liberty. Below, first row, adolescents of both sexes sleeping close to each other without any barrier to prevent their bad instincts from developing. Second row, a love-in manifestation in a style characteristic of Woodstock.

Third row, left, a smiling punk with an extravagant hairstyle looks as if he is being blessed by the billboard's Benedict XVI Right, another punk feels at ease in the tolerant ambience of Cologne 2005 (in German, Köln 2005). Last row, boys without shirts and girls in shorts wade into the waters of the Rhine River to greet the boat of Benedict XVI, arriving for WYD.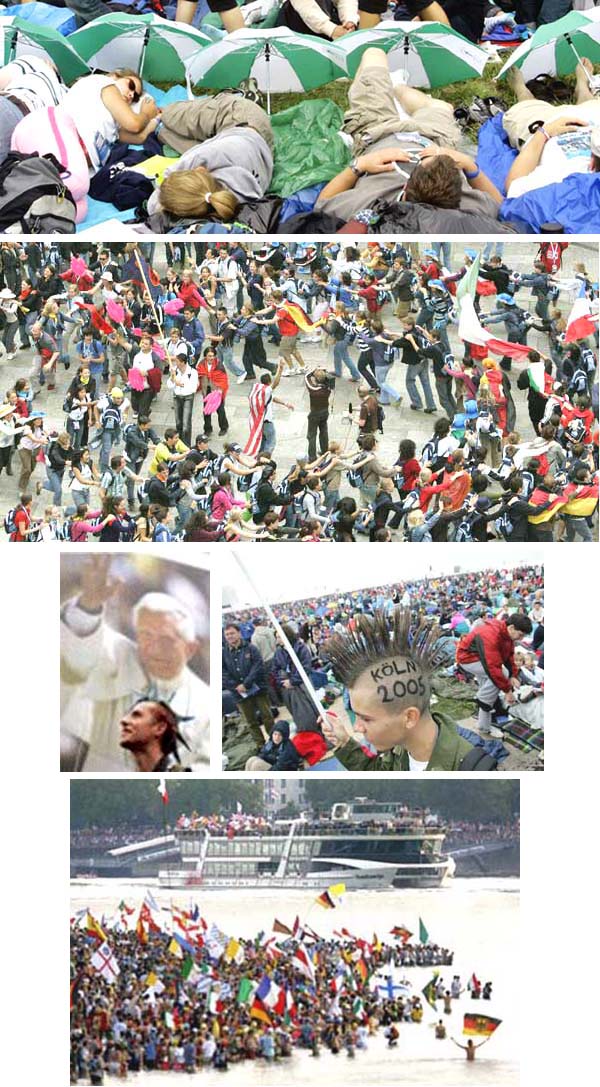 From the top, AP; AP; left, La Croix; right, AP; last row, AP
La Croix online

Posted September 25, 2005

Related Topics of Interest

WYD-2005: Cultural Revolution Under the Church's Umbrella

Belgian Nun Dances Performing Obscene Poses at WYD

Cardinal Wojtyla in Casual Dress

John Paul II Dances to Rock Music

Liturgical Dancing Over the Altar

Prelates Wear Rainbow Vestments at WYD 1997

Priests in a "Gay" Pride Parade in New York City

Bishop Plays the Drums in a Nightclub

Conservative Seminarians Dance to a Samba in Brazil

Young Women Hula Dance for the Pope