Progressivism in the Church
Church Revolution in Pictures

Photo of the Week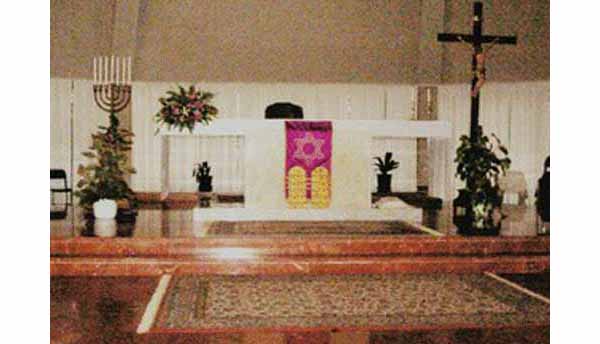 Catholic-Jewish parish in North Italy
Above you can see the altar of St. Pius X Church in the Diocese of Spezia in Liguria, North Italy. In the photo at left you can observe a seven-branched candelabra, the traditional Jewish symbol; in the center, over the altar there is a magenta-yellow cloth with the star of David, another symbol of Judaism; at right, Our Lord, who was crucified at the instigation of the Jewish priests and scribes.

This syncretism involving contradictory symbols of the two opposed religions is becoming more and more frequent in Catholic churches, giving a bad example coming from the top.

Did you hear that Benedict XVI is planning a visit to the synagogue of Rome? It will be the third synagogue he visits during his short pontificate.
Below, an outside view of St. Pius X Church.

Photos from Inter Multiplices Una Vox
Posted October 4, 2009

Related Topics of Interest

Catholic-Jewish Syncretism in New Mexico

Benedict Visits the Synagogue of New York

Benedict in the Synagogue of Cologne

Is the Catholic Church Becoming a Branch of the Synagogue?

Benedict XVI, the Herald of Judaism

JPII Wears a Cope Symbolizing the Temple of Jerusalem

Paul VI, the Catholic-Jewish Pontiff

Nothing Is Wrong with Paul VI Wearing the Jewish Symbol
Pictures | Home | Books | CDs | Search | Contact Us | Donate



© 2002- Tradition in Action, Inc. All Rights Reserved