Consequences of Vatican II

The Synod's Art – Part II
Making War Against
The Militant Mark of the Church
In my
last article,
I aimed to illustrate that the Synod on Synodality is synthesizing revolutionary ideals by completely "reconstructing" the Church. As I mentioned, Vatican-endorsed art on Facebook and Instagram illustrates the primary goals of the Synod.
The second image, which will I analyze today, condemns the militant character of the True Faith.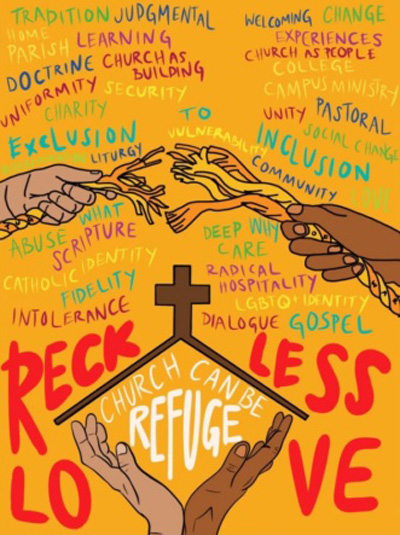 At the top of this image, we see a failed game of tug of war. Neither side is victorious, for the rope has broken: The Church has fractured. This break is apparently the result of fighting between traditionalists and progressivists, and two hands, representing these ideologies, hold the rope's broken pieces.
On the left side, the lighter colored hand is surrounded by words linked to the pre-Vatican II Church; on the right, the darker colored hand has words linked to the progressivist ideology that is being promoted today.
Each word or phrase has a counterpart on the opposite side, indicated by the same color. Thus, we have "tradition" and "change," "what" and "why," "exclusion" and "inclusion," "Scripture" and "radical hospitality," "Catholic identity" and "LGBT identity," "Intolerance" and "dialogue" and so on.
Below these words, the same two hands that once held the rope now sustain the roof of a church building. "Church can be refuge" is written inside. What does this mean? It is simple. Rather than fight, we should come together, replace division with "reckless love" (whatever that means) and forget our differences. Only this will heal the Church.
Such an idea is not unique to the artist. Pope Francis, who relentlessly promotes the progressivist agenda, recently celebrated the anniversary of the Second Vatican Council
by claiming that
people who "choose sides" are "breaking their mother's heart" because they "cheer on their own party rather than [be] servants of all."
However, the fight that progressivists so deride and detest is not merely between different schools of thought, but between truth and error itself. The fight does not destroy Christendom; error does.
In fact, faithful Catholics are obligated to resist error, never to accept it. St. Francis de Sales
wrote,
"The declared enemies of God and His Church, heretics and schismatics must be criticized as much as possible, as long as truth is not denied. It is a work of charity to shout: 'Here is the wolf!' when it enters the flock or anywhere else."
As the Church has always been militant, it is impossible for authentic traditionalists to come to a truce with heretics. Therefore, doing what is suggested in this Synod art piece instructs us to become a progressivist and follow error. It is a trap.
Also, despite her supposed desire to have a truce, artist Becky McInytre ironically appears to support the aggressive imposition of Progressivism. She uses overwhelmingly negative words like "judgmental," "exclusion," and "abuse" to describe Tradition.
Furthermore, in a summary of her piece, McIntyre admits that her work is about "Journeying from Exclusion to Inclusion." She quotes from students who say the Church should be "more compassionate rather than judgmental" and "more inclusive of all people: marginalized, LGBTQ+, lapsed, divorced Catholics, addicts, victims of any kind."
The mention of LGBTQ+ people is particularly concerning here, as homosexual behavior is one of the sins that cries out to Heaven for vengeance. St. Bernardine of Siena
even called it
"the worst sin that exists." It is impossible for the Church to welcome those who openly and persistently participate in homosexual behavior.
By the artist's own admission, this image reflects something other than Catholicism. "Tradition," "doctrine," and "Catholic identity," three words listed on the traditionalist side, are replaced with "change," "pastoral," and "LGTBQ+ identity."
If the Faith is not traditional, doctrinal or Catholic, then it is a false religion by definition. This makes this art piece, and the Synod as a whole, very dangerous. We are seeing an eclipse of the Catholic Faith.
Continued

Posted December 5, 2022
| | | |
| --- | --- | --- |
| Volume I | Volume II | Volume III |
| Volume IV | Volume V | Volume VI |
| Volume VII | Volume VIII | Volume IX |
| Volume X | Volume XI | Special Edition |