Assist at Mass every morning without distinction on Sunday and week days: Knights would fulfill this obligation in good conscience.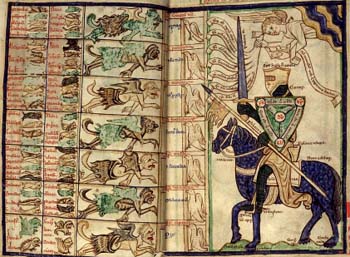 A knight, with the Trinity on his shield and doves in front of him symbolizing the gifts of the Holy Ghost, confronts the devils of the seven capital vices

During the reading of the Gospel, they would raise their swords in the air indicating their willingness to defend the Church and the Catholic Faith in all circumstances.

The most popular prayer from the 13th to 16th century seems to have been the one below that we found in countless Books of Hours. Directed to either Our Lord or Our Lady, it reads:
"Grant me the gift of Divine Grace to protect and conquer my five senses, that I may carry out the seven works of mercy, believe in the twelve articles of our Faith, practice the Ten Commandments of the Law and, finally, be delivered from the seven capital sins to the last day of my life."
This and other prayers the knights learned by heart so that they could say them even in the middle of a battle.

Let us listen to one of the most famous knights, Etienne Vignolles, nicknamed La Hire, who fought so valiantly with St. Joan of Arc. He was among the first who believed in her prophetic mission.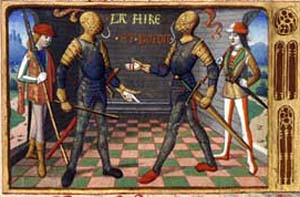 La Hire, at right, the famous Gascon captain whose nickname comes from "The Holy Ire of God"

In 1427 he along with the brave Jean de Dunois led the French force to lift the siege of Montargis by the English. As he appraoched the enemy ranks, because his life was at great risk he asked his chaplain to give him the absolution for his past sins. The priest required him to make a confession. Impossible, the attack was imminent.

The absolution was given, but La Hire had to say a prayer to God as penance. La Hire devoutly joined his hands and said in his Gascon language:

"God I beg Thee to do today for La Hire what Thou would like La Hire to do for Thee if Thou were La Hire and La Hire were God."

And he was certain he had prayed very well to the Almighty.



Based upon and translated from Funk Brentano
Feodalité and Chevalerie, p. 196

Posted October 24, 2008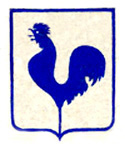 Related Topics of Interest

St. Louis IX, Warior and Saint

A Speech by Charlemagne to His Nobles

The Middle Ages, A Forest Filled with Symbols

Ranulf of Chester

Refuting Lies about the Middle Ages

The Cathedral: Symbol of Paradise

The Peasant-Nobles of the Roncal Valley