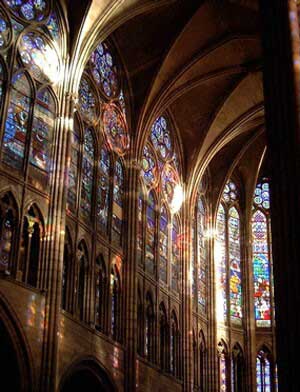 The southwest nave of St. Denis Basilica in Paris

The Cathedral is a figure of the City of God, the Celestial Jerusalem, an image of Paradise, as the liturgy of the consecration of churches affirms.

Its lateral walls are representations of the Old and New Testaments. Its pillars and columns are the Prophets and Apostles that sustain the cupola, where Christ is the center. The stained-glass windows that separate us from the storms and let the light pour over us are the Doctors. The threshold is the entrance to Paradise embellished by stone statues, painted and gold bas-relief sculptures, and rich bronze doors.

The House of God must be illuminated by the rays of the sun, resplendent with charity like Paradise itself, because God is Light, the light Who gives beauty to everything that exists. For this reason the internal illumination of the cathedral should be augmented, making the windows as large as possible, from the top of the great arches to the cupolas.



Based on Marcel Aubert
Le Gothique à son apogee, p. 22

Related Topics of Interest

The Middle Ages, a forest filled with symbols

Requiescant in pace... Burial customs

The symbol of the sword

The fidelity of the remnant throughout History

Gargoyles and original sin

Virtue and vice symbolized in animals

Votive light, fire and candles