Faith under Attack

False Devotions to Our Lady - I
The Learned, Dry & Barren Devotees
As Catholics we have been granted these most privileged times in which we live to serve Our Lord and defend His Church. We think of this on the feast of St. Louis de Montfort, which took place some days ago on April 28. Those acquainted with Holy Slavery to Our Lady are aware that there are few better times of the year than the end of April and May to help draw others to this true devotion as taught by the great Saint.
To start, the best thing is always to peruse his
Treatise of the True Devotion to Mary
, a must read for all Catholics. In it St. Louis points out that there are false devotions to her that can easily be mistaken for true ones.
Recently I noticed a timely discussion in some traditional circles concerning false devotion to Our Lady. As far as I can see, this discussion has been incomplete in some aspects and, therefore, it has misled some people. In an attempt to help correct these omissions, I write this article.
Why must we have true devotion?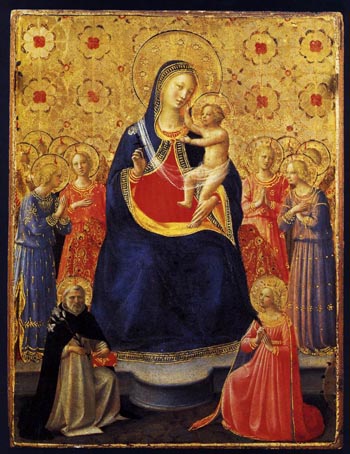 The Virgen and Child surrounded by angels and true devotees St. Dominic & St. Catherine of Alexandria
Our Lady is Queen of All Hearts. She helps us save our souls and the souls of others. With profound respect for the various particular devotions encouraged by the Catholic Church, which each may choose according to his own inclinations, St. Louis explains why devotion to Our Lady is for every soul.
It is good not only for "Marians" or those "inclined" towards her, but rather it is actually necessary for salvation for everyone. In his book St. Louis explains why this True Devotion is the best. He teaches it is the simplest, the most direct, and the most perfect way to reach Our Lord.
Be we simple or learned, preserved or corrupted, this true devotion is in fact for all hearts. Since the words of St. Louis de Montfort are often misquoted, let me reproduce them from the text:
"If, then, we establish solid devotion to Our Blessed Lady, it is only to establish more perfectly devotion to Jesus Christ, and to provide an easy and secure means for finding Jesus Christ.
"If devotion to Our Lady removed us from Jesus Christ, we should have to reject it as an illusion of the Devil; but so far from this being the case, devotion to Our Lady is, on the contrary, necessary for us - as I have already shown, and will show still further hereafter - as a means of finding Jesus Christ perfectly, of loving Him tenderly, of serving Him faithfully." (n. 62)
Why do we need to understand false devotion?
Devotion to Our Lady is necessary for all men in working out their salvation. As such, it is opposed to the widest possible range of man's defects; consequently all these defects work together to combat or avoid it.
The myriad of defects in man will always surface, even when he is walking on the road of sanctification. Whatever level of knowledge or holiness we might have, we must still all fight against these same basic tendencies toward evil all our lives.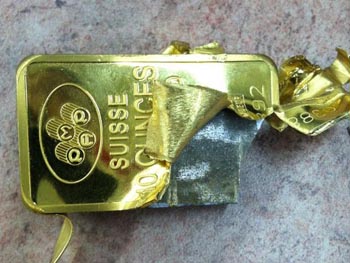 A lead-filled gold bar fools the unwary, as do counterfeit devotions to Our Lady
Defects plus the Devil produce false devotions. This is why St. Louis dedicated a part in his work to carefully describe the false devotions.
Again, let me transcribe what the Saint affirms on the importance of a true vs false devotion:
"Today, more than ever, we must take pains in choosing true devotion to Our Blessed Lady, because, more than ever before, there are false devotions to Our Blessed Lady which are easily mistaken for true ones.
"The Devil, like a false coiner and a subtle and experienced sharper, has already deceived and destroyed so many souls by a false devotion to the Blessed Virgin that he makes daily use of his diabolical experience to plunge many others by this same way into everlasting perdition; amusing them, lulling them to sleep in sin, under the pretext of some prayers badly said or some outward practices which he inspires.
"Just as a false coiner does not ordinarily counterfeit anything but gold or silver and very rarely other metals because they are not worth the trouble, so the Evil Spirit does not for the most part counterfeit other devotions, but only those to Jesus and Mary - devotions to Holy Communion and to Our Blessed Lady - because they are among other devotions what gold and silver are among other metals." (n. 90)
The danger of the false teachers
St. Louis de Montfort cautions his readers about those learned Catholics who pretend to be teachers, but do not have true devotion to Our Lady. Instead, when they speak of her, they do it in a "speculative, dry, barren and indifferent manner."
The Saint then gives these symptoms for us to recognize this type of false devotees: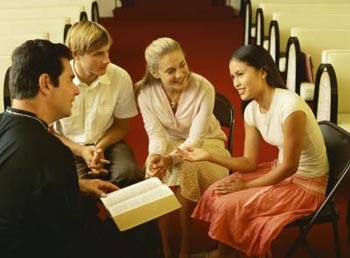 Some priests silence the Rosary and encourage the study of the Bible to have common ground with Protestants
"We hear them sometimes speak of devotion to Our Blessed Lady, not for the purpose of establishing it and persuading men to embrace it, but to destroy the abuses which are made of it; and all the while these teachers are without piety or tender devotion toward Thyself, simply because they have none for Mary. …
"And if there falls into their hands any poor client of Our Lady who says his Rosary or has any other practice toward her, they soon change his spirit and his heart. Instead of the Rosary, they counsel him the seven Penitential Psalms. Instead of devotion to the Holy Virgin, they counsel him devotion to Jesus Christ."
This sounds familiar, doesn't it? How many times have we heard progressivist priests tell us that we should avoid the excesses of Marianism! But, unfortunately, it is not only the blatant progressivists who do this. It is common to hear middle-of-the-road or conservative priests do the same as they try to justify the coldness of Vatican II documents on Our Lady. They say that we should not promote devotion to Our Lady in order not to offend the Protestants…
Even among traditionalists we see a similar influence. Either because many persons in this milieu are converted from Protestantism or because they still have progressivist influences in their souls, they believe that when we have to choose between the Rosary and the Bible, we should prefer the latter. When we talk about the message of Fatima, they caution restraint, warning us that it is "only a private revelation" that must be taken with reservations.
I conclude with the prayer of St. Louis de Montfort at the end of his analysis of this type of false devotee:
"Keep me, Lord, keep me from their sentiments and their practices, and give me some share of the sentiments of gratitude, esteem, respect and love which Thou hast in regard to Thy holy Mother, so that the more I imitate and follow her, the more I may love and glorify Thee."
To be continued

Posted May 2, 2013