Catholic Virtues
The Single Vocation - XI
St. Rose of Lima: Lay Celibate by the
Wish of Our Lady
Today (August 30) throughout Peru and especially Lima, the visitor finds processions led by military units carrying a statue of a young woman,
St. Rose of Lima
. This simple lay celibate woman who dedicated her life to prayer, penance and acts of charity, made a tremendous impact on her city, one that continues until our days and has extended throughout the country and the world.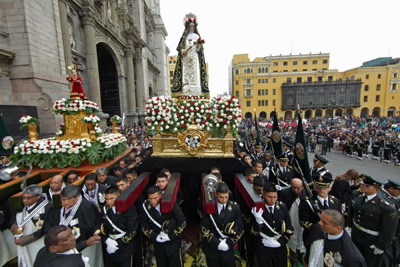 Because of her militant practice of virtue, St. Rose is patron of the Peru National Police, who carry her statue & salute her at the processions for the festivities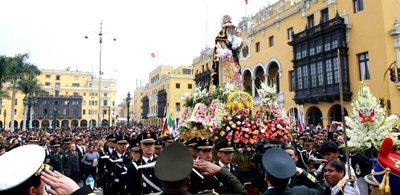 She is patroness not just of Peru but also of all South America and the Philippines. She is also patroness of Peru's National Police, which finds in her virtue inspiration for upright moral conduct. Thousands of troops, in full dress uniform, never fail to proudly bear her statue through the streets on her feast day. Her virtue is a symbolic light for the upright moral.
Born in the year 1586, Isabel Flores de Oliva was an exceptionally beautiful girl. Her beauty aroused the admiration of all who saw her, so she was called Rose. The Bishop even confirmed that this should be her name, as there was a family dispute over the matter, because Rose suited her very well.
Even as a child, she had a great love and fear for God that induced her to give her life to prayer and penance. Love of God encouraged her to perform every task – even the most menial – with diligence and excellence. She became a talented seamstress, gardener, singer, poet and housekeeper. She knew how to bring charm and joy into a house without giving undue attention to herself. This is what attracted the admiration of the city and brought many excellent marriage proposals, which she steadfastly refused.
When she was a young girl, her brother told her that her beautiful locks of hair would catch a fine husband. This statement induced her to cut off her hair, because she did not want to marry. She also began to wear coarser clothing and to increase her penances. When her parents discovered this, they were appalled.
Eventually they convinced her to grow back her hair and dress with the dignity due to the family's status. She obeyed and wore the lovely dresses that her mother bought for her and participated in the family's social obligations while retaining a spirit of recollection.
Rose's parents urged her to marry, because her beauty and virtue attracted the best suitor, but she refused in fidelity to Our Lord to whom she had already pledged her virginity. She had the wish to enter the local convent, but decided not to join, because her family needed the income that she made from selling her flowers and embroidery.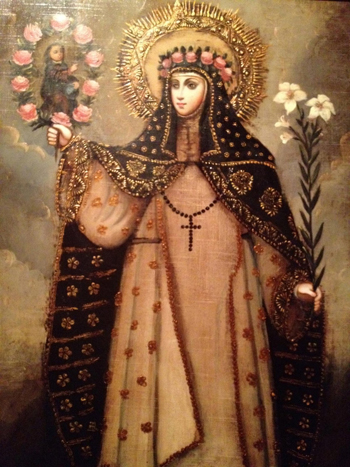 Renowned for her beauty and virtue,
Rose lived her life in her family home
Later, when her family's need was no longer pressing, she once again tried to enter a convent as a means to escape the continual pressure of suitors, This time she was accepted, but she would not enter the convent. Our Lord had different plans for her.
Accompanied by her brother Hernando, she was on the way to the Dominican convent to enter and begin her novitiate. Along the way she stopped at a Church to ask the Virgin's blessing on her vocation.
Time passed, and Rose made no sign of leaving. Her brother hesitantly reminded her that the hour the Sisters had appointed for her arrival had already passed. Rose was fully aware of this but was facing an unexpected quandary. She could not move: It was as if something were holding her back. Even when her brother tugged at her to make her rise, she remained immobile.
With this, Rose realized that it was not Our Lady's will for her to enter a convent. She raised her eyes to the Virgin and prayed, "
Señora
, I promise that if it is not Your wish I should become a cloistered nun, I will return to the home of my parents. I will continue to serve them, but I will also serve You. Their house shall be my retreat and Your sanctuary." (Frances Parkinson Keys,
The Rose and the Lily
, New York: Hawthorn Books, 1961, p 110).
After this affirmation that her vocation was to be something other than marriage and the religious life, she remained at home, living a simple life, working in the family garden, selling her flowers and stitching beautiful embroidery. She helped to care for her younger sisters and brothers and her grandmother.
Later, to avoid the constant social obligations that the busy family life obligated, she joined the Third Order of St. Dominic so that she might have a deeper contemplative life inside her family home. With this new way of life, she was permitted to wear the Dominican habit, thus finally stopping the steady run of suitors.
During this time, she increased her penance and fasting and lived nearly as a recluse in a hut in her favorite garden where she had constant visions of her Guardian Angel, Our Lord and His Blessed Mother. She wore on her head a crown of roses that had metal spikes turned into her head; around her waist she wore a metal chain. She threw the key to this chain into the well in her garden, which you can still see today.
She would sleep as little as two hours every night in order to devote more time to prayer. In addition to her penances, she opened a room in her family's house for the elderly and homeless children of the city.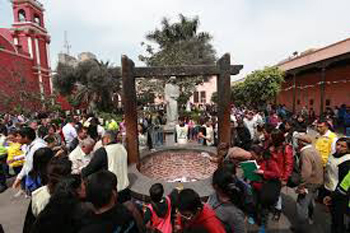 The well where pilgrims leave requests for the Saint
She offered all of her penances in expiation for the idolatry of her country, the outrages committed against Our Lord and for the release of the souls in Purgatory.
She died at age 31 on August 24, 1617, after predicting the date of her death. Men, women, and children from every class in society came flocking to see her blessed body. The priests, nobles, the religious and the poor all came to kneel before the body of one they already venerated as a saint.
The funeral was celebrated with great pomp and solemnity with the participation of all of the members of the city including the Viceroy. In 1667, within 50 years of her death, she was pronounced Blessed by Pope Clement X.
Her feast day is a national holiday in Peru. People from all over the country flock to Lima to participate in the beautiful processions and celebrations. The streets are decorated with colorful flowers and banners. And all of the people watch as the beautifully adorned statue is solemnly paraded through the streets.
Many of these pilgrims visit the well in the garden where Rose spent most of her time, the well where she threw the key to the chain that she wore around her waist for penance. These pilgrims write letters to the Saint asking for particular graces or assistance and throw the letters in that well.
The life of St. Rose and her influence over her country and the world despite her quiet, hidden life in her family home show how a lay celibate living in the world can truly accomplish marvelous things through God's grace.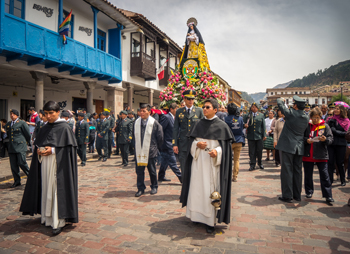 Procession throughout Peru to celebrate its Patron Saint
To be continued
Posted August 30, 2019