Catholic Virtues
The Single Vocation - IX
Historical Precedents for Lay Celibacy
There is a very insidious idea going around in the traditionalist and conservative milieus: that the only vocations are marriage and religious life (i. e., priesthood or monk/nun). These same persons – many of them priests and prelates – teach that lay celibacy is not a vocation, that the single state of life is for "failed circumstances," and that God does not will for anyone to be single permanently.
Some of the followers of this false doctrine like to pretend that lay celibacy was a progressivist "invention" of Vatican II. They hold that, since Vatican II over-promoted the laity, the state of lay celibacy is a novelty and is not a "traditional" vocation in the Catholic Church.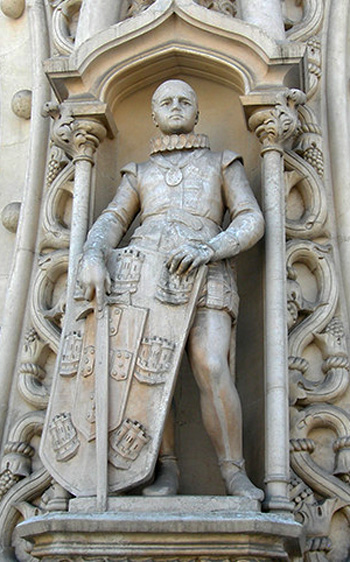 The legacy of the Crusader Prince Dom Sebastian continnues to our days
Thus, in a time when almost every religious order and seminary has been infected with Progressivism, the followers of this false doctrine are counseling those who might be called to be single – specifically to dedicate their lives to fighting the Revolution – instead to enter religious orders or the seminaries to become priests.
Rather than go into the theological or moral aspects of this false doctrine – such as the Protestant influence, which has been previously addressed
here
by Dr. Marian T. Horvat, or the Freudian exaltation of the marital act, which has been addressed
here
by Mr. Atila Sinke Guimarães – I would simply like to show that there is, in fact, historical precedents long before Vatican II for this vocation of remaining single as a state of life.
In this article and in the next, I will present a list of 14 men and women, saints and great leaders, who were lay celibates – people who remained single permanently while living in the world. These men and women were princes, soldiers, kings, mystics, knights and homemakers, a mere smattering I chose from many examples. (1)
With this, I hope more people will see the presence of this vocation in History, and be encouraged to defend it against the constant attacks it suffers.
Kings & Nobles
Dom Sebastian
– (1554-1578) King of Portugal, grandson of Emperor Charles V. He was the perfect model of the Crusader-King, and was well-loved by the Portuguese people.
Dom Sebastian
was a great warrior who not only fought in the Crusades in Africa, but also fought the Renaissance with its revolutionary thinking and customs. He never married, as his first priority was to fight for the glory of God and Christendom.
He disappeared in battle while fighting the Moors in Africa, and was most probably killed. As Dr. Plinio notes: "He entered the annals of History as the virgin King; he went to eternity bringing the pure incense of virginity to burn before God forever."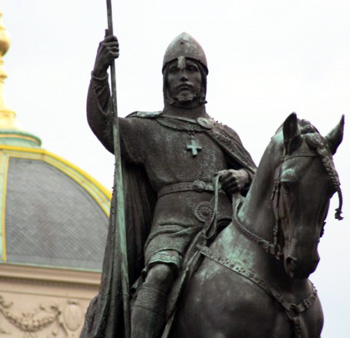 The much-loved King St. Wenceslas, defender of the Faith and his people
St. Casimir V –
(1458-1484)
Prince of Poland, son of King Casimir IV
. He spent his life in the royal court, which was an ambience that was conducive to his sanctity. His father tried to arrange a marriage for him with the daughter of Frederick III, first Holy Roman Emperor of the House of Habsburg, but Casimir preferred to remain single. He is the Patron Saint of Poland and Lithuania.
King St. Wenceslas
– (907-935)
King of Bohemia
. Wenceslas practiced the most beautiful virtues. He made a vow of virginity and conserved it intact all his life. His royal birth ensured him the highest honors and made him the lieutenant of Christ and His authentic representative on earth.
Wenceslas was admired and beloved throughout Christendom. He was known as a friend of his people, dedicated to the service of his nation, austere and generous, protector of the poor, defender of the Faith and a faithful subject of the Church. He was also a fearless and loyal warrior.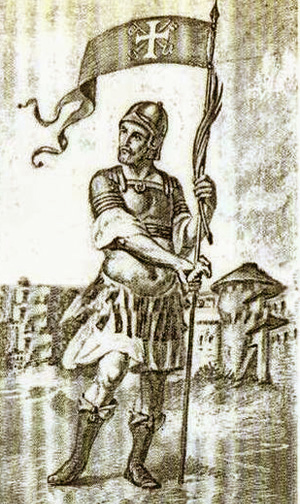 Duke Erlembald had the mission to fight for the Church as a lay knight
He was killed by his brother, who was ambitious and solicitous for the throne. Hungary, Poland and Bohemia chose him as their Patron Saint.
St. Erlembald
-
St. Erlembald
was the Duke of Milan, a fearless knight of Christ who died in 1075. He belonged to the illustrious Cotta family from Milan and became a captain of arms in his youth.
When he returned from a pilgrimage to the Holy Land, he announced his intent to enter the monastic life. However, he was counseled not to take this step by the deacon St. Arialdo and to fight for the Church as a lay knight instead. Much like the progressivist infiltration that has occurred in our times, Arialdo pointed out to Erlembald how the Church was going through an hour of darkness with the spread of simony and impurity in the clergy, abuses protected not only by ecclesiastical authorities but also the civil powers.
Pope Alexander II gave Erlembald the mission to fight for the Church as a lay knight, and in the name of St. Peter, the Pope gave him a standard for the warrior to carry to repress the furor of the heretics. He was murdered, and shortly thereafter was canonized by Pope Blessed Urban II.
Continued
I specifically did not include four types of people in this list:

1. Children – I did not include persons like St. Maria Goretti, St. Domenico Savio, or José Sanchez del Rio because some might object: "They were children when they died, so of course they were lay celibates. If they had grown up, they would have either married or become religious."

2. Hermits – I did not include persons like St. Mary of Egypt, St. Agnes, and St. Marciana. Someone might object: "Hermits were essentially the precursors to the monastic life."

3. Eunuchs – I did not include people like St. Gush ad Azad, who were made eunuchs. Someone can contest: "These people did not choose to be celibate, since they were physically incapable of having children."

4. Saints or persons whose biographies are lacking in historical evidence or missing key biographical information. As much as I would have liked to include them in this list, I did not.

Many of the saints' biographies I have listed were taken from the "Saints of the Day" on our website. The rest of the biographical summaries I compiled on my own, gathered from books and online.
Posted July 31, 2019