Catholic Virtues
The Single Vocation - X
Models of Lay Celibacy in History
In this article I
will continue
to list lay persons in History who voluntarily chose to not enter the religious life or be married. With this I wish to counter those conservative and traditionalist priests who spread the wrong teaching that to be a lay celibate is due to "failed circumstances." That is, there would be only two valid vocations in the Church: to be religious – priest, monk or nun – or to be married. The historic examples put to rest this biased idea.
St. Cizy de Besançon
– (8
th
century) Among the warriors filled with faith, who joined together to expel the Saracens from Gaul, Cizy of Besançon stood out.
St. Cizy
was a great warrior and, at the same time, extremely pure, very pious and with excellent manners. He was a descendent of the ancient Dukes of Bourgogne and was as famous for his piety as his military valor.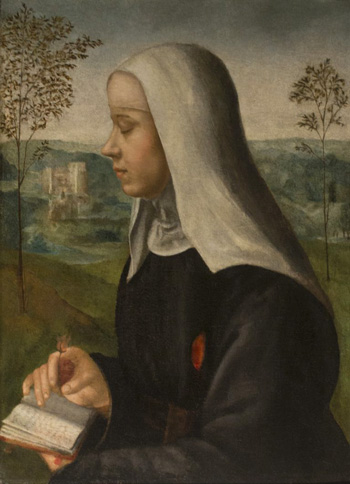 St. Catherine of Siena pictured as a young woman in her city
The ancient records of his martyrdom affirm that, under his soldier's armor, he wore austere dress, making him a man of great gravity and modesty. This soldier of Christ received from Charlemagne the command of one-third of the knights who were defending the plains along the Garonne River. During battle, he was taken prisoner, and was offered his life if he would apostatize and embrace the religion of Mohammed. He refused, and was martyred.
St. Catherine of Siena
– (1347-1380) Born into a family with more than 20 children,
St. Catherine of Siena
began to have mystical revelations at the age of six, which continued throughout her life. She resisted the efforts of her parents to have her marry. Instead, when she was age 16, she became a Third Order Dominican. She counseled Popes and Prelates, and was declared patron saint of Italy in 1939.
Here is the moment to stress that the Third Orders in the Church are not religious orders
per se
. What the Church call "religious" are both the First Order (priests subjected to religious rules and monks with the three perpetual vows) and the Second Order (nuns with the three perpetual vows).
The Third Order is comprised of lay persons, single or married, who live in the world without vows but with some commitment to the Order. Although members of the Third Orders are occasionally allowed to wear habits – and some saints of Third Orders are represented in habits for the veneration of the faithful – they are not religious, do not have a convent life but live in the world as lay persons.
St. Rose of Lima
– (1586-1617) A mystic from Lima, Peru,
St. Rose of Lima
took a vow of virginity as a child. Though she suffered from poor health, she was extremely beautiful, and as a young woman she had many eligible suitors present themselves to her. She rejected marriage, and also found that it was not God's will that she enter a convent, though the opportunities did present themselves.
She remained a lay celibate, and became a Third Order Dominican, a path that her role model, St. Catherine of Siena, had taken. She lived a secluded life at home with her family, and would go out only to attend Mass and sell flowers. She is the Patroness of Latin America.
St. Mariana de Jesus de Paredes
– (1618-1645) Called the "Lily of Quito," Mariana de Jesus de Paredes was born into a noble family in Quito. She had a strong religious spirit and would fast and do penance. She took a vow of virginity, and announced to her family that she did not intend to enter a convent, since she believed this to be the will of God.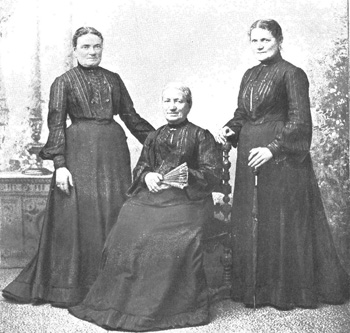 The three sisters of Pope St. Pius X, highly regarded by their brother and all who knew them
Like St. Rose of Lima, Mariana also lived a life of seclusion at home with her family. She centered her spiritual life on the nearby Jesuit Church, where she participated in a number of sodalities. She is the first person to be canonized from Ecuador, and is considered Ecuador's "national heroine."
Anna, Rosa & Maria Sarto –
(19
th
century-20
th
century, birth and death dates vary) These three women were the sisters of Pope St. Pius X. They were lay celibates who helped their brother, and, after he became Pope, they were invited by him to live in Rome, where he set up an apartment for them near St. Peter's Basilica.
They went to the Vatican every Wednesday and Sunday, and on major feasts they would go to the papal Mass, and afterwards would be invited to a meal with Pope St. Pius X. They were so highly-regarded that they were jokingly referred to as "the minor cabinet-ministers," since their opinions were always taken into consideration by their brother, the Pope.
St. Macrina the Younger
– (324-379)
Macrina
was a 4
th
century homemaker. At age 12, Macrina was engaged to be married, but when her fiancé died, she decided she would not marry. She dedicated her life to help her mother raise her three younger brothers: St. Basil, St. Gregory of Nyssa, & St. Peter of Sebaste.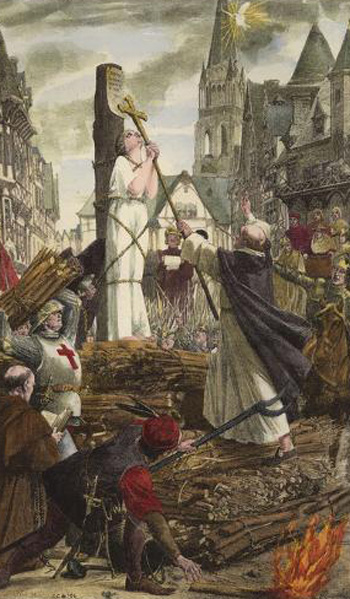 A bold cry to the world proclaiming her innocence
After her siblings had grown up and were completely formed, they used to call her Macrina the Great, as they had in their childhood, a sign of the high respect they had for her.
Bl. Angelina of Montegiove
– (1357-1435) Born into a noble family, Angelina consecrated herself to God at a young age, but later her father forced her to marry. Her husband respected her virginity, and after his death she became a Third Order Franciscan. She founded many communities of Third Order women who live and work serving the poor.
St. Joan of Arc –
(1412-1431)
St. Joan of Arc
was a virgin shepherdess who was called by God to lead an army in order to free France from her enemies: the English and the Burgundians, who had joined with them. By following the counsel of the voices she heard, she accomplished the partial liberation of France and the restoration of the legitimate King. She was judged by a Church tribunal, who condemned her as a witch, and she was burned at the stake.
As the flames surrounded her, she cried out to the people: "Know this, all of you – you friends and enemies, you men of my time and you men of the future until the end of the world – know that the voices I heard came from Heaven. With this last proclamation, my mission is accomplished."
Her body was consumed by her flames, but not her heart. Out of fear and impiety, the English cast her heart into the Seine River.
Here are some examples of lay persons – men and women, nobles and peasants, rich and poor – who prove that lay celibacy is not due to "failed circumstances," but is the fruit of a free choice any person can make. It is as normal and good to be a lay celibate as to marry or as to enter the priesthood or the religious life.
Continued
Posted August 7, 2019
______________________
| | | |
| --- | --- | --- |
| Volume I | Volume II | Volume III |
| Volume IV | Volume V | Volume VI |
| Volume VII | Volume VIII | Volume IX |
| Volume X | Volume XI | Special Edition |