Special Devotions
Slavery to Mary - 4
The Devil's Hatred of True Devotion to Mary
In
the last article
we saw the great rewards promised to those who practice true devotion to Our Lady according to the method of St. Louis de Montfort.
To understand how the Devil hates this devotion, let us see how St. Louis Grignion de Montfort was persecuted.
He was a simple and very poor priest who was ordained in a seminary in Brittany, France, and who resolved to preach devotion to Our Lady everywhere.
He was a popular preacher, not one of those grand orators who addresses auditoriums of highly educated and cultured persons. Wherever he went, masses of farm workers and peasants flocked to hear him. Even though he would speak plainly on things difficult to hear, these crowds gathered around him and were genuinely enthused by his preaching.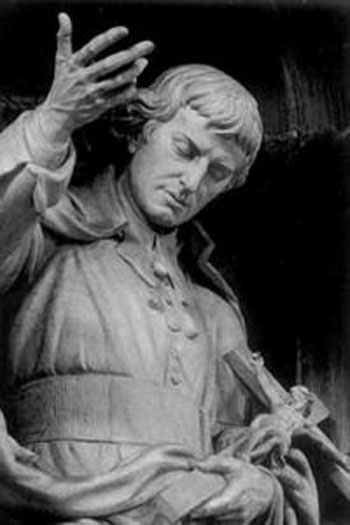 He spoke to the people & touched their hearts
It was the end of the 17
th
century and France was living in the period of preparation for the ignoble French Revolution that would spread over the entire world. St. Louis Grignion could sense this Revolution was coming. In several passages of
The Treatise on True Devotion
he speaks of it, of a huge revolution that was coming as a consequence of a veritable flood of sins being committed in France and Europe.
Thus he spoke, preaching relentlessly against these errors, but the clergy of his time – in part greatly contaminated by them – fought him and despised him.
Often during his preaching travels, he would stay in monasteries; he was very poor and at that time, since there were many monasteries, he generally went to them and asked for food and lodging. It is a beautiful custom of the Catholic Church of all times that when a priest or any other person rang the bell of a monastery and asked for food, no questions were asked. He was given food and allowed to rest for a while, etc., until he resumed his travels.
And so they would follow this custom with him. But since he had suffered many calumnies and slanders, when he would arrive at many of these monasteries, often they would treat him with contempt. In one particular monastery where he found shelter, he was treated with so much despisal and so little regard that in the end he withdrew.
A person who had attended him asked him: "What do you have to say about the way they treated you?"
Calmly, but very forcefully, because he had a soul of fire, he said: "I will say only one thing, I never thought it was possible in a monastery to treat a priest in such a way." Then, he left and continued on his way.
The King commands his Calvary be destroyed
In order to propagate this devotion, St. Louis de Montfort wanted to construct an open-air Calvary in Pontchateau in Brittany in the year 1710. A Calvary is a stone monument that represents the height of the Crucifixion at the moment when Our Lord expired. So it was a monument with Our Lord crucified on the Cross along with the good and bad thieves on their crosses, and at the foot of the Cross, Our Lady, St. John the Evangelist and at times the Holy Women.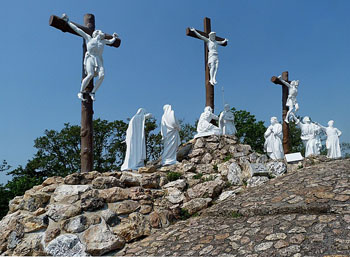 The Calvary in Pontchateau was destroyed on the order of the King; it was rebuilt in 1821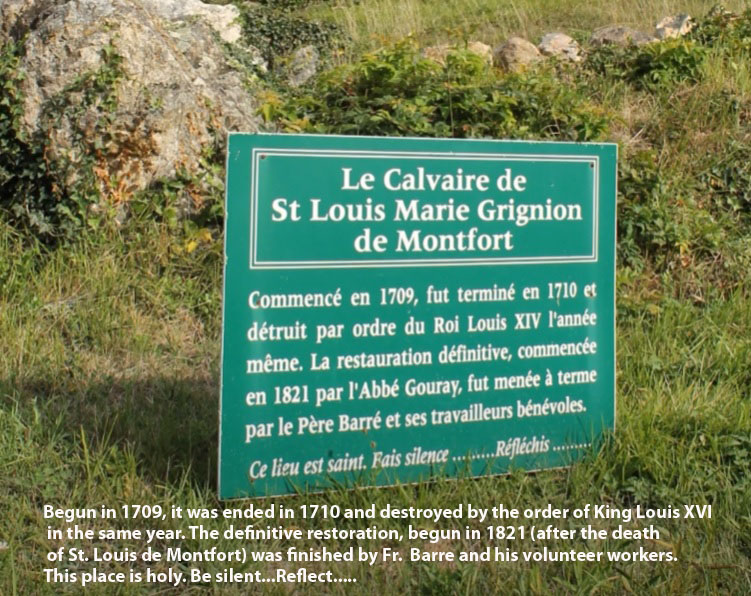 The Holy Women would be weeping, St. John deeply impressed and looking at his Divine Master, and Our Lady also standing and gazing at her Son, but with such a firmness that only one person had more than she did – and that person was Our Lord, nailed to the Cross.
St. Louis wanted to make this Calvary of Pontchateau a center of pilgrimage and devotion all over France. And in fact, even as it was being constructed, pilgrims were already arriving to pray. A few days before its scheduled blessing, thousands had already gathered at Pontchateau to celebrate the blessing of the splendid, monumental Calvary.
Then, troops arrived with a decree: "By the order of the His Majesty the King Louis XIV, all that has been done must be destroyed."
They destroyed and razed the open-air stone monument upon which he had spent so much time and effort raising funds, organizing the work, finding the artists to build it. His whole work was leveled to the ground.
The Treatise of True Devotion disappears for centuries
In the year 1712, he wrote the
Treatise on True Devotion to Mary
with the aim to teach this devotion to the whole world. He did not have the means to distribute the book, so it was virtually unknown in his time. When he died in 1716, some criminal and unknown hand stole his manuscript and hid it in a storage room of a small Religious Order he had founded, the Missionaries of the Company of Mary in St. Laurent-sur-Sèvre, France. It disappeared, and no one found it for a long time.
So, at the time of his death it was a treasure ignored by the entire world. He died without seeing his work receive any attention... his whole life seemed to be nothing but rubbles. He died in peace. After his death, the Devil arranged a way to hide it.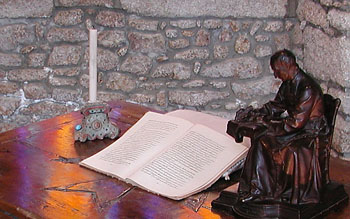 The original manuscript & the desk upon which it was written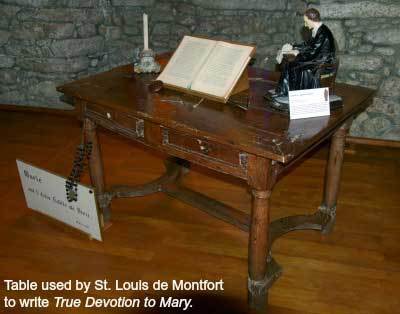 Today, the original
Treatise
is preserved in the Motherhouse of the Convent of the Daughters of Wisdom, Saint-Laurent-sur-Sèvre, on the table where he wrote a large part of it. It is a table that I would like to bring here and use it to build an altar – there is no gold or marble that could honor such a thing sufficiently.
Only in the 19
th
century, on April 29, 1842, did they unexpectedly find his work in a trunk or basket or some such thing. It was a surprise. They found that the handwriting was his and there was no doubt that it was his work.
But, if I am not mistaken, a third of his work had been torn out by someone and had disappeared. Who knows where it is hidden?


Thus, we do not know the whole Treatise; we know only the major part of it, but not the whole work.
[Originally, the work consisted of 19 notebooks, but the first 7 were missing. Only 10 pages of the 8
th
notebook remained, and of the last, only 6. - Ed.]
I still have hopes that before the Chastisement this part will come into our hands. But it is evidently the hidden Enemy who tore it out to try to keep all of it from being known.
How I discovered the Treatise on True Devotion
How did the
Treatise on True Devotion
come into my hands?
I was still young, around 22 or 23 years old, perhaps a little less, 21. I had a strong desire that Our Lady would give me something: money so that I would not have to work in a profession and would be completely free to work full-time for the Catholic Cause. I also really wanted to find a good book on the spiritual life. I had already read several books, but I was not entirely satisfied. I wanted something else.
So, I made a promise to St. Therese of the Child Jesus. I no longer remember what I promised, but I made a promise... asking her help for my lottery ticket to be drawn. I bought a lottery ticket that had a small purse, the first prize was only 400
contos
. It is hard to imagine that I could live from that small amount. At any rate, I asked for 400
contos
and a good book. I had no idea what the book would be.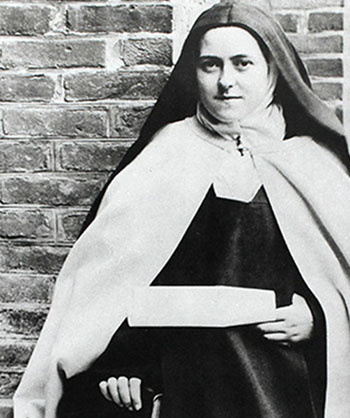 A novena to St. Therese lead to find True Devotion
So then, I made the novena to St. Therese of the Child Jesus. To look for the book I went to a bookstore that was run by the Immaculata priests. I entered, examined this one and that, and in the end two books especially held my attention.
I do not remember what the first book was, but the other was the
Treatise on True Devotion
by St. Louis Grignion de Montfort, who was not yet a saint. Then, it was just Blessed Louis Marie Grignion de Montfort, about whom I knew nothing. But two reasons motivated me to buy this book:
first
, it concerned Our Lady;
second,
because the book's appearance itself was very agreeable and made with good taste. That attracted me and I bought it.
When I got home and started reading I realized that I had found
the book
of my life.
St. Therese answered one part of my request, but she did not grant the other. I did not win the lottery and had to work hard, at the expense of my apostolate, to move my life forward. But I started making the novena to her and to this day I have not stopped. Let us see if she gives me something else before I reach the end of my days.

Posted November 2. 2022