Talks with Jan
Holy Slavery to the Blessed Virgin Mary
My friend Jan is convinced of the importance of true devotion to Mary in these times. However, after a recent discussion on the topic in which I encouraged her to make the Total Consecration to Our Lady according to the method of St. Louis de Montfort, she expressed some confusion over one word I used.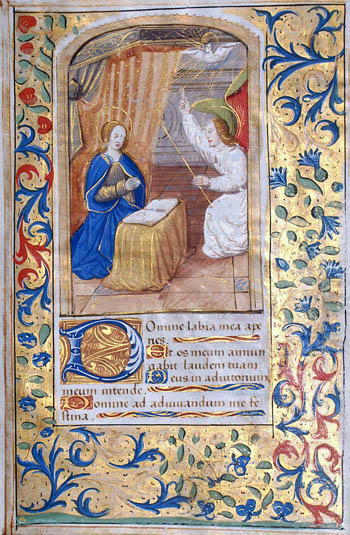 'Ecce ancilla Domini'
Our Lady called herself a slave of God
"Perhaps I heard you wrong," she noted, "but I thought you said that I should think about being
a slave of Mary
. Slave is viewed in a negative light, such as a person who is in a forced state or without free will. Could you please explain what you mean?"
In fact, she heard correctly. What St. Louis de Montfort preached was
Holy Slavery to Our Lady
. I have noticed that the progressivst clergy and Marian associations try to avoid using the word slavery, and call his method
Holy Servitude
or
Holy Bondage.
I imagine they fear offending modern sensibilities, which has made Liberty a kind of false god. For the modern man, nothing could sound worse than slavery.
St. Louis, like Our Lady herself, did not have this problem. When the Archangel Gabriel appeared to the Virgin Mary in the Annunciation, she responded, "
Ecce ancilla Domini, fiat mihi secundum verbum tuum
." The common English translation is "Behold the handmaid of the Lord, be it done to me according to Thy Word."
But "handmaid" is a weak translation of the Latin
ancilla
, which was in fact is the term for
female house slave
in Ancient Rome. Our Lady presented herself before God as His slave. Thus St. Louis had no qualms or fears to write directly about holy slavery to Jesus through Our Lady.
The benefits of this Holy Slavery
In
Chapter Two
of
The Secret of Mary
, St. Louis explains that when a person consecrates himself to Our Lady, he gives himself "entirely and as a slave to Mary, and to Jesus through Mary."
That is, we should offer to Our Lady entirely and without reserve our body and soul, our exterior property, such as our house family and income, and also our interior and spiritual possessions, namely our merits, graces, alms, indulgences earned and so on. We leave Our Lady free to dispose of all, St. Louis tells us, so that she can apply it as she wishes for the greater glory of God, which she alone knows perfectly.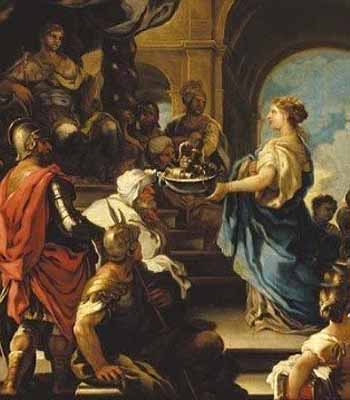 A Queen presents a subject's gift to the King, who receives it well since it comes from her hands
As slaves, we are no longer masters of any good works we may do, but we have a marvelous recompense. By placing our merits in the hands of Our Lady, she preserves, augments and embellishes them.
St. Louis offers this metaphor to explain the benefits. Imagine, he says, a poor farmer who wants to gain the favor of the King but has only as a worm-eaten apple to offer. If the farmer is wise, he will give his poor apple to the Queen.
Out of kindness to the poor man as well as respect for the King, she will take the apple, remove all that is spoiled from it, and then place it on a gold plate and surround it with flowers. Then she presents it in the name of the farmer to the King, who receives it with joy.
"If you wish to present something to God, no matter how small it may be," says St. Bernard, "place it in Mary's hands, if you do not wish to be refused." What St. Louis advises is to place
our very selves
into Mary's hands, so that God will receive us well. You can see the excellent benefits of this holy slavery!
We no longer claim anything for ourselves, but we know that we belong to the Queen of magnanimity and goodness, who knows what we need and want better than we do. And be sure that she will see after those needs and wants better than we can.
We become totally hers, and she will take good care of what belongs to her. Who can doubt that this holy slavery is not a benefit to the person who voluntarily submits to slavery under this marvelous Mistress?
What better policy to adopt in these very difficult and chaotic times than to give oneself entirely to the Queen of Heaven, who in return takes every care and woe of ours and treats it as her own?
The notion of slavery
St. Louis de Montfort realizes that some persons – like my friend Jan – may have difficulty accepting to become a slave. So he takes some time to explain the
three kinds of slavery,
and points out which meaning he is using in his Holy Slavery to Mary.
The first
is the
slavery of nature,
and in this sense, he notes, all men – good and bad alike – are slaves, because we are all subject to God.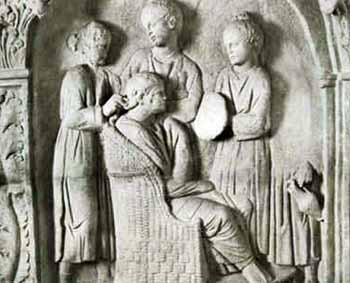 Roman ancillae serving their mistress, slaves under constraint and not of their own will
The second
is the
slavery of constraint,
that is, when a person is a slave against his will. The Romans and Greeks and people throughout History have had this kind of slave. The devils and the damned are this kind of slave of God. This is not the Holy Slavery he is talking about.
The third
is the
slavery of love
and of free will, and this is the slavery where one freely consecrates himself to Jesus through Mary. This Holy Slavery is, he affirms, the most perfect way for us to give ourselves to God our Creator.
The consecration of St. Louis Marie Grignion de Montfort is indeed radical, but of a wonderful radicality that produces marvelous effects in one's spiritual life. It is a slavery that frees, as St. Louis himself tells us:
"This devotion truly frees the soul with the liberty of the children of God. Since for love of Mary we reduce ourselves freely to slavery, she, out of gratitude, will dilate our heart, intensify our love and cause us to walk with giant steps in the way of God's commandments. …
"This devotion truly obtains for her slaves of love the graces of God that elevate their intellects to a lucid understanding of the highest themes of the Faith, and strengthen their will to embrace and fight for those ideals, conquering all the interior and exterior obstacles that stand in the way to sanctification."
Holy Slavery & the Reign of Mary
Holy Slavery to Mary has a special importance for our days. In
True Devotion to Mary,
St. Louis de Montfort predicts an age to come where consecrated apostles –"servants, slaves and children of Mary" – will emerge "who, like a burning fire, shall kindle the fire of divine love everywhere."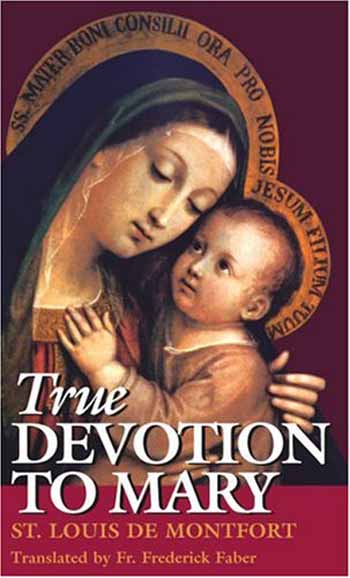 St. Louis de Montfort was the Prophet who announced the coming of the Reign of Mary, a time when the Church will flourish again as never before in History.
"And that day will come
," he affirms,
"only when the devotion I teach is understood and put into practice:
'
Ut adveniat regnum tuum, adveniat regnum Mariae
.'" [So that the kingdom [of Christ] may come, may the reign of Mary come.]
What will usher in that Reign of Mary, a time when the union of souls with Our Lady will reach an intensity that is unprecedented in History? How can we hasten its coming?
Clearly we have one sure means, as Fr. William Faber himself tells us in his
Prologue
to the English edition of
True Devotion to Mary
. He asks the Holy Ghost to bless this work and spread it, so that those apostles and fiery missionaries of Our Lady may arise and bring about the speedy coming of that great age of the Church which is to be the Age of Mary!
In short, there is no more perfect means to arrive at the Reign of Mary than for men and women to practice the Holy Slavery to Our Lady, as taught by St. Louis Marie Grignion de Montfort in his work
True Devotion to the Blessed Virgin.
An approved devotion encouraged by Popes
To close, it is necessary to add a few words assuring my readers that this is a devotion that has been approved by Popes and Bishops and praised by Saints and founders of Orders. For brevity sake, let me just record here the words of several pre-Conciliar Popes who approved this devotion and encouraged its practice: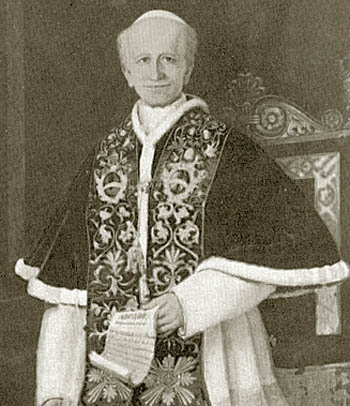 Pope Leo XIII granted a plenary indulgence to those who make the total Act of Consecration to Our Lady
Pope Pius IX
declared that St. Louis de Montfort's devotion to Mary was the best and most acceptable form of devotion to Our Lady.
Pope Leo XIII
granted a plenary indulgence to those who make St. Louis de Montfort's Act of Consecration to the Blessed Virgin. On his deathbed he renewed the act himself and invoked the heavenly aid of St. Louis de Montfort, whom he had beautified in 1888.
Pope St. Pius X
stated unequivocally: "I heartily recommend
True Devotion to The Blessed Virgin
, so admirably written by Blessed De Montfort, and to all who read it grant the Apostolic Benediction."
Popes Benedict XV, Pius XI and Pius XII
also highly recommended the practice and gave it their full approval.
This holy slavery to Our Lady is, as St. Louis himself promised and so many Pontiffs confirmed, the easiest, safest, fastest, most secure and surest path to Our Lord Jesus Christ and to our own salvation.
Slaves of Mary find protection under her mantle
Posted February 5, 2021
| | | |
| --- | --- | --- |
| Volume I | Volume II | Volume III |
| Volume IV | Volume V | Volume VI |
| Volume VII | Volume VIII | Volume IX |
| Volume X | Volume XI | Special Edition |