Book reviews
Léonie Martin: A Difficult Life
that Ended Well
Book Review of Leonie Martin: A Difficult Life by Marie Baudouin-Croix, trans. by Mary Frances Mooney, Ignatius Press, 2017, 168 pp.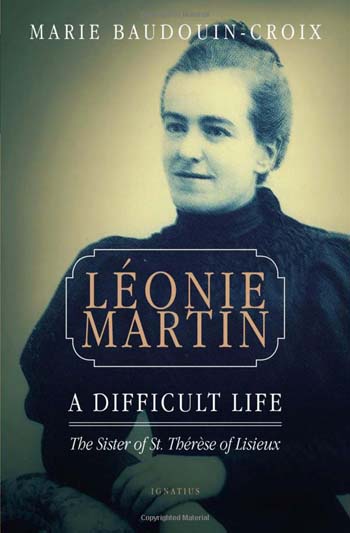 The life of Leonie, largely recounted through letters
I would highly recommend to any devotee of St. Thérèse to have a better understanding of the Martin family where she shines so prominently. It deals with the difficult sister of the Martin family, the problem child whom today we would no doubt label as a "special needs" child. A large part of what author Marie Baudouin-Croix offers is culled from the voluminous correspondence of the Martin & the Zélie Guérin families. Léonie herself received more than 1,000 letters from her sisters!
In passing let me observe that reading through these charming and well written letters, I note how letter writing has become a lost "art form." With the use of email, social media platforms, telephoning and texting, people have become lazy about writing letters by hand. Letter writing requires discipline, thought and attention. The Martins' voluminous correspondence yields a treasure of wisdom, relating daily life experience and important events, and revealing the character of the writers and the recipient. What history would be lost had the Martins not written and carefully preserved their precious letters.
Léonie was the third-born child of the nine children of Louis and Azélie Martin. A frail child, she had a chronic cough and did not develop physically as normal children do and was small for her age. At 11 months she had already suffered from convulsions brought on by measles. At this point, her father set out by foot on a pilgrimage, the first of many offered for Léonie. She was late developmentally, walking only at a year-and-a-half, at which time she developed a purulent form of eczema, which would plague her throughout her life. At 16 months, she hovered between life and death with continual palpitations and an intestinal inflammation.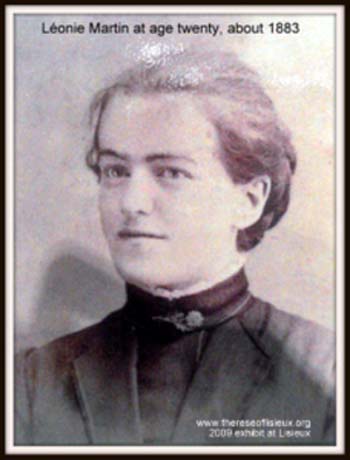 A difficult & unruly temperament
The whole family suffered from her bad tempers and screaming fits. Exuberant by nature and a bit of a daredevil, she often fell, cutting her knees and forehead so badly her mother was distressed by the resulting scars. Her older siblings were dark-haired with brown eyes; Léonie was blond and blue-eyed. All her sisters were pretty, but Léonie had an ill-favored face with a prominent chin. Her intellectual development upset her parents, which was in stark contrast to that of her quick, sparkling siblings.
She was referred to as "poor Léonie" by all her family. Léonie herself wondered and questioned her mother if she had been exchanged for another baby by her wet nurse as she was so different; her mother replied that she had no wet nurse for her.
Another unstable factor in her formation was a maid, Louise Marais, age 16, who did much harm to Léonie. Acting the tyrant, the maid beat, bullied and threatened Léonie to make her obey only herself. It was her sister Marie who discovered this abuse and reported it to their mother. After this problem was addressed, Léonie became much happier and very loving towards her mother. It is important to note the importance of choosing well every person to whom we relinquish the care of our children. If Mr. and Mrs. Martin could have been so deceived, we are certainly at greater risk.
A difficult schooling
Marie and Pauline Martin were sent to the Le Mans boarding school where their mother's sister, Sister Marie-Dosithée, was a teacher. Léonie, however, was not accepted because she was unable to keep up with the others after a few-weeks' trial. The following year, she was kept at home again, and a tutor was hired; When she did join her sisters at age 11 at the school, it was only because her aunt was able to provide individual instruction and supervision.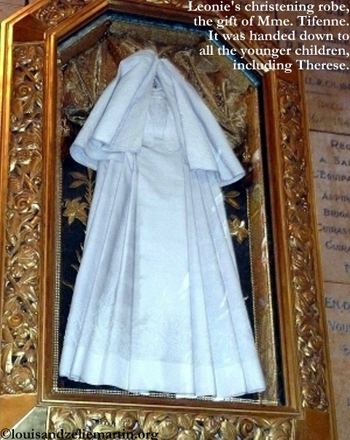 Above, the family baptismal gown,
below, in 1889 Leonie seated with her sister Celine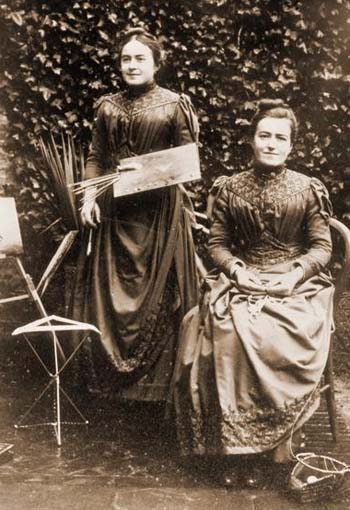 However, when she was with the other children, she would lose all self-control and become terribly unruly. Her mother wrote at this time: "Sometimes I have hope for her, but often I become discouraged; but my sister says that she is sure Léonie will become a saint."
From a very young age, Léonie wished to become a nun. She did strive to be good and was able to learn her Catechism perfectly for her First Communion. She wrote her aunt: "Please ask God to give me the grace of conversion, and also to give me a vocation to be a true religious, because I think about it every day."
Her mother lamented, "I do not know what to think... the poor child is absolutely full of faults. I do not even know where to begin! But God is so merciful that I have always had hope, and still do."
Before her death, Mme. Martin worried over who would love Léonie in her place; Marie offered to fulfill that roll and was true to her promise.
In 1886 when Léonie was 23, she sought out the Abbess of the Poor Clares to beg permission to enter that Order. She was admitted, but her delicate health could not withstand the rigorous Rule. Within two months she was forced to leave and return home. The departure left Léonie so depressed that her health suffered badly.
The next year Léonie left again to join the Visitation C
nvent in Caen. Léonie wrote from the Convent: "I am so happy – in spite of the thorns which sometimes tear my heart... But these are roses, which I am sometimes cowardly enough to trample underfoot. There is so much to do, if I am ever to become a saint."
To Thérèse she wrote: "I know that even though you are so young, you understand me. I want to share with you one of my soul's deepest wishes: the desire for intimate union with Jesus. We can find happiness only in Him – not in created things, which can only bring us suffering and sorrows."
Unfortunately, this attempt at religious life lasted only six months. She then dedicated her time in visiting the sick, the poor and the dying, doing housework, and visiting Marie and Pauline at the Carmelite Convent.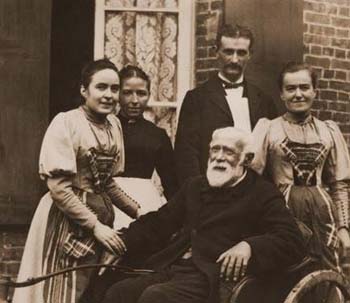 Monsieur Martin with Leonie, at right, during a very difficult stage of his life
One thing I found extraordinary is that Léonie felt no jealousy toward her sisters' success in the religious life. Her vision of her own smallness and humbleness would lead her to put herself completely into the hands of Our Lord.
When Mr. Martin died after prolonged
suffering from dementia
, Céline finally was able to enter Carmel. Then, Thérèse was more tender to Léonie than ever. One of her encouraging sentiments: "Joy will follow your trials, you shall see; and later, you will be glad that you suffered."
At age 30, Léonie made another attempt to become a sister at the Visitation Convent. Again, however, Léonie was forced to leave the Order because of her delicate health and still-unsteady character, She returned to her aunt and uncle's home, where she saw another relative, her cousin Marie Guérin leave to join her sisters at the Liseux Carmelite Convent. Léonie never showed any animosity over the attention Thérèse received, in life or after her death. Instead, she asked the guidance of her younger sister Thérèse, who took it upon herself to form her in the "Little Way."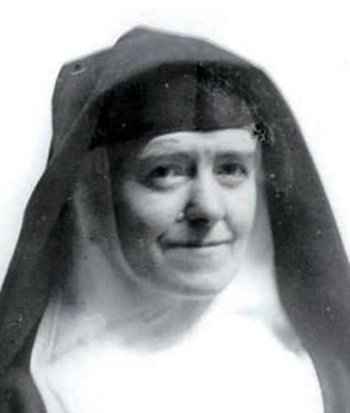 Leonie at her third & final entrance
Léonie wrote to Céline during the period when Thérèse's end was approaching: "This is what life is: constant separations; always watching those whom we love go away from us. We are about to lose the one who was our joy on this earth. Little sister, let us not weep for her, but rejoice with her; she will be another Angel in the beautiful Heaven which she will help us to reach."
When Léonie, at the age of 35, entered the Visitation Convent in Caen for the third time, it was for good. She took the name of Sister Françoise-Thérèse. Her sister Thérèse had predicted: "She will take my name and that of St. Francis de Sales." This time, again as Therese had predicted, she was faithful to her vocation.
Léonie became somewhat of a celebrity due to her sister's fame, but she wanted nothing to do with notoriety. One day while helping the portress, a visiting priest asked to see St. Thérèse's sister. Léonie responded: "We will ask our Mother, but I do not think that will be possible." The priest exclaimed how great a disappointment that would be, to which she riposted: "I can assure you that you will not be missing anything – it is not worth the trouble."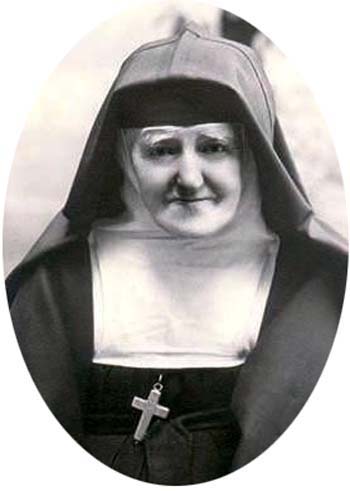 A long struggle to conquer self that reflects in her face at the end of her life
The reply scandalized the priest, who was astonished that the sister of such a well-known saint was taken so lightly. When he later met the chaplain and related his encounter, the chaplain burst out laughing: "My poor father, you have been tricked – you were talking to Léonie herself!"
Léonie died in 1941 at the age of 78. While her mortal remains lay in state for several days, her face lost none of its suppleness, coolness, or luminous ivory complexion despite the sweltering heat of that summer.
Since her death, a great wave of affection has spread throughout the world for her. Letters from everywhere arrive at the Convent pleading for her intercession. Parents with problem children beg her prayers, as do religious troubled about their vocations. Many letters are in gratitude for graces or miraculous cures, which are attributed to Léonie's intercession. Little Léonie, who considered herself to be a "useless servant," achieved her transfiguration with the help of God and by realizing, along with her little sister, the Little Way.

Posted July 17, 2023
______________________