Catholic Virtues
The Personality of St. Therese of Lisieux - III
Childhood: The Principal Stage of
St. Therese's Life
We have looked at the
personality, gaze
and essentially
contemplative spirit
of St. Therese in a photograph taken when she was eight-years-old.
Now, I want to insist on another point: St. Therese died at age 24 and always emphasized her childhood. This time marked the course of her life so profoundly that it reflects her spirit. In the life of St. Therese, the culminating points are her childhood and the end, the vespers of her death.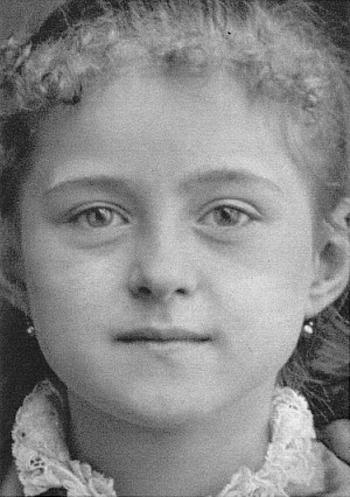 St. Therese's at age 8
I was reminded that when she wrote her
Autobiographical Manuscripts
under obedience, she spoke almost nothing about her life in the convent. Only much later, to attend to the request of the Prioress, did she speak of her life as a nun. For her, childhood was everything, because it was a profoundly conscious, meditative and reasoned childhood.
I believe this is a precious element for the concept of the spiritual childhood. It is not foolish, much less unthinking. It is the soul of a child that becomes capable of the greatest things, which are done in an amiable and authentic way, not normal for the spirit of a child. This is the crux of the matter.
Her mission is to present her way and attract us, to draw us to her way. And to do this with what childhood has of the affable, small, accessible and charming. What a meditative childhood! What a fecund childhood! A childhood that can be compared to the end of the life of St. Monica!
We see in her the treasures of maturity, meditation, profundity and, when necessary, of activity, which all fall into a true spiritual childhood. It was she who said: "For love nothing is impossible."
This photo shows St. Therese of the Child Jesus with the great treasure of meditation that she had and that can exist in the soul of a child, as she preserved it even into her maturity. We should understand this point well: She lived her childhood being faithful to herself, being herself right up to apogee of her maturity. It is a magnificent thing.
Different reactions of souls
After these orientations on how a soul is analyzed, let us apply them to the thirst for souls that we should have.
Let us, then, imagine ourselves leaving the room in a hotel. A girl comes out from the room across us where a family is staying. That girl is the one in the picture. We have to imagine that we are unaware that this girl is going to be St. Therese: She is simply the child Therese Martin. In a few years, she will be Mademoiselle Martin, and nothing more. What is our reaction upon seeing this girl? There are many possible reactions.
Indifference
The most common reaction would be: "Oh, here's a girl." Or, "What a silly thing, that rope in her hand." Or, "This girl is going to jump rope." And other such things. The person would pass by St. Therese without noticing her.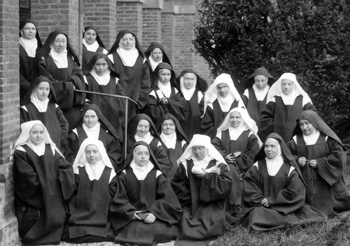 A community with mediocre and capricious nuns who did not see St. Therese for what she was
It is not normal for a saint to pass through our lives without us realizing it. St. Therese, however, went unnoticed. No one in the convent, nor even her own sisters, imagined she was holy.
It was a deplorable convent, a nunnery full of caprices. Let it be said in parentheses that St. Therese knew what was awaiting her there, for anyone with eyes like hers sees through the walls of a convent.
But they should have noticed her, and it was a sign of the lukewarmness of this convent that St. Therese was not noticed.
Would we do the same?
Egocentrism
Let us turn the page. We are no longer in a hotel, but in the
Buissonnets
, the family house of Monsieur Martin, imagining it as a rooming house. We are there, paying, let us say, 10 gold francs for room and board. Would we notice this girl? What impressions would this child cause in us?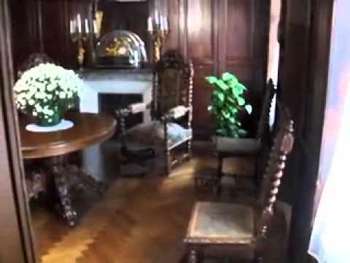 In the Buissonnets, the home of St. Therese
Perhaps a vague, very vague, impression of holiness. We would express those impressions with a few reactions. We would find her amusing, we would speak with her a little, we would enjoy hearing the timbre of her voice, we would find something she said charming. At the most, we would conclude: "The daughters of Monsieur Martin are all very pleasant. The one who diverts me most is little Therese." And we would not go any further.
Couldn't this well be the reaction of one or another of us? This is an egoistic, utilitarian reaction. We vaguely perceive holiness, it pleases us, we think about the pleasure it gives us, and it becomes nothing more than an instrument of pleasure. A legitimate pleasure without anything objectionable against the Sixth Commandment. It is equivalent to considering her as we would a doll, a kitten, a stuffed animal: She is a cute little child. Her holiness would not reach us.
Suddenly we are made aware that this girl performed a notable act of charity towards us: She deprived herself of dinner and spent the whole night hungry so that we might have that food. We would say: "Oh, I am delighted! See how she loves me! How grateful I am! She's a girl with a heart of gold!" In the background we are thinking: "She realized how delightful a person I am. She understood me, she realized how much I deserve this act of self-denial."
There might even be some reactions on our part: "Come here, my dear girl. I bought you a toy." Or the comment, "How I like this child!" Or, "See how this girl likes me!" Or, "This girl has exceptional virtue. How pleasing it is to see her." In any case, a reaction that always enjoys the girl more as a distraction than as a mirror of virtue.
A disinterested attitude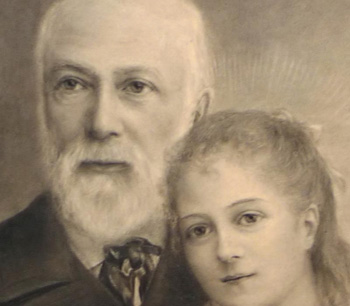 St. Therese with her father, who understood & helped to mold that marvelous soul
Few would say: "This child is eight-years-old. How many dangers she will face throughout her life! What a beautiful soul she will have when she reaches the end of the journey God destined for her!
"What can I do for this masterpiece not to deteriorate? What can I do to help this soul rise in the firmament of holiness? I desire this more than anything. God made this marvel. What can I do – pray for her, give her a counsel, protect her from the world – so that this marvel can reach her final end?
"I thirst for this holiness. I want to see this design of God realized. When I see it, it will be like Prophet Simeon when he saw the Child Jesus. Although I be old and gray, I can say, 'Lord, now you may dismiss your servant in peace, because my eyes have seen one who reflects my Savior' (Lk 2:29)."
This person has thirst for souls.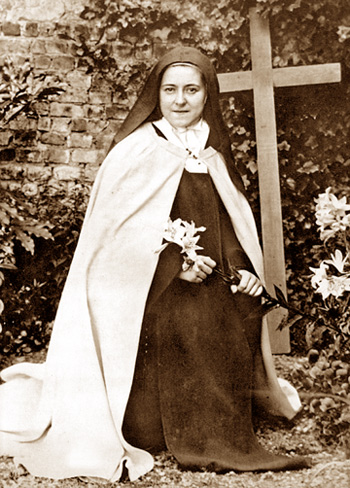 St. Therese at the end of her life
The observations of others could be stages on a road, but steps traversed very quickly. The end point is not that this soul loved us well or returned the affection we gave her; rather it is to realize that that this soul is a masterpiece created by God, a soul that God wishes to elevate to a high degree of perfection. This is what makes us apostles: It is to see a soul and to have a thirst for the perfection of that soul.
Now, let us consider a photograph of St. Therese at the end of her life, when she had before her the last chalice of suffering to drink, and had already sipped from it. In this photo
at left
we can see sadness on her face, but at the same time simplicity, candor, naturalness, affability, strength and elevation, a capacity for contemplation brought to its plentitude, to its absolute fullness.
Here we see that the initial plan of God has come to perfection. Then, accompanying the trajectory of this soul, we see that it has been sanctified, and we can sing the
Magnificat
.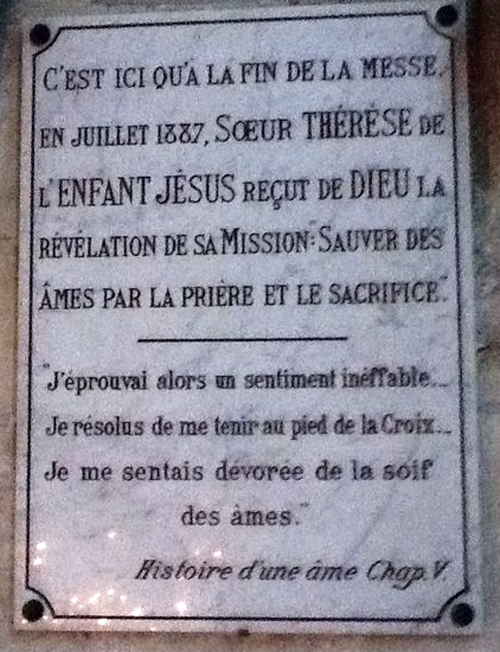 Plaque in the Cathedral of Lisieux: At this site at a Mass in July 1887, Sister Therese of the Child Jesus received from God the revelation of her mission: to save souls through prayer and sacrifice. "I felt an ineffable yearning, and I resolved to keep myself at the foot of the Cross. I was devoured by the thirst for souls." (Autobiography, Chapter V)
Posted June 3, 2019
______________________
| | | |
| --- | --- | --- |
| Volume I | Volume II | Volume III |
| Volume IV | Volume V | Volume VI |
| Volume VII | Volume VIII | Volume IX |
| Volume X | Volume XI | Special Edition |