Progressivism in the Church
Church Revolution in Pictures
Photo of the Week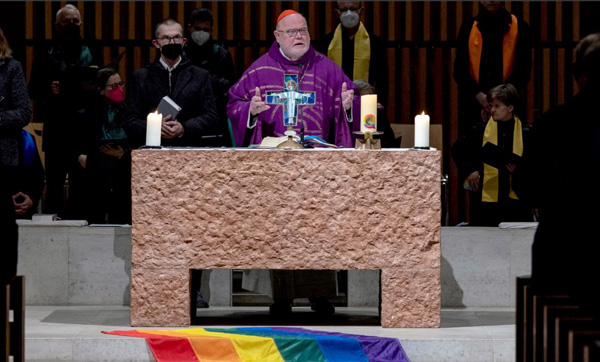 Card. Marx celebrates 20 years of 'queer' masses
Card. Reinhard Marx, Archbishop of Munich, celebrated a Mass marking "20 years of queer worship and pastoral care" on March 13, 2022.
In
his sermon
at St. Paul Church, Marx affirmed that he wants "an inclusive Church" encompassing "all who want to walk on the path of Jesus." He said the Church should be open to changing her Faith as she seeks the "possibilities of God" regarding sexuality and relationships.
The German cardinal defended that the "kingdom of God is to discover that God is love – in all its dimensions," which includes the sexual dimension. He criticized what he called the "discrimination" of Christians against the homosexual community.
Card. Reinhard Marx is one of the few Prelates who was invited by Francis to be part of his Council of Cardinal Advisers. He is also President of the Vatican's Council of the Economy. These titles show that he understands well the priorities of Pope Francis.
The Munich Archdiocese
press release
on this Mass stresses that for the last 20 years the Archdiocese has been striving for LGBT people to be accepted and taken seriously as members of the Church.
When we consider that the promotion of homosexuality is taking place at the level of Pope and Cardinals, we understand why today's seminaries will continue to be nests of sodomites and, consequently, the clergy will remain with this infamous mark for a long time – unless a Divine Chastisement comes to interrupt this cycle of horrors.

Posted April 10, 2022
________________________