Progressivism in the Church
Church Revolution in Pictures
Photo of the Week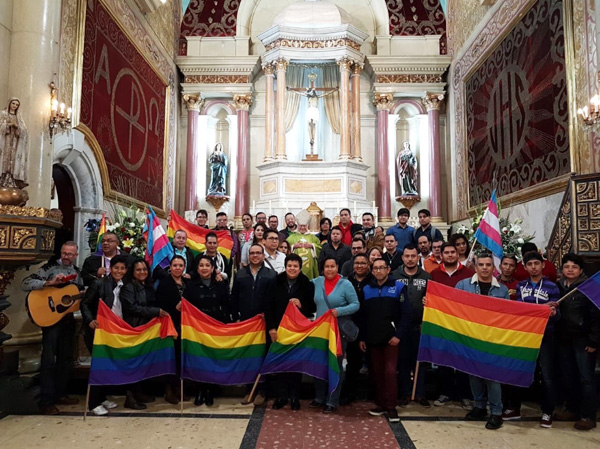 Mexican Bishop says Mass for LGBT Group
On January 20, 2019, Bishop Raul Vera Lopez, a Dominican and since 2000 titular bishop of the Diocese of Saltillo, said a thanksgiving Mass to commemorate the 17
th
anniversary of the San Elredo Community.
San Elredo is composed of a group of lesbians and homosexuals who have gathered to fight for LGBT "rights." Founded by an American priest, Fr. Robert Coogan, San Elredo has been supported from its start by Bishop Jose Raul Vera Lopez.
Vera said the Mass in the Chapel of Santo Cristo in Saltillo and delivered a sermon in which he told those present: "You have an important work to do inside the Church; you helped me to enter your world. Without you, we in the Church would not understand that you have a presence in the world and your own identity."
The
communiqué issued by the Diocese
to celebrate the anniversary is titled "For a world of love and without phobias." It closes, stating: "Visibly moved and moved again, with tears in their eyes, those who participated in the liturgical act came forward to share the Feast of the Lord with the certainty that it is for everyone."
The leaders of San Elredo thanked Bishop Vera for "being the pastor of the LGBT community" and acknowledged his work "in favor of inclusion."
Photos from the Social Media,
in the last row
a representative of the homosexuals reads the Epistle while holding a rainbow flag.
This episode shows another rotten fruit from the bad tree of Progressivism. This current conquered the Papacy with John XXIII and established its doctrine throughout the Church with Vatican II and its aftermath.

Posted January 27, 2019
________________________