Progressivism in the Church
Church Revolution in Pictures
Photo of the Week
Chilean nun dances for life
On Saturday March 29, 2015, as a part of a pro-life demonstration in the city of Villarrica, South Chile, a nun,
above
, went onstage to dance to the crazy rhythm of the song
'Que viva la vida'
(Long life to life).
She belongs to the Congregation of Hermanas Maestras de la Santa Cruz - Teaching Sisters of the Holy Cross - and performed in a central city square along with students of Santa Cruz College, run by those sisters.
The nun did not became intimidated in performing some bold and sensually provoking movements, even more clearly executed by the other performers.
We know that, although this nun is directly responsible for such scandalous display, she is just following the general orientation that continuously comes from Rome after Vatican II.
A video of this performance can be watched
here
.


Posted April 5, 2015
________________________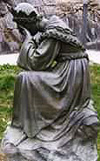 Our Lady of La Salette,
restore the Holy Church.