Progressivism in the Church
Church Revolution in Pictures
Photo of the Week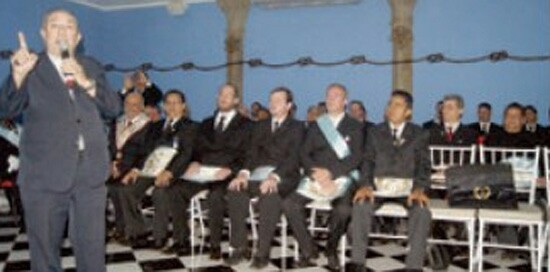 'Church & Masonry are strongly related'
Above, standing at left,
is the Archbishop of Cuiabá, capital of the State of Mato Grosso, Brazil. Archbishop Milton Antonio dos Santos is speaking at the local Freemasonry Lodge to commemorate the "Day of the Mason" on August 17, 2013.
In his speech he affirmed there is "a very strong" relationship between what both the Church and Freemasonry preach. Among other points, Dos Santos stressed that Masonry's belief in the Great Architect of the Universe makes Freemasonry a type of religion close to the Church.
He also stated that the triangular symbol of Freemasonry, can represent the three theological virtues - Faith, Hope and Charity - as taught in the Catholic Church. Further, he pretended the Masonic triangle represents as well the Holy Trinity, the Father, the Son and the Holy Ghost.
After the Archbishop's speech, the three Grand Masters of local branches of Freemasonry (
below first row
) greeted him and expressed their joy to receive the support Milton dos Santos gave them. Oswald Sobrinho, one of the Grand Masters, stated his agreement with the Archbishop that the two institutions must work hand-in-hand for the triumph of the common good based on Liberty, Equality and Fraternity, with each institution playing its specific part.
It is obvious that this address of the Archbishop of Cuiabá enjoyed the full approval of the Brazilian religious authorities over him, who, in their turn, have no fear of any reprimand from the Vatican.
Below second and third rows
, two shots of the audience present at Dos Santos' speech.
Fourth row
, the Archbishop in cordial conversation with Benedict XVI;
in the insert
, he poses with John Paul II.
Fifth row
, Dos Santos in two different apparels: red vestments and his preferred T-shirt.
For the original news report in Portuguese click
here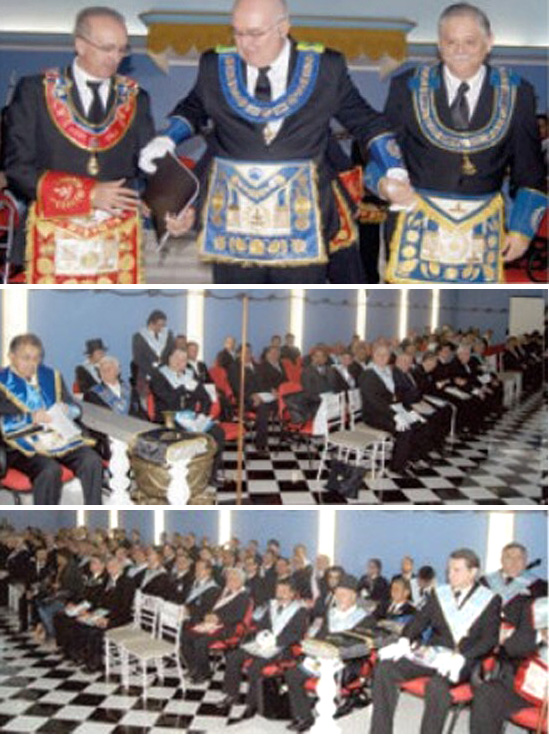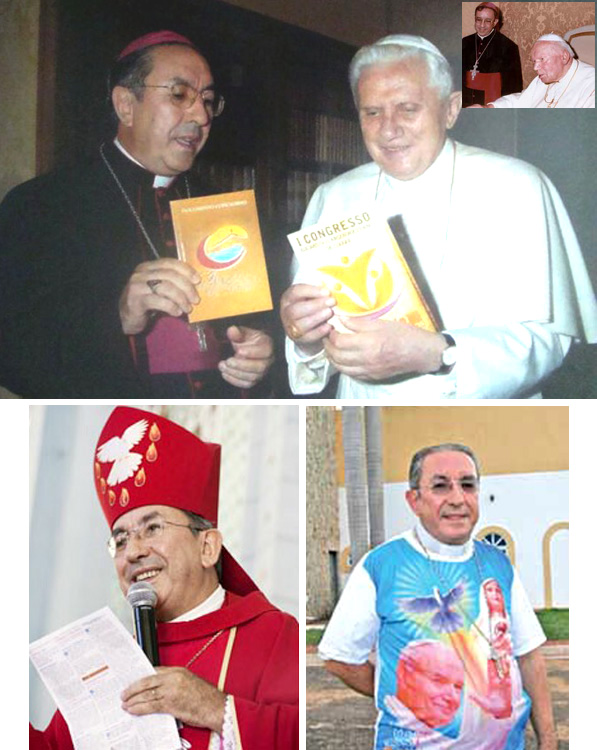 Posted November 3, 2013
________________________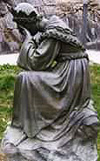 Our Lady of La Salette,
restore the Holy Church.