Documents for your files
PROGRESSIVIST DOCUMENT OF THE WEEK
Argentine Freemasonry Salutes Pope Francis
More documents that show different Freemasonries praising and supporting Pope Francis are coming to public knowledge. Recently, the official salute of Argentine Freemansonry became accessible on the Internet. After praising Bergoglio, the Grand Master of the Lodge of Argentina expresses its pride for having a co-patriot elected Pope.
His letter was documented on the websites of both
Masonic Actuality
and
Impulse Baires,
which got the scoop. Photocopies of both webpages are found below. The photos are preceded by our translation of the Spanish, in blue.
Masonic Actuality
Pope Francis and the Freemasons
Published on March 20, 2013 by the editor
Last March 13, the members of the College of Cardinals who were gathered in Vatican City elected the Argentine Jorge Mario Bergoglio as the new Pope of the Catholic Church. Bergoglio, who took the name of Francis after his election, is the first American to occupy this office; he was Archbishop of Buenos Aires before his election.
The naming of the new pontiff motivated a communiqué by the Grand Lodge of Argentina, which was diffused by
Impulso Baires
[see the second document below] on the same day of Pope Francis' election. Its text follows:
A man of austere life consecrated to his devotions, the designation of the new pontiff of the Catholic Church supposes a great recognition of the Argentine Nation.

In the Argentine Freemasonry, based on the principles of tolerance, profound respect for personal convictions, liberty, equality and fraternity, the brothers who profess or adhere to this religious faith stand together with others who belong to other creeds, are agnostics or lack any faith. In the name of all, the Grand Lodge of Argentina greets our co-patriot Cardinal who just received such a high world distinction.

Angel Jorge Clavero
Grand Master
______________________
Second document
Impulso Baires
March 13, 2013
In a communiqué the Grand Lodge of Argentine Freemasonry
salutes the naming of the new Pope Francis I
Federal capital – "The Grand Lodge of Free and Accepted Masons, an institution rooted in our country since 1857, salutes the naming of our co-patriot Cardinal Jorge Bergoglio as Pope Francis I," said a communiqué sent to the editor of
Impulso Bares
.
A man of austere life consecrated to his devotions, the designation of the new pontiff of the Catholic Church supposes a great recognition of the Argentine Nation.

In the Argentine Freemasonry, based on the principles of tolerance, profound respect for personal convictions, liberty, equality and fraternity, the brothers who profess or adhere to this religious faith stand together with others who belong to other creeds, are agnostics or lack any faith. In the name of all, the Grand Lodge of Argentina greets our co-patriot Cardinal who just received such a high world distinction.

Angel Jorge Clavero
Grand Master, who signed at the end of the document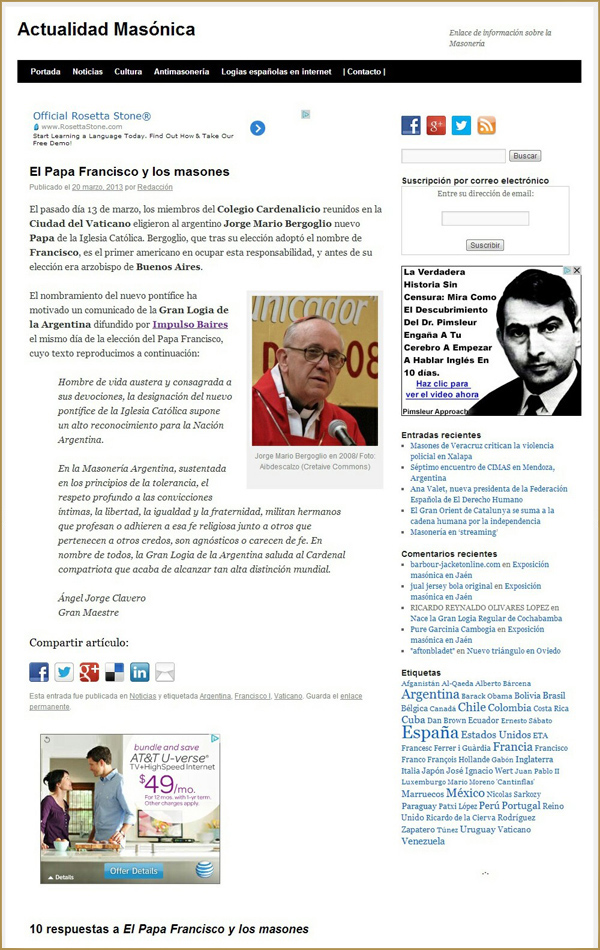 To enlarge the document above click
here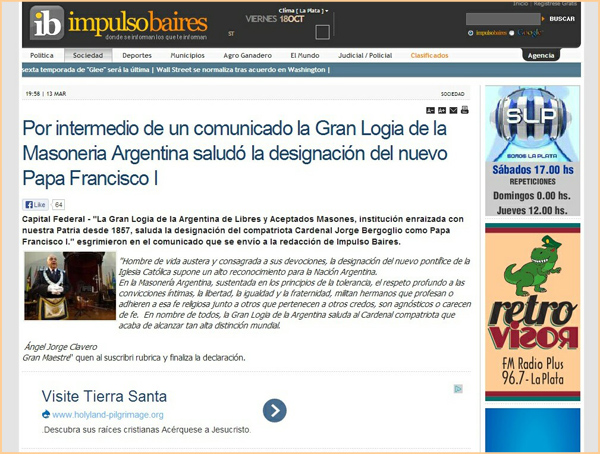 To enlarge the document above click
here
Posted on October 26, 2013