Progressivism in the Church
Church Revolution in Pictures
Photo of the Week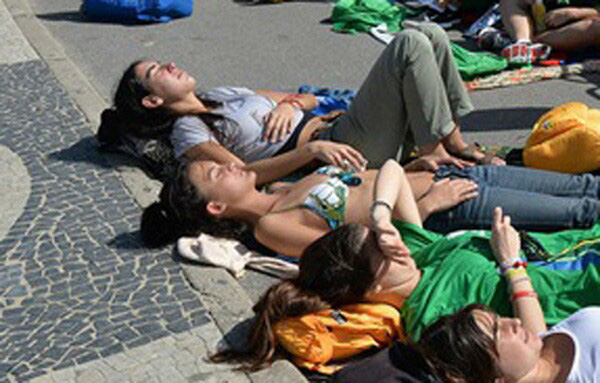 WYD creates its own free-love fashion
Besides the immorality of the bikinis worn by girls at the WYD 2013, already analyzed (
here
&
here
), another facet of that encounter is its translation of the Woodstock hippie festival. It includes some of the same free-love standards of youths of both sexes camping and sleeping together - under the pretext of Francis' "church of love"- as well as some variations on the hippie symbols, adapted to a religious perspective.
As a manifestation of the accepted free-love atmosphere of the "Catholic" encounter,
above
one sees a group of youth napping together with a young man resting his hand on the breast of his girlfriend.
Below, in the three first rows
, youths have their faces painted in the hippie-tribal style; girls send kisses from a distance; and boys wear paper miters with no practical purpose except to mock that respectable episcopal vestment. It is interesting to notice that those "miters" appear to be printed - or at least approved - by those in charge of the WYD organization.
In the fourth row
, the elypsis spotlights a two-horned pilgrim kissing his girlfriend on their way to Copacabana beach.
Fifth row
, American girls distribute free hugs to young men, a morally dangerous practice already seen in the
Youth Encounters
of Card. Mahony in Los Angeles. The
two last rows
show how the practice of boys sleeping together with girls has become common practice, totally accepted at the WYDs.
The WYDs - the "Catholic Woodstocks" - founded by John Paul II, express well the New Morals without discipline, control or punishment that has been applied everywhere after Vatican II. A morality at extreme variance with Catholic Morals.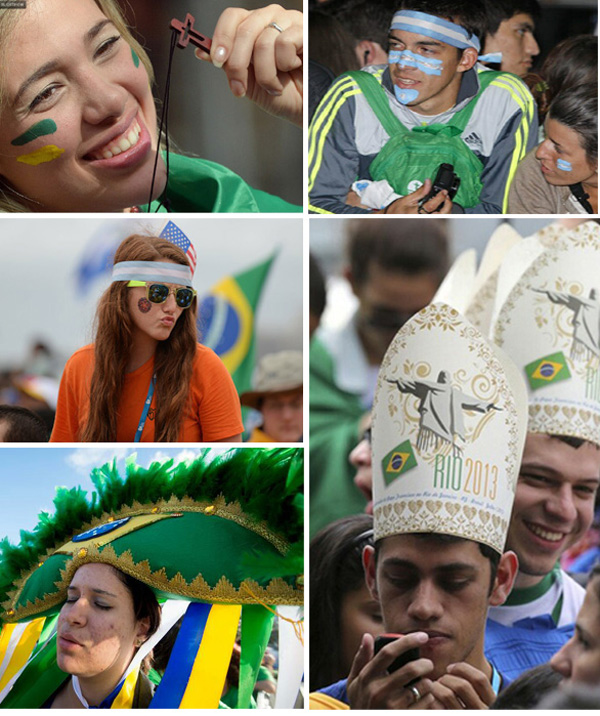 Posted August 11, 2013
________________________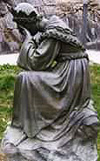 Our Lady of La Salette,
restore the Holy Church.