Progressivism in the Church
Church Revolution in Pictures
Photo of the Week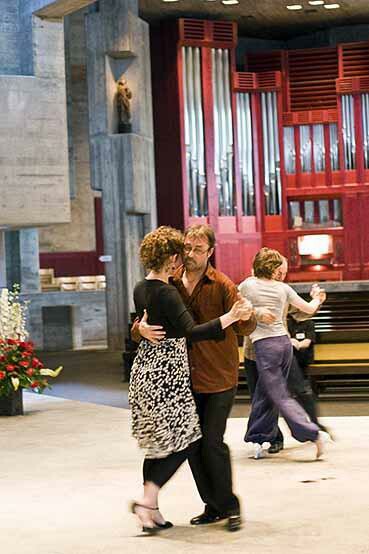 The 'pastoral' tango of Lucerne
If you are a committed member of the Conciliar Church, you may be wondering about what lies ahead after the implementation of the new reforms that are changing the physiognomy of the Church (
here
&
here
). In the face of the priest shortages, closing churches and new parish structures, what will be the fate of your church as well as your role in it?
In Lucerne, Switzerland, an answer has been given. Without a pastor for more than three years, St. John Church is under the rule of a lay "pastor," Mr. Alois Metz, who decides what to do with the help of Sister Ingrid Bruderhofer Gangolf, the pastoral assistant.
Surely, they decided to continue having Masses on Sundays, and for this purpose they hired Fr. Richard Kern who goes there to give this "professional" assistance in exchange for due salary. But they also decided to "divert" the Church for other activities, that is, not just for religious services. Following these guidelines, the pews are removed during the week and the Church floor is transformed into a dancing hall. The photos on this page testify to the "pastoral" tango that takes place there to attract adults. Mr. Metz and Sr. Ingrid, however, did not stop there. They introduced a whole assortment of other activities inside the Church. Thus, the basement has been transformed into rooms for acupuncture sessions, Tui Na and Shiatsu massages as well as foot massages. There is also a room for Kinesiology consultations for the restoration of good health.
Here is a model of what the churches that are not closed will become. Instead of being dedicated to the spiritual care of souls, they will host immoral dances and take care of the material health of bodies.
P.S. - In 2010 Mr. Metz was one of the organizers of the Diocese of Lucerne's
free distribution of condoms
in the streets.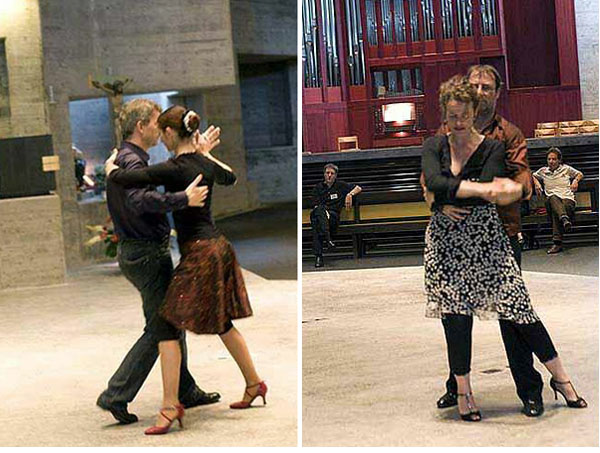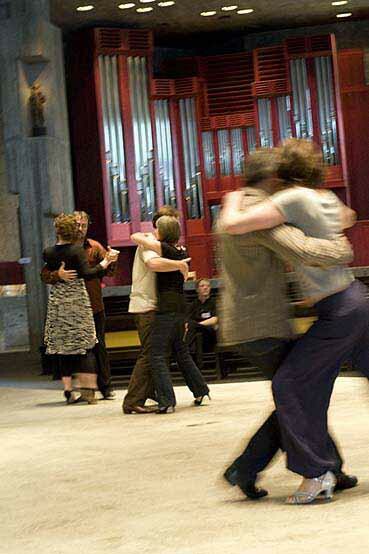 Posted February 24, 2013
___________________________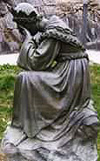 Our Lady of La Salette,
restore the Holy Church.