Progressivism in the Church
Church Revolution in Pictures

Photo of the Week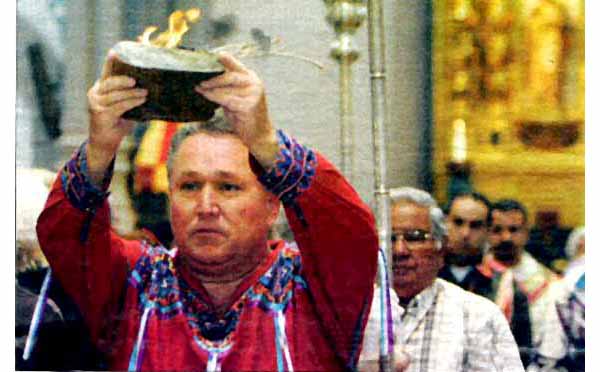 The Juaneno tribal Mass
You are looking at a picture of the Mass celebrated in San Juan Capistrano Basilica, July 2007, which incorporated Indian rituals. Processing into the church, a man raises up an abalone shelf with ritual herbs burning in it. According to the Indian native cult, this ritual was used to purify a person, a place or a land from bad spirits. The Indians, indeed, adored the earth and the ocean as divinities and communicated with spirits that they believed inhabited everything - stones, plants, animals, etc. They also practiced necromancy, where they entered into supposed contact with the dead.

This Mass is an example of the clear assimilation of pagan practices into the most sacred ceremony of the Catholic Religion. Something inadmissible before Vatican II and its inculturation.

In the United States there were about 46 different linguistic tribes, with 22 living in California. Today, several of these broken, inarticulate small groups are known in reference to the Mission where they were situated. So, the Juanenos are located near San Juan Capistrano, the Luisenos near San Luis Obispo, the Gabrielinos near San Gabriel, the Dieguenos near San Diego. The group of Juanenos is, therefore, a theoretical unity that actually has many internal divisions based on their different languages, ancestries, customs, etc.

Today the Catholic Church is making an effort to unite this group and fight for recognition by the federal government. One aim is for it to receive a large parcel of land that would be taken from the strategic Navy training base in Southern California in order to make an Indian Reserve.

The Catholic Church - working together with the leftist forces - is making similar efforts in many other places, claiming the rights of the Indians to land. Following these same lines, a large, strategic part of the Amazon forest was delivered recently to the Indians by the Brazilian government.
Posted August 9, 2009

Related Topics of Interest

Pagan Ceremonies at St. Ines Church

Pagan Symbols at St. Gabriel Mission

An Inculturated Pope

Tribalism: the Next Step after Communism

Mother Earth Day

Disturbing Papal Statements at WYD 2008

Papua New Guinea Bishops in Tribal Dress

Bare Breasted Woman Reads the Epistle for the Pope
Pictures | Home | Books | CDs | Search | Contact Us | Donate



© 2002- Tradition in Action, Inc. All Rights Reserved