Progressivism in the Church
Church Revolution in Pictures


Photo of the Week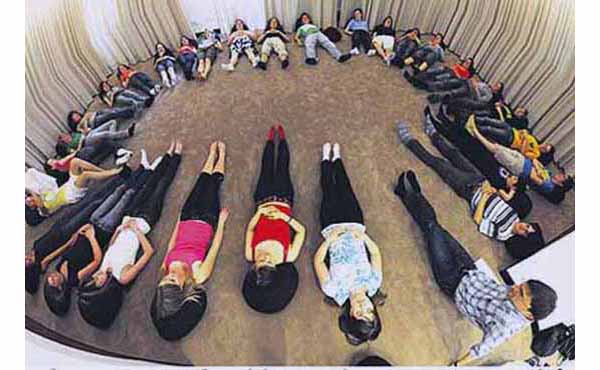 Catholic-Freudian Meditation in German High Schools
The Diocese of Munster, Germany launched a new type of meditation for its high-schoolers. Inspired by a position used for patients of Freudian psychoanalysis, since mid-August youth are being instructed in a new relaxed style of mediation. Entering the "sacral space," each student must take off his shoes. The coordinator of the sessions, Klaus Peter, warns that "rushing, competition and hierarchy must be left outside." In the bare oblong room there are no spiritual pictures or religious symbols. Even a Cross is disguised on a side wall.

Fr. Manfred Kollig, diocesan director of the student pastoral program, explains that not the Cross, but the lives of the students should be the center of their mediations. He also says that the instructors avoid bringing the students to churches and chapels, since they are too "heavy" for the youth. According to him, high school students are not familiar with religious symbolism and liturgy. Therefore, they can take more advantage from a relaxation session, where they freely enter the "sacral space" without any pressure.

Sometimes during the session a few religious notions are suggested, such as the existence of Angels, but in a secular context. After hearing the reading of one such text, a girl concluded that her friend Judith was an angel because that morning she had carried her bag to help her.

One sees the wise traditional rules of Catholic asceticism and mysticism being gradually replaced by pagan practices born from the worst contemporary sources, such as Freudian theories. Another fruit of Vatican Council II...
Posted December 7, 2008

Related Topics of Interest

A Man and a Woman Lying on an Altar in Vienna

Immoral Touching at Toronto WYD

Belgian Nun Dances with Priest in Obscene Poses

Frankfurt Youth Church Promotes Musical Erotica

Cologne's Basilica Offers a Disco Display of Lights

Disco Mass in Eisensdat

Eucharistic Congress Turned into a Rock Concert

A Charismatic Weekend in Steubenville

Wojtyla, Founder of the "Catholic Woodstocks"
Pictures | Home | Books | CDs | Search | Contact Us | Donate



© 2002- Tradition in Action, Inc. All Rights Reserved