Documents for your files
PROGRESSIVIST DOCUMENT OF THE WEEK
Masons from the Philippines welcome Francis
Freemasons from around the world continue to cheer Pope Francis.
Below
is a black and white photocopy of a poster the Masons of the Philippines spread welcoming Bergoglio on his visit to that country on January 15-19, 2015.
When we compare the hatred Freemasonry always showed to the faithful Popes, the unanimous approval of Francis by these sworn enemies of the Church sends a quite eloquent message.
It suffices to recall the fierce attacks of this organization against
Pius IX
, its usurpation of the Pontifical States and the city of Rome, and the supreme insolence it showed when it took the Palace of Quirinale, the residence of the Popes, and transformed it into,
first
, the residence of the Masonic new king of Italy Victor Emmanuel and,
then,
the residence of the presidents of the Republic of Italy.
We credit the
Veritas Vincit
blog for first posting this document.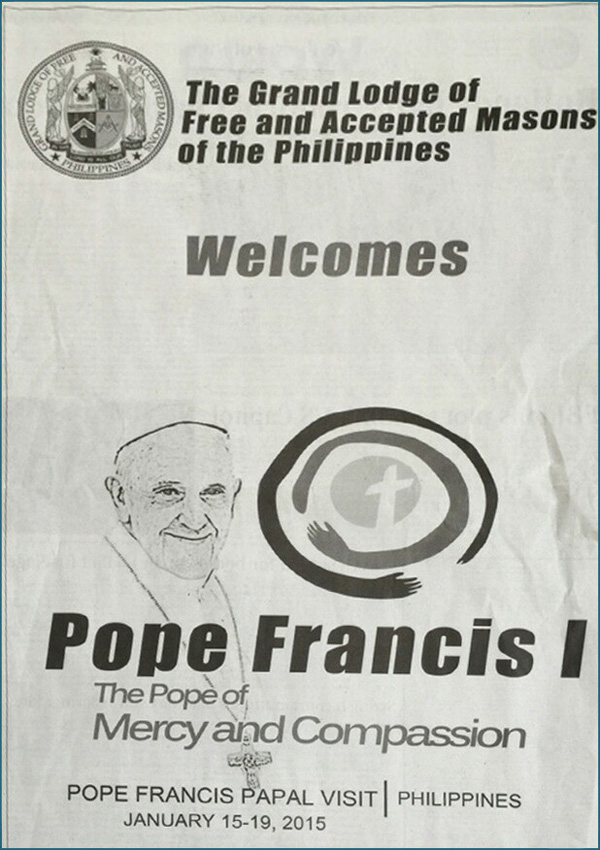 Posted November 7, 2015