Documents for your files
PROGRESSIVIST DOCUMENT OF THE WEEK
Grand Master of Freemasonry
wants to shake hands with Francis
On May 20, 2015, the daily
Libero
of Milan, Italy, published an interview with Stefano Bisi, Grand Master of the Grand Orient of Italy - GOI. One of the questions asked by journalist Leonardo Piccini regarded the relations of the GOI with the Catholic Church and its opinion about Pope Bergoglio.
Below
, in blue is our translation to English of the question and answer, followed by the photocopy as it appeared in
Libero
. We outlined the translated excerpt in green in the photocopy.
We credit Italian
Radio Spada
for the find.
Libero - Meeting with Stefano Bisi
Question:
What are the relations today of Freemasonry with the Catholic Church and what is your judgment of the figure of Pope Francis?
Answer:
"The first time I answered a question about him, I said that he raised great sympathy because he seemed very open to novelty. He is trying with energy and enthusiasm to change the face of the Church, to bring her close to the poor and the marginalized, and he also knows how to courageously face issues that in the past were taboo. I see a big effort of humanity and openness. I do not know if he will change the ideas of the Church Hierarchy also on Freemasonry. We have digested Porta Pia and we have no problems with dialoging about the past. "We can walk together" for the good of humanity. One day it would be nice to be able to shake hands at Porta Pia."
[
Porta Pia
is the gate through which the Italian Masonic troops of Vittorio Emmanuelle entered Rome on September 20, 1870. That fact signalized the take over and usurpation of the Papal Territories, whose capital was Rome, and the fall of the Papal temporal power. A symbolic landmark and date
celebrated publicly
by Freemasonry all over the world.]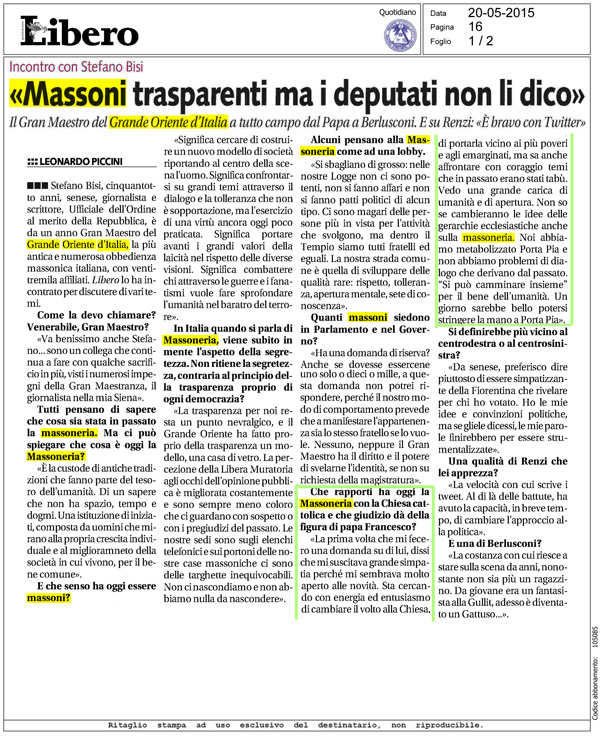 For a larger copy click
here

Posted June 20, 2015