Traditionalist Issues
SSPX Covering for Homo-Pedo Priests – Part 6
The SSPX & Its Mafia-Style Threats
In this series of articles, we are seeing the
reality
about homosexuality and pedophilia inside the SSPX rather than the pristine image presented by its clergy about itself. The
image
the SSPX members of the clergy project to their followers is one of virtuous Bishops and priests who embody fidelity to the morals and teachings of Holy Mother Church prior to the Second Vatican Council.
According to this ideal picture, if a homo-pedo candidate would appear in the ranks of their seminarians or clergy, he would be summarily ousted. The SSPX grassroots are thus led to believe that their leaders are exemplary models who would never tolerate the unnatural and predatory vices pervading the conciliar clergy. But with the passage of time, the
reality
of Arch. Marcel Lefebvre and his Bishops Alfono de Galarreta and Richard Williamson revealed the picture to be quite different.
'For there is nothing covered that shall not be revealed' (Lk 12:2)
Since the early 2000s, the emerging evidence of deception and cover-ups has exposed a SSPX whose clergy is not too different from that found in the Conciliar Church. Particularly
in the year 2002
(1), documents from responsible laymen, court cases and books began revealing a clearer image of the Archbishop (2) and the Bishops of the SSPX.
Mafia threats
In the
second article
of this series, I pointed out the tactic of moving the homo-pedo seminarian/priest Carlos Urrutigoity to different countries and continents, even though the Rector of La Reja Seminary, Fr. Andres Morello, pleaded with Arch. Lefebvre and two district superiors to initiate an investigation concerning Urrutigoity and some priests. What was the response of the three Prelates?
Arch. Lefebvre essentially ignored the plea despite the numerous accusations.


Fr. Galaretta, the district superior of South America, "made it impossible to take measures against Urrutigoity. Despite the fact that he now acknowledges his mistake, he still does nothing to repair it."


Fr. Williamson, the district superior for North America, "confronted and stopped" Fr. Morello and "accused him of lying."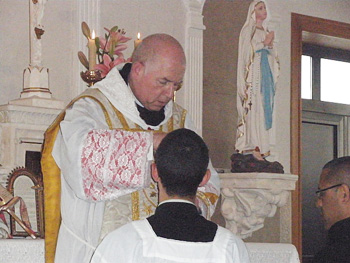 Msgr. Morello was expelled from SSPX because he wanted to expel homo-pedo seminarians
In my articles
3
and
4
, I observed more Gestapo tactics: When the just request of Fr. Morello was ignored, he was confronted and expelled from the SSPX, while the bad seminarian Urrutigoity was ordained a priest and promoted to instructor and spiritual director, and Frs. Galaretta and Williamson were both consecrated Bishops.
I ended
article 5
showing that the SSPX Seminary at Winona, directed by Bp. Williamson, replaced one homo-pedo spiritual adviser – Fr. Urrutigoity – with another homo-pedo spiritual advisor – Fr. Eric Ensey. It must be noted that, in the 1980s, Winona was one of the few SSPX Seminaries in existence; yet, here again we see that the homo-pedo behavior of Fr. Ensey – a close friend of Fr. Urrutigoity since the beginning – was ignored and overlooked by Bishop Williamson and his superior, Arch. Lefebvre.
In today's article I will show a few more maneuvers and strong-arm tactics of Frs. Urrutigoity and Ensey, who had been formed, educated, elevated and ordained by the SSPX:
"After [Dr. Jeffrey] Bond went public with his accusations of financial malfeasance and sexual misconduct by the Society [Society St. John – SSJ], Fr. Urrutigoity threatened Bond with libel." (Randy Engel,
Rite of Sodomy,
p. 967)
Two years after their dismissal or departure, another Winona seminarian came forward accusing Fr. Urrutigoity of sexual molestation. The young victim's name was Matthew Selinger. His testimony, along with the ongoing 'John Doe' case described in the previous article, would be very damaging. Fr. Ensey went to visit Selinger and tried to convince him to leave the country to avoid the court subpoena.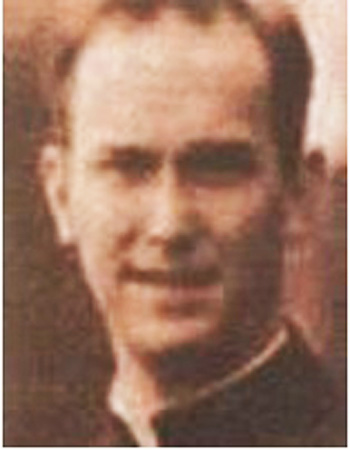 Fr. Eric Ensey, seminarian & priest at SSPX, left it to help Urrutigoity at the Society St. John
"[Matthew] Selinger eventually left the seminary, married and settled in California to raise a family. When it became known that he would likely be subpoenaed to testify against Fr. Urrutigoity in the Case of John Doe, Fr. Eric Ensey, who helped found the SSJ and who replaced Urrutigoity as spiritual advisor for a time at St. Thomas in Winona, paid a visit to Selinger and attempted to persuade him to leave the country to prevent him from being called as a witness against Urrutigoity." (
The Rite of Sodomy
, p. 996, note 186)
Fr. Ensey used "medical" reasons as the excuse for Urrutigoity to dissuade Selinger from the moral duty of testifying against the priest:
"He [Ensey] told the former seminarian that Urrutigoity had 'a medical protocol' about the penis." (
Ibid.
)
I believe that there is no exaggeration in saying that the intimidation Fr. Ensey practiced with Matthew Selinger reported so far could be classified as a Gestapo-style threat.
Further, Ensey tried everything to dissuade Selinger, but to no avail. Once it was clear that his influence over Selinger was not enough to convince him to leave the country and his family, Ensey resorted to Mafia-like threats.
"He said that if the priest-founder went down, he would take him (Ensey) and the whole order down with him.
When these arguments failed to move Selinger, Ensey said that Urrutigoity's lawyer had connections to the Mafia – a suggestion that implied that harm might come to Selinger or his family if he testified against the priest. Selinger said he had no intention of leaving his wife and children to escape a subpoena and showed Ensey the door
." (
Ibid.
, emphasis added).
It is quite interesting to see what kind of immoral and violent intimidations the priests formed by SSPX are capable of resorting to when they feel themselves at risk of being denounced in their wrongdoings.
Not to be dismissed is Fr. Ensey's statement that Urrutigoity's lawyer had connections to the Mafia. This affirmation raises some questions: Was it only Urrutigoity's lawyer who had such connections or did he, Urrutigoity himself, have them? In this case, were those recent connections or old ones from the time when Urrutigoity was ordained a priest in the SSPX? If such were the case, did the SSPX have connections with the Mafia as well?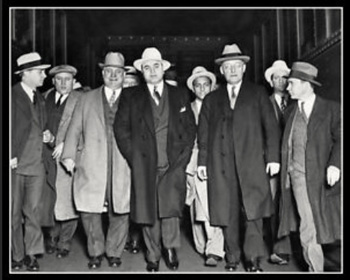 Fr. Ensey threatened Selinger with using Mafia contacts against him - above, Al Capone & other American Mafia heads
The word
Mafia
brings to mind Gov. Frank Keating's comment regarding the American Bishops. Supposedly to promote more "transparency," in 2002 the American Bishops created a new independent national Catholic commission to investigate sexual abuse scandals and appointed former Governor of Oklahoma Frank Keating to head the commission.
But by 2003, Keating was so fed-up with the Bishops' maneuvers, cover-ups and deceptions that he
publicly stated
that dealing with the Bishops was like dealing with the
Cosa Nostra
, which is the name normally given to the American organization descendant of the Sicilian
Mafia
: His analogy has not been refuted.
Of course, Fr. Ensey used the word
Mafia
in a specific way – referring to the Sicilian organization – to threaten Selinger, his wife and children, while Keating used the expression
Cosa Nostra
in an analogical way to describe how corrupt and closed on itself the American Hierarchy had become.
Conclusion
When we look at the leadership of the two clergy, the clergy of Lefebvre and that of the Conciliar Church, they are not so different as one might think. In many ways, they are two sides of the same coin; a coin of cover-up, deceit and moral corruption.
Given the increasing amount of evidence that is being exposed in these articles and elsewhere, I believe it is long past time for Catholics to behave with greater vigilance concerning the SSPX. The laity should not be so complacent and trusting, believing in a Society whose leadership, since its start, has proven itself to be not what it pretends to be.
To be continued
Lawsuit March 21, 2002, in U.S. District Court of Pennsylvania, 2002, Letters of Dr. Jeffrey Bond, President, College of St. Justin Martyr.
It must not be forgotten that another cover-up that was spread since the 1970s, and is still being spread in SSPX circles, was revealed in 2002. The deceit was perpetrated by Arch.. Lefebvre himself.
Bishop Bernard Tissier de Mallerais, one of the four Bishops consecrated by Arch. Lefebvre, published a biography of Marcel Lefebvre in French. Two years later, in 2004, it was translated to English by the SSPX's Angelus Press. The title of this 670-page biography was: Marcel Lefebvre, The Biography. In this book, Bishop Mallerais admits that "Archbishop Lefebvre stated several times that he did not put his signature on the declaration of religious liberty – as with Gaudium et Spes" … but what the, "indisputable facts show is that … Archbishop Lefebvre, like Bishop de Castro Mayer… signed the promulgation of the declaration Dignitatis Humanae (Declaration on Religious Liberty)"(pp. 312-313).
Arch. Lefebvre never recanted neither his false statements, nor his assertion that he did not sign those Vatican II documents.


Posted December 7, 2020
| | | |
| --- | --- | --- |
| Volume I | Volume II | Volume III |
| Volume IV | Volume V | Volume VI |
| Volume VII | Volume VIII | Volume IX |
| Volume X | Volume XI | Special Edition |