Traditionalist Issues
SSPX Covering for Homo-Pedo Priests – Part

4
Conniving Fr. Williamson & Fr. Galarreta
Rewarded with Mitres
"Williamson was ordered by his superior, Archbishop Lefebvre, who had reviewed the Morello dossier to watch Urrutigoity 'like a hawk,' a virtually impossible task given the secretive life of a homosexual predator like Urrutigoity." (The Rite of Sodomy, by Randy Engel. p. 964)
Most of the clerical cover-ups are exposed by civil court cases and laymen. One such layman was Dr. Jeffrey M. Bond, President of the College of St. Justin Martyr in Pennsylvania. After Fr. Carlos Urrutigoity was expelled from Winona, he continued his perversions at this College. Dr. Bond found out about it and contacted Fr. Urrutigoity's superior, Bishop James Timlin of the Diocese of Scranton, who followed the same pattern of the three SSPX Bishops and covered up for him.
Dr. Bond, the respected head of a boys school was trying to protect his students. He was opposed by Bishop Timlin. But, since Dr. Bond was a layman, he could not be expelled from the Diocese as Fr. Morello was from the SSPX. The letters and efforts of Dr. Bond, other sources and the eventual involvement of courts and the District Attorney exposed some of the SSPX's internal actions regarding Fr. Urrutigoity.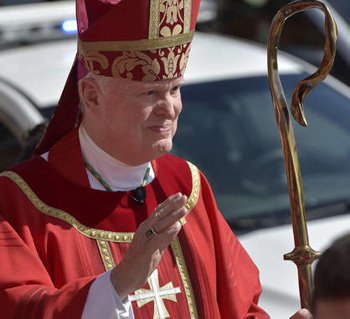 Bishop Timlin faced no sanctions from the Vatican for concealing reports of sex offender priests
Let me analyze an excerpt from the Dr. Bond
Letter
of September 2, 2002:
"Bishop Williamson then told me that he never saw any evidence of Urrutigoity's homosexuality while Urrutigoity was a seminarian, priest or professor at Winona. Bishop Williamson said that Fr. Urrutigoity was eventually expelled from the seminary in Winona not for homosexuality, but for subversive activities, namely, the secret planning of the Society of St. John in concert with others."(
Letter to Friends,
Sept. 2, 2002, by Dr. Jeffrey Bond)
Are we expected to believe Bishop Williamson when he said that he had never seen any evidence of Urrutigoity's homosexuality? For 10 years, from 1987 to 1997, had Fr. Williamson, and then Bishop Williamson (he was consecrated bishop in 1988), never seen any proof of Urrutigoity's homosexuality? Excuse me, had he never seen any evidence of Urrutigoity's homosexuality while he was a seminarian, priest or professor at Winona?
Are we expected to believe that a sexual predator for years both before and after Winona showed no signs of sexual deviance for 10 years under the 'hawk-eyed' watch of Bishop Williamson? I have substantiated in my previous articles (
here
,
here
and
here
) that Fr. Morello gave Bishop Williamson a dossier containing evidence of Urrutigoity's homosexual behavior. Did Williamson read that dossier? If he did, why did he not consider those facts that I transcribed, which reflect indisputable homosexual behavior? If he did not, how could he call Fr. Morello a "liar" and plot for his expulsion from the SSPX? I ask the reader: Who seems to be the liar in this Urrutigoity case, Morello or Williamson?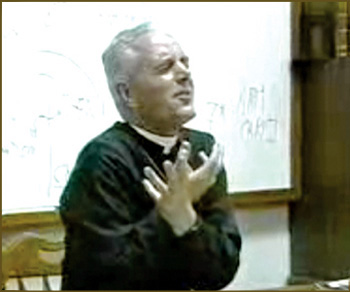 Williamson closed the eyes to Urrutigoity's homosexuality
Let me go further. Williamson as bishop and rector of the Winona seminary, should have had some assistants helping him to "watch like a hawk" a seminarian with a past like Urrutigoity's. Where are they? Why are their names not revealed? Did they also write a dossier on Urrutigoity's behavior? Why is there a sepulchral silence about any such report inside the Winona seminary? Perhaps those auxiliaries kept silent because they feared to be expelled from the SSPX, like Morello.
Everything in this case suggests that in the Winona seminary there was an atmosphere of cover-ups, secrecy and silence in face of abominations just as there is in the progressivist seminaries. Therefore, let us not naïvely believe that inside Winona there was/is an unceasingly upright purity as the SSPX cupola presents to their grassroots.
Further evidence of the falsity of the Williamson affirmation – he had never seen evidence of Urrutigoity's homosexuality – came shortly after the latter's expulsion.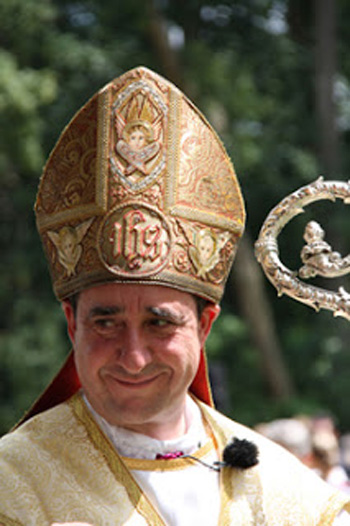 Galaretta was also rewarded with a mitre
Almost immediately after Fr. Urrutigoity was expelled from Winona in 1997, one of his victims came forward. Dr. Bond reports:
"Bishop Williamson hastened to add, however, that after Fr. Urrutigoity had been expelled from Winona, a young seminarian, who had left Winona with him, subsequently accused Fr. Urrutigoity of homosexually molesting him. This young seminarian, with whom Fr. Urrutigoity had had a very close particular friendship at Winona, had been under Fr. Urrutigoity's spiritual direction for two years before Fr. Urrutigoity molested him." (Letter to Friends, Sept. 2, 2002, by Dr. Jeffrey Bond)
A group of men – priests and seminarians – left Winona when Fr. Urrutigoity was expelled: One was the seminarian mentioned above. But, if we believe Bishop Williamson, no one noticed anything odd about this group; not the priests, not the seminarians, not the workers on campus. Let me stress that for anyone who is not under the SSPX umbrella, this statement is quite difficult to believe. Most probably, Williamson is lying to save the institution, just like the progressivist Bishops.
Are we expected to believe Arch. Lefebvre also knew nothing about homosexuality in his own seminaries? I believe he did know. If so, what is the worth of a statement like "watch Urrutigoity like a hawk"? Nothing! Just more empty words – like "zero tolerance" – used to deflect the culpability that we find in the Conciliar Church.
'Birds of a Feather Flock Together'
The Catholic Church has always taught the virtue of obedience through her doctrine and examples of the saints; but never for sin! If a superior orders someone to commit a sin, he must always be opposed.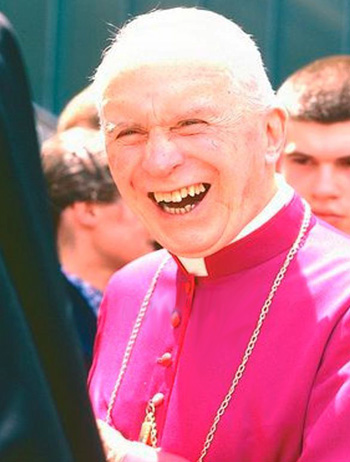 Euphoric despite the homo presence in his seminaries
But, sadly, in the current state of corruption that dominates the Conciliar Church, sin abounds. Bishops are chosen from men who practice a strict obedience even in matters of iniquity. A member of the clergy who does not compromise himself to some degree cannot expect to rise in the ranks. Something similar seems to apply in the SSPX.
Let me note that many documents used for these articles often referred to Richard Williamson and Alfonso de Galaretta as Bishop Williamson and Bishop Galaretta. Probably this was done to simplify, but it is not exact. To be precise, during this period they were mere priests, Fr. Williamson and Fr. Galaretta, until June 30, 1988, when Arch. Lefebvre consecrated them as bishops along with two other priests of the SSPX.
We know that in 1987, the serious accusations of sexual deviance by seminarian Urrutigoity surfaced in the La Reja seminary in Argentina, were disregarded by
Fr. Galarreta
. Then, the same accusations were presented to
Fr. Williamson
, rector of Winona seminary; he disregraded them as well. Despite these accusations from multiple witnesses, Urrutigoity was accepted by the order of
Arch. Lefebvre
into the SSPX Winona seminary in the USA.
Why did Mons. Lefebvre choose Fr. Galarreta and Fr. Williamson to consecrate them as Bishops in 1988 when both had been so involved in previous cover-ups for homosexuality – at least in the Urrutigoity case – in their seminaries of La Reja and Winona? Anyone is allowed to surmise that the same criterion used by progressivists was also applied among traditionalists: Lefebvre made those priests Bishops because they gave proof of a blind obedience even in a morally compromised situation.
It seems that the SSPX Bishops have much more in common with the Conciliar Church than many traditional Catholics imagine.
Continued


Posted February 26, 2020
| | | |
| --- | --- | --- |
| Volume I | Volume II | Volume III |
| Volume IV | Volume V | Volume VI |
| Volume VII | Volume VIII | Volume IX |
| Volume X | Volume XI | Special Edition |