Traditionalist Issues
SSPX Covering for Homo-Pedo Priests – Part 5
One Pedophile Priest Replaced by Another
Since December of last year, 2019, I have been exposing homo-pedo cover-ups of the SSPX bishops and clergy inside their seminaries of North and South America in the late '80s and early '90s. Those cover-ups were revealed by courageous laymen and court cases involving Fr. Carlos Urrutigoity. Fr. Urrutigoity has since been on the run for almost two decades traveling to various countries to avoid apprehension. I believe he is still alive and his last known whereabouts is the Diocese of Ciudad del Este, Paraguay.
About Fr. Ensey
It is important to note that at the SSPX Seminary one of the first friends and followers of Carlos Urrutigoity at Winona was the seminarian Eric Ensey. He was born in 1966 in Upland, California, near Los Angeles, and was a convert to Catholicism. In 1987 he entered the SSPX St. Thomas Aquinas Seminary in Winona, where he was ordained by Bishop Williamson in 1995, at age 29.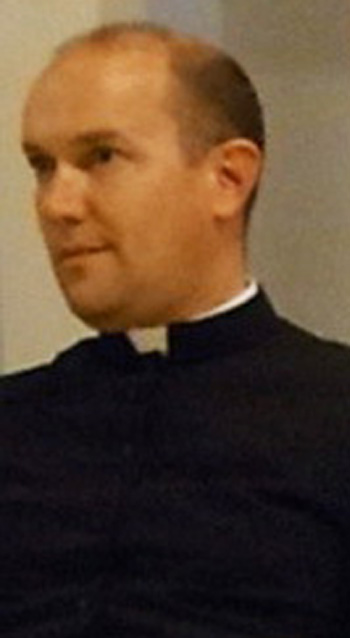 Fr. Eric Ensey, a friend of Fr. Carlos Urrutigoity in the SSPX, both known pedophiles
When Fr. Urrutigoity was expelled from St. Thomas Aquinas in 1997,
not for his homo-pedo crimes but for trying to create another group within the SSPX
, Fr. Ensey and others followed him to the
Novus Ordo
Scranton Diocese under Bishop Timlin to help Fr. Urrutigoity found the Society of St. John (SSJ).
My point in this article is to show that the homosexual and pedophile behaviors of both Fr. Urritigoity and Fr. Ensey
did not start after they left the SSPX seminary
in Winona. Instead, they had been accepted into the SSPX seminaries with these vices and remained there for a long time without being sanctioned for that conduct. They were ordained priests despite these vices. Further, when they finally left Winona, it was not because they were expelled for being homosexuals or pedophiles.
The following paragraphs are from
The Rite of Sodomy
by Randy Engel, who reports proceedings from the lawsuit of March 21, 2002, in U.S. District Court in Pennsylvania:
"During the 1998-1999 school year at St. Gregory's Academy [Scranton Diocese], Father Ensey developed a particular friendship with John Doe, (1) a student for whom he was acting as 'spiritual director.' The priest began grooming the minor for a homosexual relationship by providing him with alcohol and tobacco. The young man was usually drunk when Ensey and he engaged in homosexual acts at the school." (p. 968, note 194)
So, Fr. Ensey, Fr. Urrutigoity and others left the SSPX and immediately sought and found another homo-pedo friendly Bishop who gave them full access to an Academy of boys.
The homo-pedo relationship between Fr. Ensey (then in his 30s) and the boy was ongoing during on a long trip to California, even under the roof of the home of the priest's parents.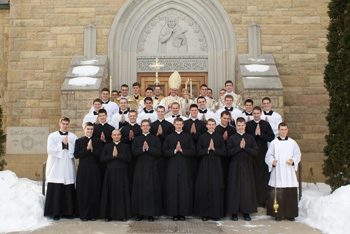 SSPX Winona Seminary - an appearance of holiness but a cover for homosexuals and pedophiles: everything duly approved by Msgr. Lefebvre, below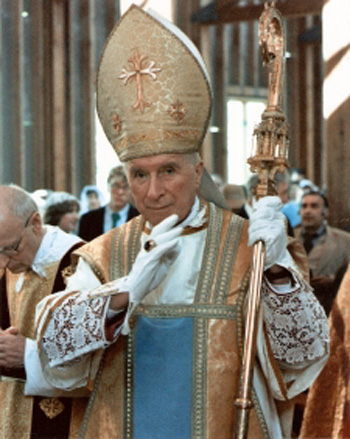 "During the Thanksgiving break, Ensey accompanied the young man on a trip to California where the student planned to attend college the following year. Ensey also took the young man to visit his parents' home in Santa Paula. During the visit, John Doe reported that he was sodomized by Ensey." (
Ibid.
)
The quote
below
from the U.S. District Court, reveals that the practice of sharing boys, which is found all too often among
Novus Ordo
clergy, was also practiced by two recently ordained SSPX priests.
"After Ensey and Doe returned to St. Gregory's, Ensey suggested that the boy should start taking 'spiritual direction' from Fr. Urrutigoity, but assured the lad that they would remain 'very close friends.'" (
Ibid.
)
Things went from bad to worse for the young John Doe. In 2000, he sought an escape from the sexual advances of Fr. Ensey by changing his place of residence. Unfortunately, he moved into a room where Fr. Urrutigoity slept.
"In the fall of 2000, John Doe joined the Society of St. John as a postulant. In order to avoid Ensey's continued sexual advances, the young man sought out alternative sleeping quarters. Fr. Urrutigoity told him that all the guest rooms were filled, but he could sleep in his room. Doe accepted. A few nights later Urrutigoity also began to sexually molest the young man. It was at this point that John Doe moved out of Urrutigoity's chambers and took up residence at St. Joseph's House, a privately owned home bordering the SSJ property that the priests had managed to sequester, rent free. Once the owner confirmed the charges against the SSJ, she kicked them out." (
Ibid.
, note 195)
"St. Joseph's House and Fatima House were two homes that bordered the SSJ property. The owners permitted the SSJ to use the homes rent free. However, when they were informed of the financial and criminal activities of Urrutigoity, Ensey and other SSJ priests, the owners evicted the order." (
Ibid.
)
Fr. Ensey replaced Fr. Urrutigoity as spiritual advisor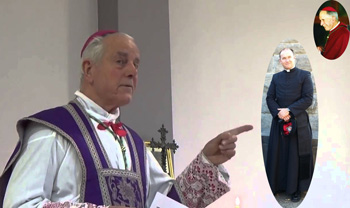 Williamson appointed Ensey to replace Urrutigoity as seminary spiritual advisor
The SSPX clergy have always been much smaller in number than their
Novus Ordo
counterparts, especially back in the '80s and '90s. It should have been easier for bishops and clergy to notice sexually deviant inclinations, behavior and predatory tendencies and actions in their seminarians, and to prevent the men who had them from receiving Holy Orders before unleashing them onto the world. Yet, even in the early days of the SSPX, we see deviancy and a readiness to create homo-pedo networks and sharing of boys.
Fr. Ensey, like Fr. Urrutigoity, was protected, educated, ordained and promoted under the watch of the Archbishop and Bishops of the SSPX. Fr. Ensey was made spiritual director at Winona by Bishop Williamson:
"
By order of Bishop Williamson, Fr. Ensey replaced Urrutigoity as spiritual advisor for a time at St. Thomas in Winona
." (
Rite of Sodomy
, p. 996, note 186).
Continued
Name given to the abused youth by the U.S. District Court of Pennsylvania to protect his identity.


Posted June 3, 2020
| | | |
| --- | --- | --- |
| Volume I | Volume II | Volume III |
| Volume IV | Volume V | Volume VI |
| Volume VII | Volume VIII | Volume IX |
| Volume X | Volume XI | Special Edition |