Feminism
The Ideal Nun of Progressivism

Recently, we have been seeing the Vatican
crack down on some "conservative" orders
of women religious. The question naturally arises: if orders like these do not fit the bill for the higher ups, what exactly is the ideal nun for Progressivism?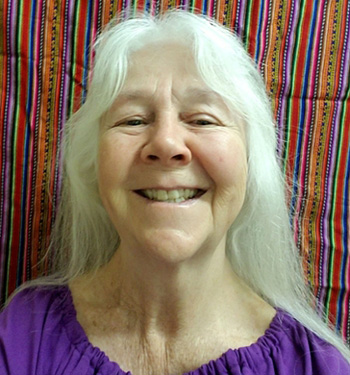 An old hippie? No, a feminist dancing old nun...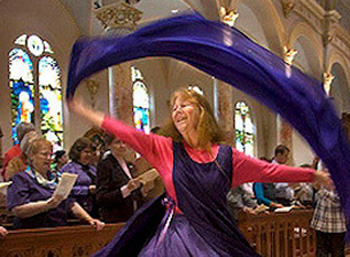 I accidentally found the answer when I stumbled upon a picture of a white-haired woman twirling a brightly-colored sash. This woman is Sister Martha Ann Kirk.
Background
The habit-less, loose-haired Sr. Kirk grew up with a mixture of Catholicism and Protestantism in her family. This mixture of faith and heresy in her home is something for which she feels "truly blessed,"
said Kirk
: "I feel truly blessed that in my family and in my experience, I pray with many groups of Christians."
Kirk joined the Sisters of Charity of the Incarnate Word in San Antonio, Texas. It is in this city that she also holds a professorship position in the Department of Religious Studies at the University of the Incarnate Word. There she is responsible for teaching and forming Catholic young people. She is the recipient of numerous awards from religious and secular entities, which praise her for her global "peace-building" efforts.
A radical feminist
Who exactly is Sr. Kirk, a woman who claims she is a sister but dresses like a layperson?
Further research reveals that she is one of the many women "preachers" in a radical feminist organization that calls itself "
Catholic Women Preach
," an initiative that pushes women to take on priestly roles in the Church.
As though her beliefs were not clear enough, Kirk has even
been featured
on
Christian Feminism Today
, a Protestant, feminist and pro-sodomy online publication. This feature reveals that, in one of her postings, she associates patriarchal society with oppression and seems to call for social agitation on the part of women:
"While men in their heroic stories go out and confront dragons, women's heroism seems to be in confronting the dragons of the limitations of their lives and abilities imposed by patriarchal culture… Women questioning oppression take the first step of the heroic journey." (1)
Kirk does not hide her goal to spread radical feminism. In fact, she explicitly states: "Peace is built as men and women learn to have historical perspectives. Uncovering and recovering women's stories can contribute to a more egalitarian, less domineering world." (2)
She also has manifested herself to be feminist by her involvement with "liturgical dance." The revolted Kirk has no shame in prancing around different Catholic and non-Catholic spaces, often doing so with a sash (see
here)
.
A twisted mind, God as 'woman'
Kirk seems to have no problem raising inconvenient issues in her publications, which reveal her twisted Freudian mind: "One has only to look at human relations around the globe today to see that the idols of phallus and spear predominate… The true living God is no more womb and breast than phallus and spear. " (3) Are these the words of a woman religious, who should be a model of purity and modesty?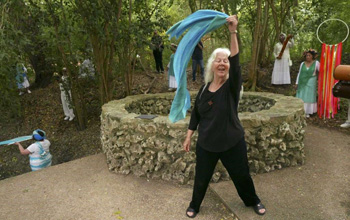 Performing a pagan water dance celebrating the empowerment of women
With this Freudian backdrop, Kirk
makes it clear
to
Christian Feminism Today
that she does not worship the Catholic God, but rather the Kabbalistic androgynous god that is so popular among progressivists like Fr. Hans Urs von Balthasar and Fr. Teilhard de Chardin:
"The female reflects an aspect of the face of God or aspects of the divine nature that we need to know and need to appreciate. Whether it is a humorous song like 'Washerwoman God' or a song exploring many biblical images from worship like 'We Are the Body of Christ,' it has been important to me to pray in the beauty of the Creator reflected by all that is best within the feminine and all that is best within the masculine."
Vital immanence
Besides her belief in an
androgynous God
, she also seems to believe in the modernist doctrine of vital imminence condemned by Pope St. Pius X. According to this doctrine, every human being is divine and every person gradually "evolves" into God.
This is demonstrated in her mission statement, which was published in the 2005 alumni magazine from her alma mater,
Graduate Theological Union
: "I hear God's Word speaking through the voices of the disadvantaged and marginalized. I am called to incarnate God's Word through the creation of drama, story, dance, arts and ritual."
A leader in the 'inter-faith' movement
Kirk is also a leader in the "inter-faith" movement. She has worshipped in Sikh temples, participated in National Presbyterian Women's meetings, and has also led blasphemous pan-religious rituals under the excuse of peace-building.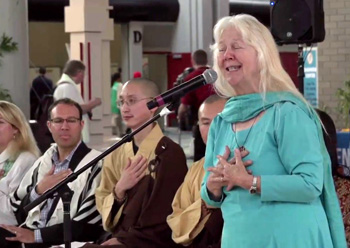 An ecstatic Sr Kirk leads an inter-faith prayer
In 2015, at the Parliament of World Religions, she directed a ritual in which Protestant, Hindu, Muslim, and Jewish leaders worshipped together. This pan-religious worship included a "Blessing of the Earth" and a "Circle Dance of Peace" around a large globe (see
here
).
Rather than teaching others about the Catholic Faith – which is what she should be doing as a member of the Catholic Church – Sr. Kirk instead spends her time helping to make the Masonic one-world religion a reality.
A hint of Communism
Besides her feminism and ecumenism, Sr. Kirk is also an advocate of global "sharing." This belief seems to stem from Communism, where everything belongs to everyone and no person has the right of private property.
Her remarks seem a jab at Capitalism ("competition") and a glorification of Communism, which would be the "just structure" of "cooperation" and "sharing":
"Unfortunately, in the context in which we live, people don't even know how to dream about cultures of cooperation rather than cultures of competition. People don't know how to dream about working for just structures of sharing rather than structures of dominating and greed and trying to have the most and control others."
Ecology - One global order
Sr. Kirk believes in the Masonic idea that we are one big global family (see
this YouTube vide
o, particularly at 3:20). Sr. Kirk uses this global family idea to push radical ecology: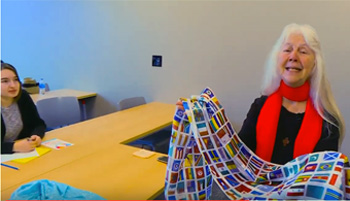 Kirk shows her scarf with flags of many countries to students & preaches a One World Religion
"So often we have had textbooks that hold up values of dominance, values of military power, yet for the future of the world, caring for the earth, God's precious fragile creation, caring for the children, teaching children to cooperate and respect others – these are the most important things for the future of the world."
But what about teaching the Catholic Faith? Certainly this is not the most important thing for the future of the world, in the mind of Sr. Kirk.
The future of progressivist women religious
When we consider all of these things together, Sr. Kirk paints a picture of the ideal progressivist nun:
She does not dress like a nun, but like a layperson to emphasize the false idea that everyone is equal;


She does not encourage women to be modest, demure and chaste, but loud, rebellious and foul;


She does not encourage a respect for men, but a revolt against natural order;


She does not talk about the Faith or encourage conversion, but rather teaches that all religions are equal and participates in the services of false religions;


She does not hold firm to the traditions and principles of the Church, but goes along with every insidious trend that passes, such as Communism and Eco-Pacifism.
With women like Sr. Martha Ann Kirk, it is no wonder that vocations are disappearing.
We can only continue to fight the Revolution and pray Our Lady of Good Success to rid us of this progressivist filth soon.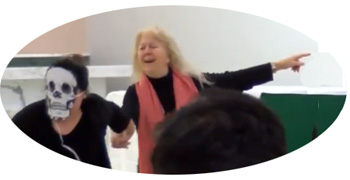 Sr. Kirk dancing with Death....
Women of Bible Lands: A Pilgrimage to Compassion and Wisdom,. Liturgical Press, 2004, p. xxix.
Ibid., p. xxviii.
Ibid., p. 11.

Posted July 8, 2019
| | | |
| --- | --- | --- |
| Volume I | Volume II | Volume III |
| Volume IV | Volume V | Volume VI |
| Volume VII | Volume VIII | Volume IX |
| Volume X | Volume XI | Special Edition |