Where There Is No Hatred of Heresy,
There Is No Holiness
Fr. Frederick Faber was one of the most eminent English Catholic authors of the late 19th Century. As our readers can see below, he did not fear to speak out strongly against heresy and the hatred Catholics should have for it. He warns against a "solicitous show of tolerant sympathies" for heretics, something it would be good for American Catholics to keep in mind in their relationships with Protestants.



Fr. Frederick William Faber


If we hated sin as we ought to hate it, purely, keenly, manfully, we should do more penance, we should inflict more self-punishment, we should sorrow for our sins more abidingly. Then, again, the crowning disloyalty to God is heresy. It is the sin of sins, the very loathsomest of things which God looks down upon in this malignant world. Yet how little do we understand of its excessive hatefulness! It is the polluting of God's truth, which is the worst of all impurities.

Yet how light we make of it! We look at it, and are calm. We touch it and do not shudder. We mix with it, and have no fear. We see it touch holy things, and we have no sense of sacrilege. We breathe its odor, and show no signs of detestation or disgust. Some of us affect its friendship; and some even extenuate its guilt. We do not love God enough to be angry for His glory. We do not love men enough to be charitably truthful for their souls.

Having lost the touch, the taste, the sight, and all the senses of heavenly-mindedness, we can dwell amidst this odious plague, in imperturbable tranquillity, reconciled to its foulness, not without some boastful professions of liberal admiration, perhaps even with a solicitous show of tolerant sympathies.

Why are we so far below the old saints, and even the modern apostles of these latter times, in the abundance of our conversations? Because we have not the antique sternness? We want the old Church-spirit, the old ecclesiastical genius. Our charity is untruthful, because it is not severe; and it is unpersuasive, because it is untruthful.

We lack devotion to truth as truth, as God's truth. Our zeal for souls is puny, because we have no zeal for God's honor. We act as if God were complimented by conversions, instead of trembling souls rescued by a stretch of mercy.

We tell men half the truth, the half that best suits our own pusillanimity and their conceit; and then we wonder that so few are converted, and that of those few so many apostatize.

We are so weak as to be surprised that our half-truth has not succeeded so well as God's whole truth. Where there is no hatred of heresy, there is no holiness.

A man, who might be an apostle, becomes a fester in the Church for the want of this righteous indignation.



Fr. Frederick Faber, The Precious Blood, published in 1860

Posted November 26, 2011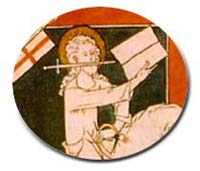 Related Topics of Interest

How to Distinguish the True Faith from Heresy

St. Anthony of Padua - Distorted by Sentimental Piety

Sentimental Piety Is Self-Idolatry

The Military Virtues Every Catholic Must Have

When Mercy Is a Danger…

Calling a Heretic Christian…

The Church's Rigor against Heresies

The State of Mind that Generated the Revolution

One Sins by Not Becoming Duly Irate

Related Works of Interest