Stories & Legends
St. Raymond of Peñafort Rebukes the King

The great Catalan Dominican friar Raymond of Penafort (1175-1275) served as the confessor for King James I of Aragon, who was a loyal son of the Church but allowed his lustful desires to shackle him.
When King James of Aragon went to visit the Island of Majorca, newly liberated from the Mohammedans, he took along St. Raymond, then 90 years old, to initiate a campaign to help convert the Moors living there.
.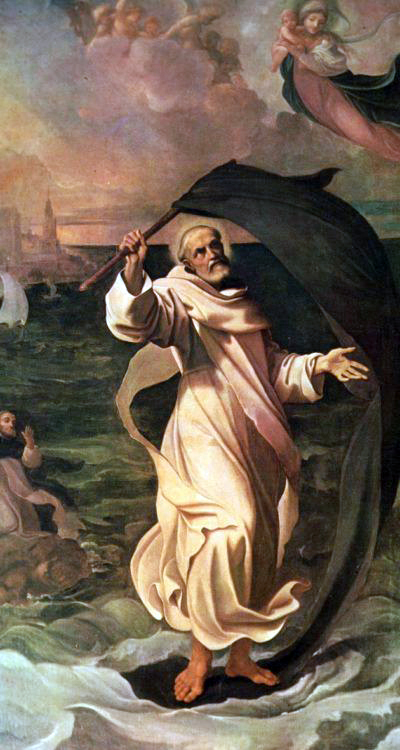 God works a miracle for St. Raymond of Penafort to leave the Island of Mallorca
When the party reached Majorca, St. Raymond found that the King had a mistress in his retinue. The Saint protested, and the King promised to dismiss the creature. But she was not dismissed, and Raymond protested again.
When the King still delayed, Raymond asked permission to leave the island and return to Barcelona. Furious, the King not only refused but said he would put to death any seaman who attempted to take the holy Dominican friar off the island to return to Barcelona.
St. Raymond then said to his Dominican companion: "Soon you will see how the King of Heaven will confound the wicked deeds of this earthly King and provide me with a ship!"
They then went down to the seashore where Raymond took off his
cappa
(the long black cloak the Dominicans wear over the white tunic and scapular) and spread one end of it on the water. The other end he rigged to the top of his walking staff. Having thus formed a miniature mast, Raymond bid the other Dominican to join him on this makeshift boat.
But his companion, lacking the Saint's faith, refused to do so. So Raymond bid him farewell and, after making the Sign of the Cross, he pushed away from the shore and miraculously sailed away on his cloak.
Passing by the very boats that had refused him passage in fear of the King's order, the Saint was seen by scores of sailors who shouted in astonishment and urged him on. St. Raymond sailed the 160 miles to Barcelona in the space of six hours, where his landing was witnessed by a crowd of amazed spectators. The Saint gathered up his cloak which was perfectly dry, threw it about his shoulder and walked to his monastery.
Touched by this miracle, King James I renounced his evil ways and reformed his life in obedience to the laws of God.
Later, a chapel and tower were erected in Barcelona to mark the spot where St. Raymond landed.
Raymond died at the age of 100 in Barcelona in 1275 and was canonized by Pope Clement VIII in the year 1601. Every 7
th
of January the feast day of Saint Raymond of Peñafort, Patron Saint of canon lawyers, is celebrated at the Cathedral of Barcelona, where he was buried.
St. Raymond of Pentafort,
Patron Saint of canon lawyers
Posted March 4, 2023