Stories & Legends
Miracles of King Ladislaus, the Warrior Saint

King Saint Ladislaus I (1040-1095) was King of Hungary from 1077 and King of Croatia from 1091. No other king was so generally beloved by the people. He introduced an elaborate legal code that brought order and prosperity to his dominions. He died suddenly while preparing for the First Crusade. The whole nation mourned for him for three years, and regarded him as a saint long before his canonization.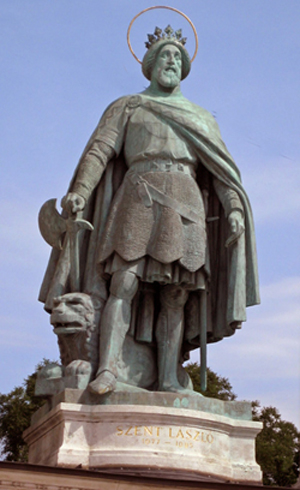 King St. Ladislaus with his battle axe
A whole cycle of legends is told about this great Warrior Saint, who is usually depicted with a battle axe.
King Ladislaus fought a series of battles against the Cumans in Transylvania.
One time, when the Hungarian army was close to starvation, the King prayed to God for help. With God's aid, St. Ladislaus drew a spring water from a rock with his spear, just like Moses. Not much later, a horde of bison and deer appeared, which the Hungarians hunted and ate. King Ladislaus gave to God all the glory of this assistance and his warriors looked upon him as a saint.
Once, he was suffering a great defeat near Turda. The Hungarian army beat a hasty retreat, and so did the King himself.
They were dashing away on the crest of the mountain above Turda, followed closely by the bloodthirsty Cumans. Glancing back, St. Ladislaus saw that the Cumans were so close that they could almost slash him with their axes.
Then the King heaved a sigh, and addressed the Lord in prayer: "Deliver me, my Lord, for I have been fighting for you!"
God listened to his prayer and performed a miracle. As he had parted the Red Sea for Moses long ago, he now split the mountain for St. Ladislaus.
The Cumans pulled back their horses in terror, because in an instant, there was an abyss as deep as a tower's height between them. The footprints of the King's horse could be seen for centuries, and were always shown to people who passed by.
Even after death, ready to help Hungary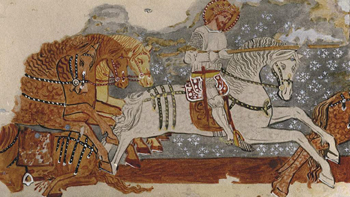 St Ladislaus charging into battle
Legend claims that during a battle in Szeklerland between the Székelys and the Mongolian Golden Horde 250 years after St. Ladislaus' death, the Székely troops prayed to him for help. Not much later a tall, valiant soldier came to their aid.
This is called the Patrocinium wonder. Witnesses said that the King's corpse had disappeared from his crypt and after the battle had ended with victory, the body was found again, but now drenched in sweat, suggesting that he had been out on the battlefield fighting.
Adapted from the Hungarian original by Dénes Lengyel
in
Régi Magyar mondák
here
Posted February 27, 2021