Stories & Legends
An Indian Boy Learns His Prayers
This is one of the extraordinary episodes recorded by Fr. Peter DeSmet at the first mission of the Flathead Indians in St. Mary's Mission in Bitter Root Valley, Montana.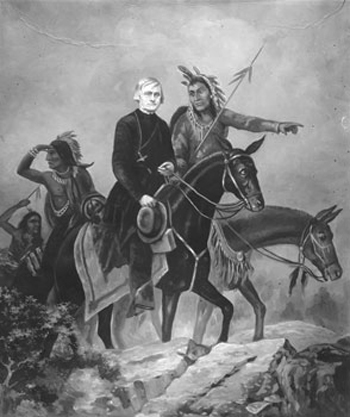 Fr. DeSmet with Indian guides on his way to Montana
The Flatheads had sent three expeditions to the Jesuit headquarters in St. Louis asking for "black robes" to instruct their people in the true God and religion. Finally, in 1840 Fr. DeSmet set out for the Rocky Mountain country where he was warmly received by the Flatheads. In 1841 he began to establish St. Mary's Mission on Bitterroot River.
At midnight Mass on Christmas Eve of that year, the new mission village of St. Mary was deemed worthy of a special mark of Heaven's favor.
An orphan boy had gone to the hut of a friend to learn the catechism and prayers that he had tried repeatedly to memorize but always failed. Fr. Point wrote that this little Flathead had "barely passed beyond the age of early childhood" and that he had such a poor memory that "in spite of all his efforts, he had been unable to learn what was rigorously required for the reception of the Sacrament of Baptism.
The boy told Fr. DeSmet these words, which the Jesuit duly recorded:
"Upon entering Jean's hut, whither I had gone to learn my prayers, which I did not know, I saw someone who was very beautiful. Her feet did not touch the earth, her garments were as white as snow. She had a star over her head, and a serpent under her feet and near the serpent was a fruit which I did not recognize.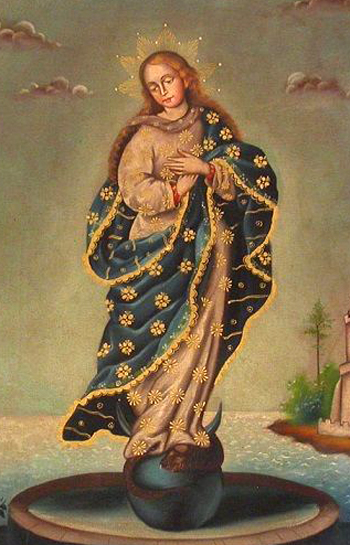 A colonial Spanish painting of the Immaculate Conception
"I could see her heart, from which rays of light burst forth and shone upon me. When I first beheld all this I was frightened, but afterwards my fear left me. My heart was warmed, my head was clear and I do not know how it happened, but all at once I knew my prayers."
Fr. DeSmet wrote that the boy ended his account by saying that several times the same person appeared to him while he was sleeping, and that once she told him that she was pleased that the first village of the Flatheads should be called St. Mary.
Several persons interrogated the boy on the subject and found him unvarying in his answers without ever once contradicting himself. When the Fathers took him to their house, they showed him pictures, one of which was the Immaculate Conception, which he acknowledged to have been his teacher.
Needless to say, on Christmas Day he was admitted to the Sacrament of Baptism without difficulty and was given the name of Paul. He was called "Little Paul" to distinguish him from the great Chief who also had received that name. A total of 150 baptisms took place that Christmas Day, including 30 Indians and their chief from a neighboring friendly tribe, the Nez Perces.
Later, Brother Claessens made a chapel shrine and a pedestal for a statue of the Immaculate Conception carved by Fr. Point, another missionary priest, and every night after prayers, they went there to say three Hail Marys.
By his conduct, this boy was called the "angel of the tribes," Fr. DeSmet records. Two years after Little Paul had learned his prayers from Our Lady, he died a peaceful and holy death.

Adapted from Lucylle H Evans, St. Mary's in the Rocky Mountains ,
Stevensville, Montana: Montana Creative Consultants, 1975, pp.56-59.

Posted August 12, 2017