Faith under Attack
Burning Churches, Defacing Statues
of Our Lady
Catholic churches and religious statues were targeted by vandals in July 2020 (specifically, the weekend of July 10-11). But you have to look hard to find the news reports. And once you do find them it becomes evident that the Antifa/BLM terrorists were the authors of those destructions and mutilations.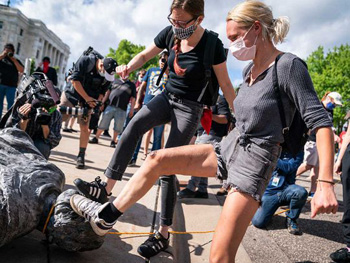 Lining up to take turns stomping the head of Columbus in front of the Minnesota State Capitol
A list of the crimes follows. But let me first make two points to keep in mind as you read about these atrocities.
First
, if someone had publicly burned a Black Life Matters building, or written offenses on a Jewish synagogue wall, or kicked the Koran in a public square, all hell would break loose in the media.
As for the leaders of BLM, the Jewish rabbis or the Muslim radicals – how would they respond? Without a doubt, quite vociferously, with demands for apologies, retributions, etc. Press conferences would be called, the whole world would hear their cries of indignation and fury.
Second
, pay attention, how did Catholic authorities respond to these recent horrific offenses made against the Holy Church and particularly against Our Lady? A different picture emerges. They issued statements of forgiveness, messages of peace, a grand turning of the cheek. Yes, it is true, the Gospel instructs us to turn the other cheek for personal offenses. But not for public offenses against our Holy Faith, and these are public offenses made against the Blessed Virgin Mary, crimes that demand a retribution and calls for apology and redress so that they do not happen again.
It would even be appropriate for the Pope – who does not miss one drowning of an immigrant in the Mediterranean Sea without a word of sorrow – to step in with a public statement to redress the nefarious offenses made against the Queen of Heaven. Not a word of denunciation, however, from Francis or the Bishops.
Instead there appears to be a deliberate attempt to silence these stories and even deviate attention away from the anti-Catholic sentiments of the BLM/Antifa mayhem.
Please recall, BLM activist Shaun King recently
made a public call
for images depicting a "white European" Jesus to be ripped down because they represent "white supremacy" and "racist propaganda." Then he called for "all murals and stained glass windows of white Jesus, and his European mother, and their white friends" to be done away with.
This is Shaun King's fault, one Catholic columnist commented regarding the recent church burnings and statue defacements. No, it isn't. If Catholic Bishops and priests make no response of indignation, isn't it an open invitation for the devil-may-care rioters to continue such burnings, defacements and atrocities?
Statue of Our Lady set ablaze
A statue of the Blessed Virgin Mary was set ablaze outside St. Peter's Parish in Boston's Dorchester neighborhood on Saturday night, July 11, 2020. The fire was set to plastic flowers in her hands, causing the face and upper body of Our Lady to be burned.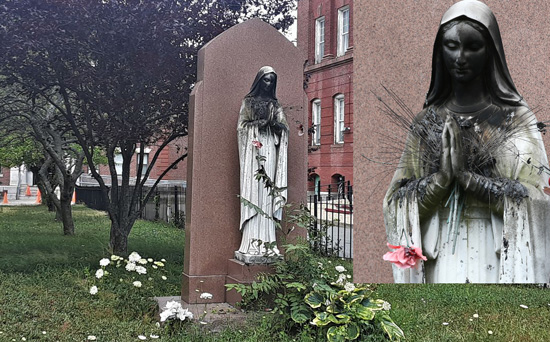 The statue was placed there more than 75 years ago to honor WWII soldiers
The reaction? The civil rights unit, Boston Police spokesman Sgt. Detective John Boyle
said
, "is on board to investigate whether or not there are any bias indicators in the crime." He could not even use the word "hate crime" for the anti-Catholic crime.
"We're delighted you're taking the incident seriously," responded the
Catholic Action League.

"Don't worry," parish pastor Fr. John Curran told the still unknown perpetrator of the crime, "Mary from Heaven is looking down on you saying 'I love you.'"
A fearful spokesman for the Archdiocese of Boston
said in a statement
issued after the Dorchester incident: "We have confidence in law enforcement to investigate the matter. I am not going to surmise a reason behind the vandalism and would caution anyone else to wait until we know more."
Vandals behead statue of Our Lady
A statue of the Blessed Virgin Mary was attacked and beheaded at St. Stephen Catholic Church in Chattanooga, Tennessee. On Saturday, July 11, the pastor Fr. Manuel Perez was walking the church grounds preparing for Mass when he noticed the 5-foot statue was knocked over. On further investigation he saw the statue was beheaded and no trace to be found of the head.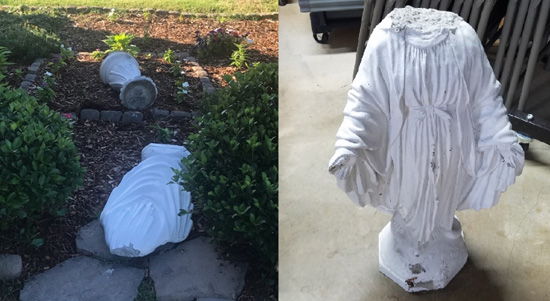 An outdoor statue of the Blessed Virgin was beheaded at St. Stephen Parish in Chattanooga
The reaction? The secular media was typically downbeat about the beheading of the sacred statue: Police are investigating whether it could "possibly be viewed as a hate crime."
A typical Catholic news report
expressed
some hurt: " We don't know if this was the targeted desecration of a sacred statue and our Catholic faith or some kind of misguided prank, but it hurts."
From the Knoxville Chancellory office
came a call
from the Bishop to live by the example set in Matthew, and to treat others as we ourselves would want to be treated. "Anytime something like this happens," it staidly noted, "it is disappointing and concerning."
Disappointing and disconcerting for a statue of Our Lady to be publicly knocked down and beheaded? "
Possibly
" a hate crime? Insipid reactions like these are shameful and show no concern for the honor and glory of Our Lady.
Statue of Our Lady vandalized outside Catholic school
The statue of the Virgin Mary has been at the entrance of the all-boys Cathedral Prep School and Seminary in Queens, New York, for over 100 years.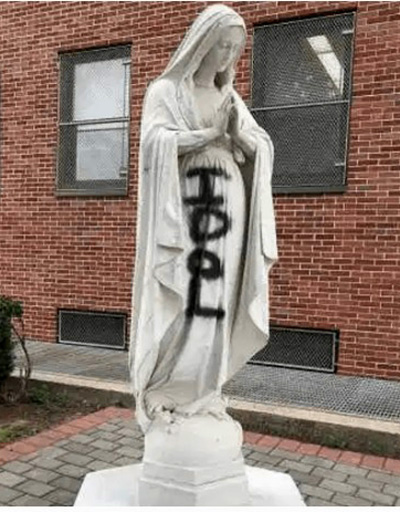 In the early morning of July 10, a vandal spray-painted "IDOL" across the front of the Virgin. Police identified the act as "vandalization."
Fr. James Kuroly, school rector, certainly was not demanding that any action be taken, although he admitted that "this tragedy saddens us deeply."
Setting a church on fire: an 'awesome act'
This Satanic looking face that stares at us defiantly is Steven Anthony Shields, 24, who drove into the front doors of the Queen of Peace Catholic Church in Ocala, Florida, Saturday morning, July 11.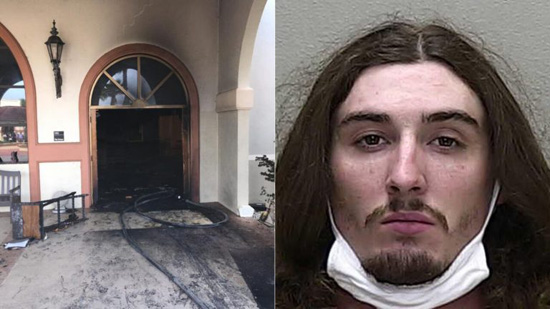 Shields, right, drove his vehicle into the doorway of Queen of Peace Church in Ocala, FL
According to the Marion County Sheriff's Office, after the crash he got out of the vehicle, poured gasoline out into the foyer area and lit it on fire with parishioners inside. Deputies said he then left in the vehicle.
Deputy Josue Gonzalez spotted the vehicle and chased it until he was able to conduct a P.I.T. maneuver (Precision Immobilization Technique) to stop it and arrest Shields. Shields, laughing, confessed to police that he had done something "awesome" and was on a "mission."
The question never asked is who was behind this "mission." No one dares suggest Satan, but Church authorities should be asking that question.
Fire guts historic San Gabriel Mission
That same weekend, a fire early Saturday destroyed the rooftop and most of the interior of the historic San Gabriel Mission Church in California that was undergoing renovation to mark its upcoming 250
th
-anniversary celebration. San Gabriel Mission was founded in 1771 by Fr. Junípero Serra.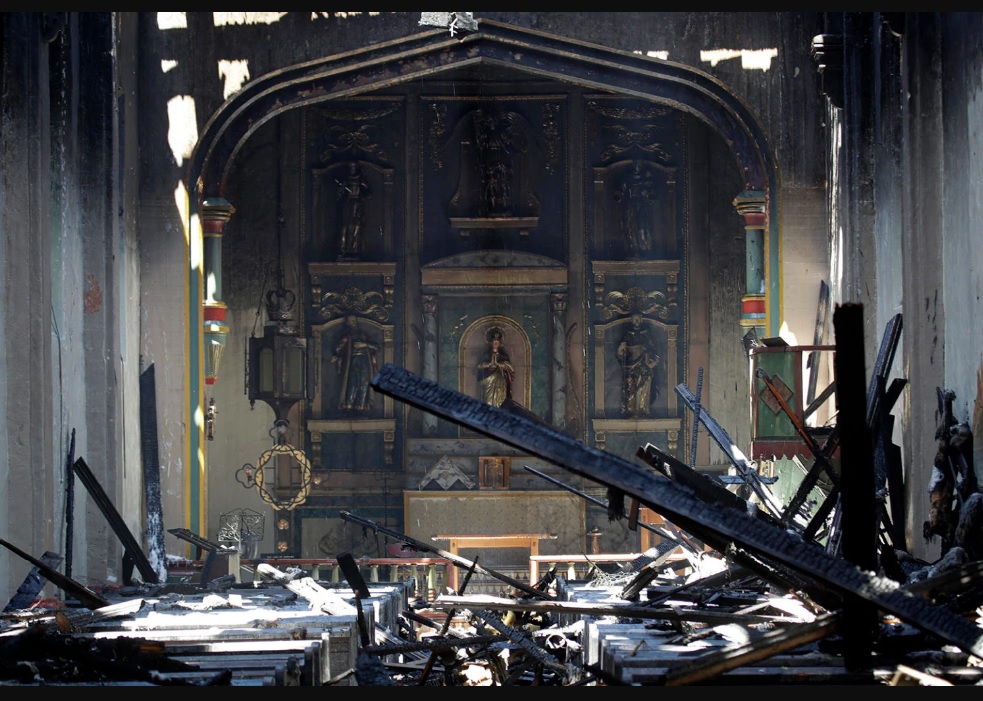 Only the altar remained intact at the historic San Gabriel Mission Church
Federal and local officials are still investigating the cause of the fire at the San Gabriel Mission, with the weak concession of "a possibility that the fire was an arson attack." Since protesters have toppled and defaced four Serra statues in San Francisco, Los Angeles and Sacramento, accusing him of racism and promoting Spanish imperialism, it would seem that the first suspicion would be that this was another derelict act of protest.
The day after the fire Archbishop Jose Gomez of Los Angeles was at the Mission saying a Mass there, counseling peace, hope and goodwill to all. He refused to acknowledge that the fire could possibly be an act of protest against Fr. Serra or the Catholic Church.
One Hispanic parishioner, who mourned the loss of the chapel where she was baptized and married,
nonetheless conceded
that she could understand how some people could be upset over the "people in the History of the Church who have acted unjustly."
Understanding for criminals and hoodlums and no indignation for the honor of God. This is becoming part of the new history of the post-Vatican II, BLM/Antifa-sympathetic church that can hardly be called Catholic.
Precedent set with earlier destruction & no reaction
On June 16, 2020 a massive fire also
broke out
at St. Pius X Roman Catholic Church in Queens, New York, leaving a burnt out shell. Bishop Nicholas DiMarzio brushed it off as a possible electrical problem, despite the riots and unrest seething in the area.

Left to right, St. Pius X Church in flames, only a few pictures of minor damage released by Basilica authorities to downplay the rioting; graffiti on St. Patrick's Cathedral
In Minneapolis on May 28, rioters burned the interior of the Catholic Basilica of St. Mary, one of the oldest churches of its kind in America. The damage was only minimal, according to church authorities who downplayed the incident, asking for "prayers for peace and healing" and streamed a "Pentecost Evening Prayer for Justice and Peace" service.
St. Patrick's Cathedral in New York City, one of the most famous churches in America, was vandalized Saturday night by BLM rioters on May 31. Protesters left foul-mouthed graffiti, anti-police slogans and "BLM" scrawled on the walls of the Fifth Avenue Cathedral
This story was ignored by the press, probably because Church authorities made no public response to the ugly attack.
Posted July 17, 2020