Catholic Customs
Wer Klopfet An - Alpine Re-enactment
of the Holy Family Search for an Inn
Wer Klopfet An

is a traditional Alpine Advent song dating to the 18

th

century. The song is part of the

Klopfelnächte

, a custom of south Germany, Austria, and Switzerland that dates back to the 15

th

century. Much like the

Posadas

in Spain and the Hispanic Americas and the Philippines, the

Klopfelnnächte

(or

Anklöpfeln

) are the last three Thursday nights before Christmas, in which children re-enact Our Lady and St. Joseph's

search for lodging

for the Birth of Our Lord. Going door to door, the children sing songs and receive gifts of appreciation in return.

Wer Klopfet An

is a poetic re-enactment of Our Lady and St. Joseph knocking on doors, asking for lodging. After each knock, the innkeeper answers, saying there is no room, while treating Our Lady and St. Joseph with cruel disdain. The poem ends with a strong rebuke to the listener for refusing lodging to the Christ Child, and reminds us that our sins offend God greatly.

The listener is left with a stirring reminder of the terrible poverty and scorn the Holy Family suffered for the salvation of souls and for the establishment of the Kingdom of God on earth, while encouraging amendment of life in preparation Christmas.

Wer Klopfet an

is interpreted below by the

Florianer Sängerknaben

(Boys Choir).

(Note: only Verses 1-3 are sung in the performance,
but we have included all 7 for our readers)

German lyrics


1. "Wer klopfet an?"
— "O zwei gar arme Leut."
"Was wollt ihr dann?"
— "O gebt uns Herberg heut.
O, durch Gotte Lieb wir bitten,
Offnet uns doch eure Hütten."
"O nein, O nein!"
— "O lasset uns doch ein!"
"Das kann nicht sein."
— "Wir wollen dankbar sein."
"Nein, es kann einmal nicht sein,
Drum gehet fort, ihr kommt nicht 'rein!"

2. "Wer vor der Tür?"
— "Ein Weib mit seinem Mann."
"Was wollt denn ihr?"
— "Hört unsre Bitte an:
Lasset uns bei euch heut wohnen,
Gott wird euch schon alles lohnen."
"Was zahlt ihr mir!"
— "Kein Geld besitzen wir."
"Dann fort von hier!"
— "O öffnet uns die Tür!"
"Ei, macht mir kein Ungestüm,
Da packt Euch, geht wo anders hin!"

3. "Wer da noch heut?"
— "O Lieber, komm heraus!"
"Seid Bettelleut?
— "O öffnet uns das Haus!
Freund, ach habt mit uns Erbarmen,
Einen Winkel gönnt uns Armen!"
"Da ist nichts leer."
— "So weit gehn wir heut her!"
"Ich kann nicht mehr.
— "O lieber Gott und Herr!"
"Ei, die Bettelsprach führt ihr?
Ich kenn sie schon. Geht nur von mir!

4. "Was weinet ihr?"
— "Vor Kält erstarren wir."
"Wer kann dafür?
— "O gebt uns doch Quartier!
Überall sind wir verstoßen,
Jedes Tor ist uns geschlossen!"
"So bleibt halt drauß!
— "O öffnet uns das Haus!"
"Da wird nichts draus."
— "Zeigt uns ein andres Haus!"
"Dort geht hin zu nächsten Tür!
Ich hab nicht Platz. Geht nur von hier"

5. "Ihr kommt zu spät."
—"So heißt es überall!"
"Da geht nur, geht! "
— "O Freund, nur heut einmal!"
Morgen wird der Heiland kommen;
Dieser liebt und lohnt die Frommen."
"Liegt mir nichts dran."
—"Seht unser Elend an!"
"Geht mich nichts an."
—"Habt Mitleid, lieber Mann!"
"Schweigt nur gleich, laßt mich in Ruh!
Da geht! Ich schließ die Türe zu.

6. "Da geht nur, fort!"
— "O, Freund, wohin, wo aus?"
"Zum Viehstall dort!"
— "Geh, Josef, nur hinaus!
Sei es denn durch Gottes Willen,
Wollen wir die Armut fühlen."
"Jetzt packt euch fort!"
— "O, das sind harte Wort!"
"Zum Viehstall dort!"
— "O, welch ein harter Ort!"
"Ei, der Ort ist gut für euch,
Ihr braucht nicht viel, da geht nur gleich!"

7. Kommt Sünder her!
— Jetzt Sünder hör mich an.
Ja kommt nur her!
— Und seht, was ihr getan!
Ihr habt Jesum so verstoßen,
Habt ihm jede Tür verschlossen.
O Mensch nun wein!
— O sieh, das Jesulein
Muss jetzt, o Pein
— Im kalten Stalle sein.
O wie grausam ist die Sünd,
Die so verstoßt das Gotteskind!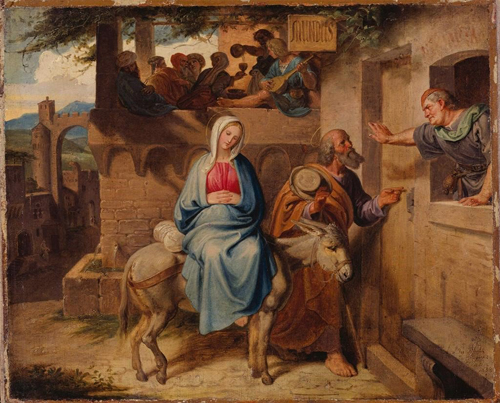 Our Lady and St. Joseph refused lodging, 1838 painting by Joseph Anton Koch

Posted December 18, 2021