Catholic Customs
The Authentic St. Patrick's Day:
Joyful Ways of the Past
St. Patrick
was "the Apostle of a people, the light of Ireland, the Father of this nation," Dom Guéranger tells us in his
Liturgical Year
. There are not titles sufficient to describe the admiration the Irish have for this Patriarch who brought the Catholic Faith to Ireland.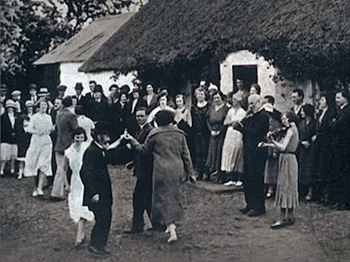 Calmer celebrations of days past compared with the modern foolishness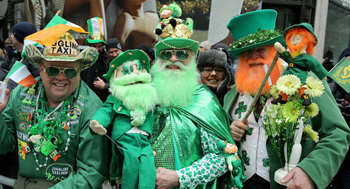 On account of his grandeur, his Feast Day, March 17, is a day of feasting for the Irish: The Church even gave a special dispensation to all the Irish people to break their Lenten fast.
St. Patrick's day customs in old Ireland are more charming than the modern foolishness and madness that erupt with people dressing in ridiculous green costumes and drinking green beer at pubs late into the night. In fact, until the late 20
th
century, pubs and other businesses in Ireland were actually closed on St. Patrick's Day.
The old customs grew from the devotion of the Irish to their Saint, and were imbibed with a symbolism and simple faith that elevate feasts days and public celebrations in a Catholic society.
This feast day comes at the time when livestock were being driven out to their pastures and the potato crop was planted. Planting potatoes on St. Patrick's Day became a deeply ingrained Irish tradition, for St. Patrick was sure to bless that important staple crop if his patronage was invoked in this way. Many Irishmen who immigrated to the U.S. kept the old custom of getting in their potatoes on St. Patrick's day, or at least planting a few to insure a good crop.
From Mass to feasting & folk dancing
St. Patrick's Day began in every Irish village with a Mass honoring the Saint followed by the singing of hymns to St. Patrick. Every man, woman and child was wearing a Shamrock, a St. Patrick's Cross or some other emblem signifying the Saint such as a green ribbon or harp. As the old Irish saying notes: "A shamrock on every hat, low and tall, and a cross on every girl's dress."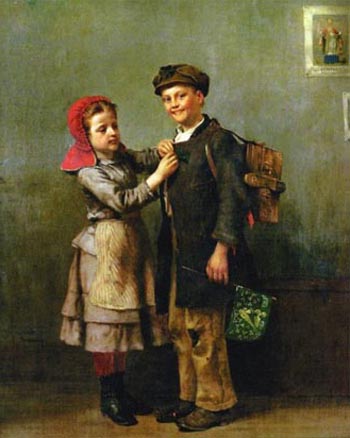 An Irish lass pins a shamrock on her brother; below, one of the many typical homemade crosses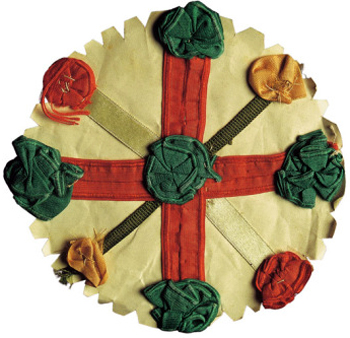 To prepare the St. Patrick Crosses, a week before the special day, the Irish women would bring out the bits of silk and satin they had saved through the year and use them to decorate the festive Crosses they would wear on St. Patrick's Day.
These crosses were made of a stiff cardboard sewn together and decorated with the silk bits and sometimes with a green rosette. Every Irish lass was proud of her Patrick's Day Cross and would wear it on her blouse or sleeve the whole day.
Every Irish lad also had a cross to wear. Brigid Haggerty
describes
the boy's crosses:
"The boy's cross consisted of a three-inch square of white paper on which was drawn a circle divided by elliptical lines. Each compartment was shaded in with a different color. For yellow, an egg yolk was often used; green could be had by chewing young grass; laundry blue provided another shade; and red, well, it was a cross for a little boy and one can only imagine how proud he must have been to sacrifice a few drops of blood in honor of St. Patrick! Come the big day, the finished cross was jauntily worn, military style, on his cap."
St. Patrick's Day crosses
To insure the protection of St. Patrick on the household, the man of each house would also make a wooden cross from two wild sallow twigs. That cross would be hung on the thatched roof of the house, much like the
St. Brigid's Crosses
were hung each year.
In some regions of Ireland, the father would make a rod of hazelnut wood in honor of the rod St. Patrick used to banish the snakes from Ireland. The families that maintain this custom have a solemn ceremony where the head of the house burns a stick of hazel wood and uses the soot end to draw crosses on the arms of each member of the family. This mark was meant to encourage everyone to be constant in their practice of the Holy Faith and fervent in their devotion to St. Patrick.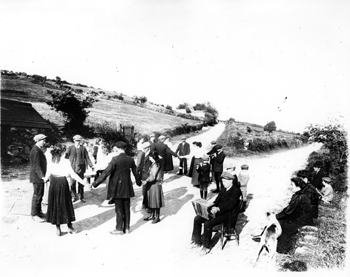 Village dancing and gatherings on St. Patrick's Day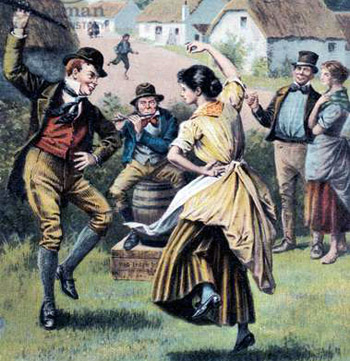 In addition to crosses, every good Irish man and woman would wear shamrocks pinned to their clothing. Men wore the St. Patrick's Day shamrock's in their hats, leaving them there until Palm Sunday, when they would exchange them for palms. So dear was the custom of wearing Irish shamrocks that relatives would send a box of shamrocks to the unlucky relatives living in other countries.
After Mass, groups of young men processed through the streets carrying banners, playing music and marching triumphantly. The villagers followed this ceremonious band. Evening of St. Patrick's Day was a time of feasting and merriment with traditional dance, folk songs, storytelling and traditional food and drink. These family festivities were particularly relished, for on the morrow all would return to their Lenten fasts.
Here is a typical toast on this day, reminding the merrymakers not to make too merry:
St. Patrick was a gentleman
Who through strategy and stealth
Drove all the snakes from Ireland,
Here's a toasting to his health;
But not too many toastings
Lest you lose yourself and then
Forget the good St. Patrick
And see all those snakes again!
A special ceremony accompanied the last drink of the evening: In a ritual called "Wetting the Shamrock," each man would drop a shamrock into his last drink, and then remove it and toss it over his left shoulder when the glass was empty.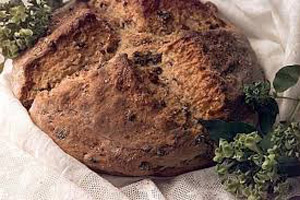 Traditional Irish soda bread and, below, the last beer of the day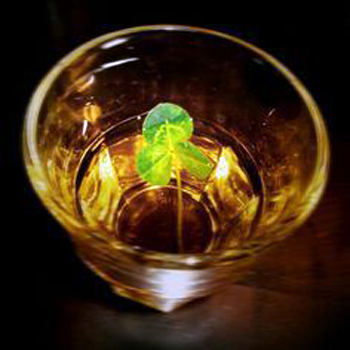 How good it would be for Catholics – for, as the saying goes, we are all Irish on St. Patrick's Day – to restore some of the charming old customs to St. Patrick's Day celebrations! Before the modern "paddy foolery," it was a feast day to give glory to God through the great St. Patrick, a saint of wonders. So his feast should also be one filled with innocence and marvel.
If the real live shamrocks are popping up in your lawn, it would be ideal to wear one since they are the plant St. Patrick used to explain the Trinity to the Celtic pagan people.
Men should attach it proudly to their hats or to their suit jackets and women to their sleeve or blouses as a testimony to your belief in the Trinity and truths of the Catholic faith. It is time to put aside the foolishness and don your shamrocks with dignity.
After assisting at the Holy Mass, it is time to return home, set aside the Lenten fast and celebrate with traditional Irish dishes such as
Colcannon
,
Irish Soda Bread
, plenty of butter and the well known corned beef or perhaps even the more traditional boiled bacon (ham) and cabbage.
And don't forget the storytelling. Here the men of the household should step up to tell stories of St. Patrick, read
Irish folk tales
and lead all in singing
Irish folk songs
.
As the evening ends, the father closes the festivity with a few solemn words, reminding the family to imitate St. Patrick and be prepared to sacrifice everything to follow the path God gave to each one.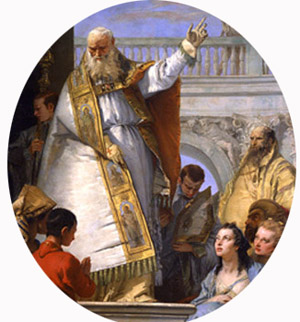 St Patrick, who lived to age 120, taught
three generations of Irishmen

Posted March17, 2020