Hollywood & Pop Stars
Androgynous David Bowie Glorified
by the Vatican
Margaret Galitzin
When rock star David Bowie, considered the most influential of rockers, died of cancer on January 10, 2016, I expected his world to applaud him. Hollywood stars and the rock world – soft rock, punk rock, heavy metal – did exactly so.
Tributes
from Madonna, Paul McCartney, the Rolling Stones, Kendrick Lamar and other rock singers poured in.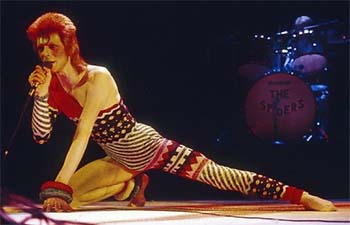 The androgynous David Bowie
Photo from 1973 concert film by D. A. Pennebaker
Then, more unexpected eulogies came from prominent figures of the political and scientific world, e.g., David Cameron, Tony Blair and astronaut Tim Peake. It seems the 21st century is as eager to acclaim this blatantly Satanist, androgynous creature as the 13th century great personalities honored St. Bernard at his death.
This applause is what comes from a world that has long burned incense at the altar of rock's rebellion and revolt. After all, Bowie was first in many things in the Rock Revolution: the first to openly declare his homosexuality and convert audiences into accepting the bi-sexual androgynous creature of the future; the first to make video-songs; the first to continuously reinvent himself with a multitude of personas like Ziggy Stardust and the Thin White Duke.
Satanic albums
"Take risks and be subversive, that's what I learned from David Bowie," said one fan. Bowie was subversive, he spewed everywhere his hatred for convention and the "establishment." He was especially virulent against the Catholic Church.
In Next Day Bowie mocks everything Catholic
The malice is apparent in his
Next Day
video-album released in 2013 at his "resurrection," after a 10-year absence from the stage recovering from severe coke addiction and paranoia. In it he was costumed as a monk singing to a backdrop of perverted priests with half-nude prostitutes; one prostitute was 'gifted' with a supposed stigmata. Blood spurted from her palms and her angry priest-partner screamed furiously toward God: "It's you again!"
His final album,
Blackstar
– a reference to Satan in occult circles – was also issued two days before his death. Although he died, his super-fans are already denying this reality, claiming he did not die, but migrated to an extra-terrestrial place.
Blackstar
was, if possible, even more blasphemous and openly occult. Bowie returned to his astronaut / outer space theme, announcing a new age of Satan. The supposed gnostic truth that has been hidden from man is returning. This was more than just a "creative" video: it was a message replete with ritualistic Satanic rites and symbolic dances, magic and adoration of Satan.
Likewise, Bowie's song
Valentine's Day
was more than just an over-the-hill rocker crooning about Valentine. Valentine "knows it all," wants "the whole world under his heels", and "has something to say." What is he saying? That "Valentine day is here" seems to be the announcement of the Devil's arrival. If so, David Bowie appears as a herald of Satan.
Gnosis & extra-terrestrials
There is no doubt that Bowie was deeply immersed in the occult and gnostic doctrine.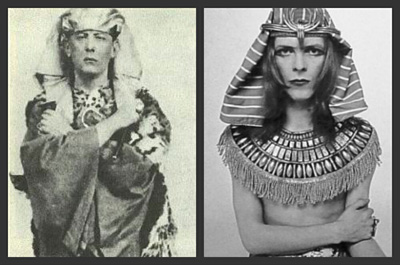 Bowie, right, dressed as a Sphinx like his mentor,
Aleister Crowley, left
In his early career, he was a disciple of Aleister Crowley and later became obsessed with the occult doctrine of super-gods and extra-terrestrial invasions. Blackstar is replete with gnostic and satanic imagery: An extraterrestrial – a jeweled skull in an astronaut suit – brings the secrets of an ancient religion. A satanic ritual that ends with women adoring the jeweled skull held by a witch in a magic circle. Bowie himself sings wearing a blindfold with eyes (see
first photo below right
) – a reference to the initiated masters.
Finally there is also a truly blasphemous depiction of a crucified Christ with gyrating hips and a grotesque skull face. The message seems to be this: A new age has arrived, illuminated by the filmy light of the black star. Satan replaces Christ.
Vatican supporting a Satanist
The immoral and blasphemous depictions in these latest albums should be sufficient for any faithful Catholic to reject Bowie. One would expect the Church to warn the faithful to steer clear of the Satanic Bowie, and rock music in general.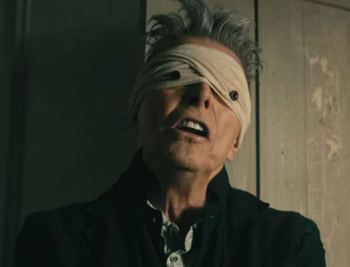 Some of the faces of the occult & 'never banal' Bowie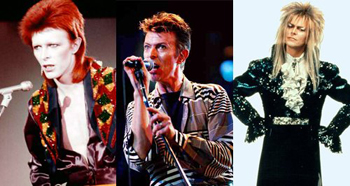 Instead, the media proudly proclaims that Catholic Prelates are rushing to join the general chorus of praise to Bowie. Among the first ones to honor the bisexual rock star was Cardinal Gianfranco Ravasi of the Pontifical Council for Culture. Learning of Bowie's death, he tweeted lyrics from Bowie's 1969 song
Space Oddity
: "Ground Control to Major Tom / Commencing countdown, engines on / Check ignition and may God's love be with you (David Bowie)."
The next day, the daily Vatican newspaper,
L'Osservatore Romano
, published an obituary eulogizing David Bowie as a "singular musician who was never banal" and who "grew artistically over five decades thanks to his interest in art, film and theater."
The Vatican paper, which every day becomes closer to the modern world, noted the "ambiguous image" Bowie cultivated in his early career and attributed it to just an immature desire to gain fame and attract attention.
These "excesses",
L'Osservatore
affirms, can be overlooked, for Bowie's legacy "is one of a sort of personal sobriety, expressed even in his dry, almost thread-like body."
It is almost unthinkable that a Vatican newspaper praises a man who – besides being a Satanist – openly proclaimed himself promiscuous and boldly challenged gender norms.
Vatican's position is praised
Commentators
have applauded the Vatican's "courageous stand," observing that its "affirming stance" is a positive sign for LGBT issues in the Church, "likely another outcome of Francis' improved engagement with the world and demand for all people to be respected and valued."
Nonetheless, Bowie as far back as 1976 flagrantly announced rock music was inspired by Satan: "Rock has always been the Devil's music, you can't convince me that it isn't. … I feel that we're only heralding something even darker than ourselves" (
Rolling Stone
, February 12, 1976, p. 83). Bowie never denied this statement, but instead evolved to be a kind of herald of the dark Reign of Satan.
That the Vatican would condone and even praise David Bowie is almost beyond belief, another calamitous consequence of Vatican II openness to the pagan modern world.

Posted January 13, 2016
| | | |
| --- | --- | --- |
| Volume I | Volume II | Volume III |
| Volume IV | Volume V | Volume VI |
| Volume VII | Volume VIII | Volume IX |
| Volume X | Volume XI | Special Edition |