NEWS: October 1, 2018
Bird's Eye View of the News
THE DUSK OF A DEMAGOGUE –
When I read about the recent visits of Pope Francis to Sicily and the Baltic Countries, I asked myself: Could these trips be attempts to recover from the great loss of prestige Francis has suffered lately?
I remember reading a long time ago how entrepreneurs who promote the fame of movie stars and public personalities deal with their popularity. Yes, in case you don't know it, a person's fame today is far from being something spontaneous: It is an artificial product of a whole industry of fame. We live in times when almost everything is artificial, including the prestige of popular leaders.
One of the rules I remember reading was this: When the star falls into oblivion or is strongly attacked in his personal life, it is time for him to take a trip abroad and have the media report his many "successes."
Let me suppose some news reports of a flailing star's trip: "Mike Bacson sung for Queen Melissabeth, who smiled warmly during his performance and shook hands with him after his show." "He gave an hour long performance for a full house in the French city of Terbigny, with the enthusiastic audience clapping to the beat of his guitar." "After giving a donation to the Help Sloppy Children Association, he was awarded a medal by the mayor of Sonolulu." "In appreciation for his contribution to contemporary art, Scott University of Odinburgh granted him the honorary title of Doctor."
After two months amassing such successes, the star returns home with his fame recycled and his popularity restored.
I am not sure whether the last visits of Pope Francis were planned to have this effect of restoring his popularity. What I see is that he urgently needs a solution like this if his bosses actually want him to remain onstage.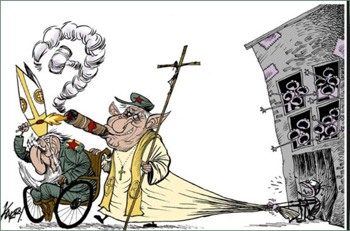 Pope Francis abandons the Cuban prisoners, changes hats with Fidel Castro & lends his prestige to propel a paralytic Communism
As a matter of fact, the list of disasters that have damaged his prestige is hard to summarize. I offer here only some few examples among the most harmful for his fame:
Francis is known as the demolisher of everything the Catholic Church has held dear - click here
His method of always surprising his audience with a new extravaganza reveals a psychology that – beyond being that of a clown – is one of a demagogue: A man who keeps people incessantly talking about him in order to lead them to Progressivism.
After five years of this nonstop shock treatment, Catholic public opinion is showing clear signs of weariness.
The rats abandon the ship
One of these clear signs is that organizations that were strongly committed not to speak against the Pope, such as the TFP and Church Militant-Vortex media outlet, have now changed their policies and are issuing books against Francis or publicly venting criticisms of him. Even the middle-of-the-road EWTN, whose life and commercial success rely on having the approval of the ecclesiastical establishment, is airing interviews with some
false right
"critics" of Pope Francis, such as Bishop Athanasius Schneider.
So, unless something changes in the picture, we should not be surprised if Pope Francis leaves the stage. He might catch a "strong cold" and die,
like John Paul II,
or "decide to retire,"
like Benedict XVI
and go to share a room with him in the Vatican backyard. Then the two retired Popes can have a good time discussing about which one did more to destroy the Church.
A third progressivist Pope is almost sure to come, unless Our Lord Jesus Christ or St. Peter finally enters the scene and puts an end to this satanic usurpation of the Catholic Church by Progressivism.

______________________
| | | |
| --- | --- | --- |
| Volume I | Volume II | Volume III |
| Volume IV | Volume V | Volume VI |
| Volume VII | Volume VIII | Volume IX |
| Volume X | Volume XI | Special Edition |