NEWS: September 3, 2018
Bird's Eye View of the News
BECOMING SOLDIERS OF THE CONCILIAR REVOLUTION –
In previous installments of this series on the consecrated virgins (
here
,
here
and
here
), I studied how they are being manipulated in their consecration: in the changeable idea of an
Ordo virginum
and how unconsciously they have been dragged into a mind-control system, which virtually absorbs all their time. This engulfing system offsets the initial intent of most of the candidates to continue to live and work freely as laywomen in the world.
In this final article, I shall show how the document
Ecclesiae sponsae imago
propels the consecrated virgins toward becoming activists of the Conciliar Revolution.
Liberation Theology activists
After
vowing to the local Bishops
a blind-obedience in many ways more radical than that of religious orders, the virgins are induced to work for a more revolutionary goal of the Vatican II Church, that is, "the preferential option to the poor" – one of the mottos that inspire Liberation Theology.
Indeed, according to the recent document, the consecrated virgins must be "alert to the calls that come from the context in which they live and, ready to put at the disposition of the Lord the gifts they have received from Him,
they are called to make their own contribution to the renewal of society in the spirit of the Gospel
. They accept without naivety or oversimplification the responsibility to develop cultural expressions of the faith and
they adopt as their own the Church's preference for those who are poor, suffering or marginalized
." (n. 39d)
So, instead of finding in the
Ordo virginum
an atmosphere that develops and expands the ideal of virginity and purity – perhaps with periods of meditation on the teachings of the Popes and Church Fathers on this topic in the rich past of the Church or studying the affinity that virgins have with the Angels – a consecrated virgin finds herself dragged into social work. In the Conciliar Church social work is often but a synonym of that hateful class-struggle and in-depth Marxist indoctrination proper to Liberation Theology.
This indoctrination to impel a virgin to engage in social struggle can also be noted in the process of discernment to which she is subjected. One criterion to know whether she is qualified to enter the
Ordo virginum
is the following:
"In order to verify the spiritual experience, particular importance will be paid to: …
[her] passion
for the Kingdom of God, which leads her
to interpret the reality of her own times in accordance with evangelical criteria, and to respond to this reality with a sense of responsibility and a preferential love for those who are poor
." (n. 86f)
It is in this same way that I understand other general texts such as: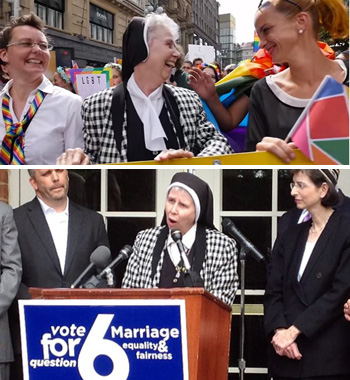 Top, Sr. Jeannine Gramick marching in a 'gay' parade; bottom, delivering a pro same-sex 'marriage' speech
"
Their dedication to the Church is shown
in their « mission of illumining, blessing, enlivening, raising up, healing, and freeing » [63],
in their passion
for proclaiming the Gospel, for building up the Christian community and
for their prophetic witness of fraternal communion, in friendship offered to all, in caring proximity to the spiritual and material needs of the people of their time, in the commitment to work for the common good of society
." (39a)
So, if I interpret this verbiage correctly, a consecrated virgin's "passion for their prophetic witness of fraternal communion, in friendship offered to all" may well justify her presence at a pro-homosexual "marriage" street manifestation or even a "gay parade," under the pretext that homosexuals are marginalized and she is "committed to the work of the common good of society."
General service to the poor and the marginalized is the key to understand the vague language used here and there in the document. Sometimes it is referred to as "service of communion" as in the following text regarding formation:
A LT cell - students learn Liberation Theology at a Nicaragua university
"
Diocesan formation programs can be supplemented by inter-diocesan formation meetings and activities, particularly those organized by services of communion permanently established within a definite group of particular Churches
." (n. 113b)
In a first reading this excerpt seems quite innocuous. However, when we ask what such "services of communion permanently established within a definite group of particular Churches" actually mean, the answer seems to be a Base Christian Community cell that preaches Liberation Theology. If this interpretation is accurate, then we have our consecrated virgin now committed to be a part – either wittingly or unwittingly - of one of these revolutionary cells.
Environmentalist campaigners
I stress that any of these vague texts referring to the service of the community can easily be interpreted as the obligation for a consecrated virgin to engage in public "witness" for ecology. That is, to engage in environmental political-social actions against the Capitalist establishment because its factories pollute the water, its entrepreneurs dig for fossil fuel, its cars contaminate the air, its cities throw plastic bags on the beaches and streets, its industries cut trees, its governments use nuclear energy and run pipelines through Indian reserves.
Based on this document, there is no difficulty for a Bishop to direct the
Ordo virginum
of his diocese to engage in the ecological struggle to promote Francis' revolutionary agenda described in
Laudato Sì'
. Many of those virgins may naïvely believe that they are engaging in work that leads to their sanctification, when in practice, they will be promoting the two more radical goals of the Revolution: Communism disguised as
Liberation Theology
and
Tribalism
camouflaged as
Ecology
.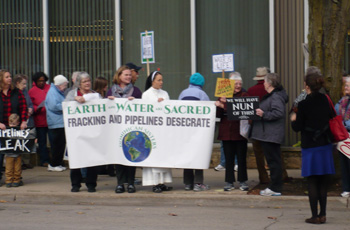 Nuns protesting against the Dakota access pipeline
It is sad to see an idealist girl or woman who wanted to remove herself from the immorality of the world, who had an authentic longing for virginity with the sublime horizons this type of life opens for a soul, to be deviated from her noble aspirations in order to become an activist of revolutionary struggles she never wanted to fight.
It is to prevent the authorities of the progressivist Church from maneuvering to make these well-intentioned women soldiers of the Conciliar Revolution that I wrote this series. I hope it may help some of these women open their eyes.
A trial balloon
Additionally, I have a strong suspicion that, with the secularization of almost all the women's religious orders – the abandonment of their rules, habits and lifestyle and the adoption of the struggle for social "justice," the conciliar Popes have a plan to make all religious women converge onto one road and one type of life not so different from what the consecrated virgins are supposed to have after
Ecclesiae sponsae imago
is in force.
If this suspicion comes to fruition, each diocesan Bishop would have at hand a prepared army of semi-lay, semi-religious women ready to engage
en masse
in any social or political activity that would be convenient for Progressivism.
The implementation of
Ecclesiae sponsae imago
may well be a trial balloon for this plan.

______________________
| | | |
| --- | --- | --- |
| Volume I | Volume II | Volume III |
| Volume IV | Volume V | Volume VI |
| Volume VII | Volume VIII | Volume IX |
| Volume X | Volume XI | Special Edition |